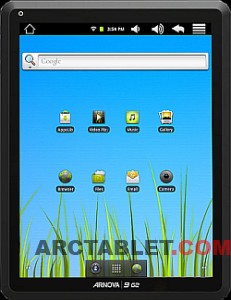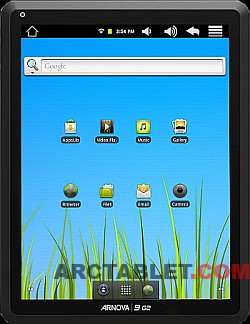 The Arnova second generation (G2) of tablets is receiving a new member: the Arnova 9 G2. This device was expected to show at the HKTDC Hong Kong Electronics Fair Autumn Edition last month but not much information has filtered. The Arnova 9 G2 specifications are now fully released on Arnova web site.

The specifications are pretty similar to the other devices in the Arnova G2 line: ARM Cortex A8 1 GHz CPU (probably a Rockchip 2918), Android 2.3 Operating System. The amount of system memory on the device is not mentionned, we can expect 512 Mb like the other G2 tablets. The new feature is a 9.7", capacitive 5 point multitouch with 1024 x 768 resolution (4:3 format) using IPS Technology, first time use by Archos/Arnova on their Android tablets.
There are no details on availability at the moment.
Edit 2011/11/20 (via Engadget) : The Arnova 9 G2 is selling on Amazon.de at 249 euros.
Don't forget to check the PDF product information at Arnova website.
Via Archoslounge.net