Arnova 8c G3 is one of the new 8″ tablets from the Arnova G3 line-up. Arnova 8c G3, which is manufactured by Yifang, with slightly different design can also be found in the shops selling as Nextbook Premium 8SE and one beloved Russian company added HDMI-output and OTG and Prestigio Multipad 5080CPRO was born. Many things in this review should also apply to these two models, though design, battery and firmware stuff can be a little bit different. We tried running an 5080CPRO firmware on it and though it worked, we recommend using official firmware from Arnova or custom firmwares developed for Arnova 8c G3.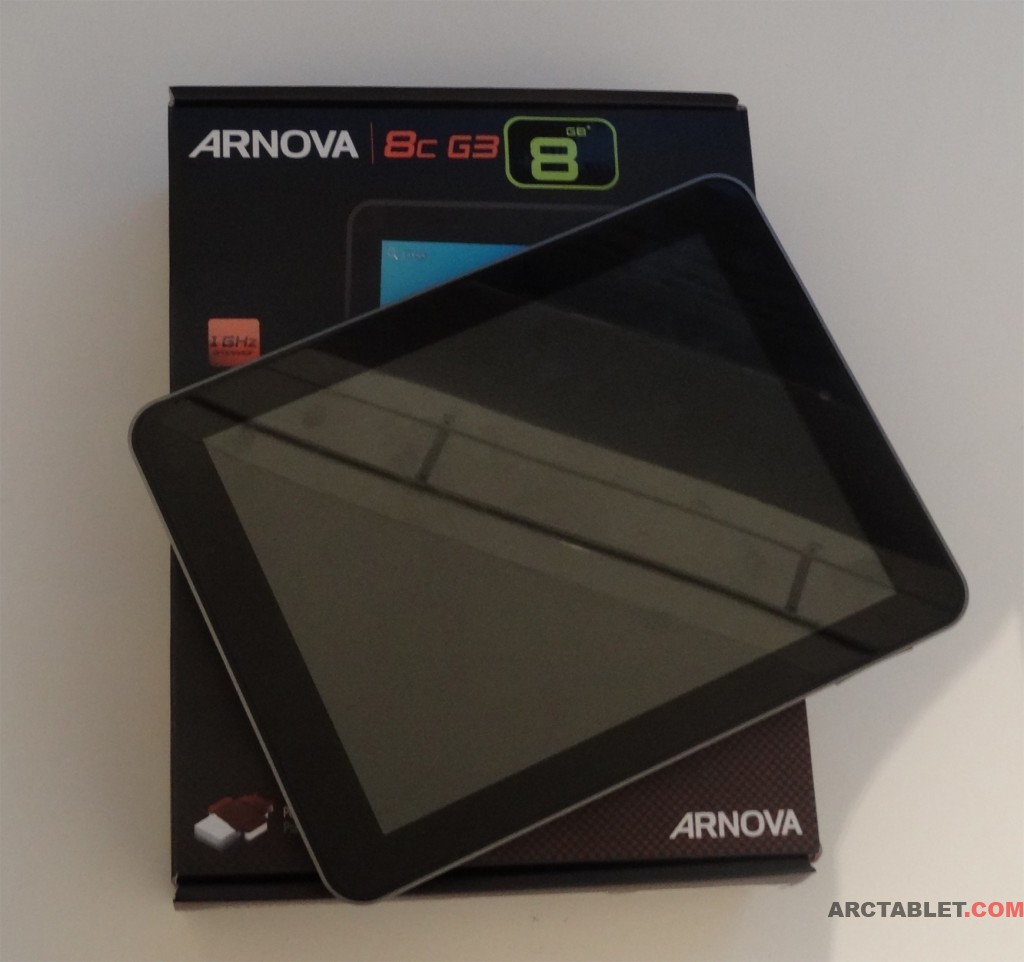 Arnova 8c G3 video unboxing&preview
Arnova 8c G3 specifications
Operating System
Android 4.0.3 (Ice Cream Sandwich)
Linux Kernel Version: 3.0.8+
Build number: 20120406
CPU
single core Rockchip 2918 CPU running at 1 Ghz
Integrated GPU: Vivante Corporation GC800
Flash Storage Memory
Capacity 8 GB
Speed: Class 6 range (tested Read 15134 kB/s, Write 6964 kB/s)
System Memory
1024 Mb
Additional storage
Micro SD slot (SDHC compatible)
Display
800×600 TFT LCD 8 inches (4/3 ratio)
capacitive 5 points screen
125 DPI (medium)
Bluetooth
No
Wifi
802.11 b/g/n
Gravity Sensor
Yes
Camera
0.3Mp (front facing)
GPS
No
HDMI
No
Interfaces
micro USB Slave Mass Storage Class (MSC)
MicroSD slot
Battery life
Video playing test: 5 hours 46 minutes
Android Market
No (Appslib application Marketplace)
Kickstand
No
Dimensions
154 mm x 203 mm x 10 mm
Weight
468g

Official Product page
Arnova website
Packaging
Packaging is quite simillar to other Archos and Arnova products, you will find in the box:
– an Arnova 8c G3 tablet
– an USB cable (micro USB format) for transferring files
– 3 papers that include: Arnova 8c G3 User Guide, 10$/€/£ music credit and  Legal and Safety Notices
– a power charger with one power socket (depends on region, we got an European one), input 100-240V, outputs 5V 2A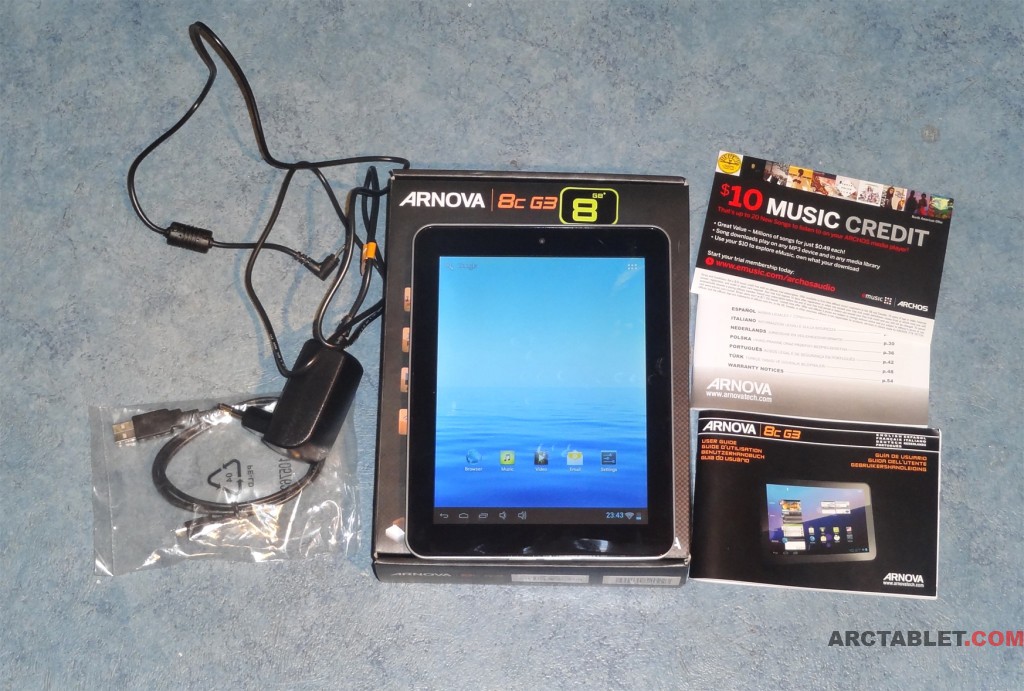 Tablet Design
The Arnova 8c G3 looks quite a lot like a smaller-sized iPad. The front glossy surface catches fingerprints very easily(as seen in our video above), but looks really nice.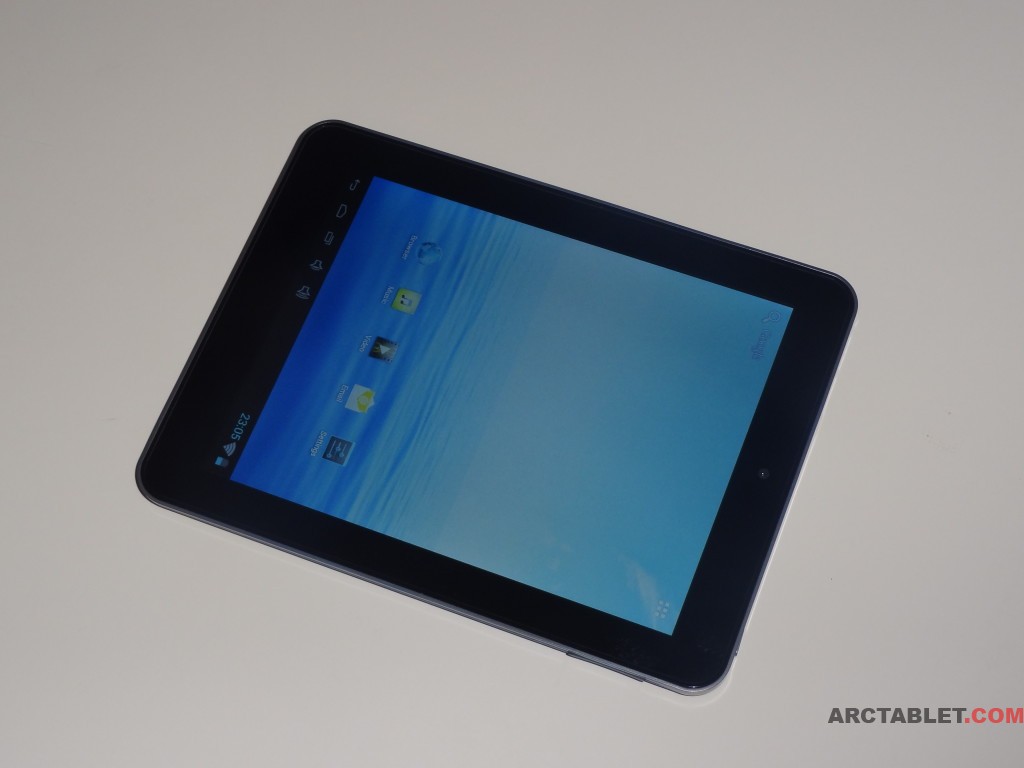 The back is made out of matte plastic which still catches fingerprints quite easily. The greyish frame around the tablet has an aluminium look, but is still plastic. Nothing cracks and we really like the look-and-feel on the 8c G3.
Contrary to many other tablets from Archos, the 8c G3 has a plastic cap covering the microSD-slot. We advise you not to pull the cap too much, because it's quite hard to get it back in. 😉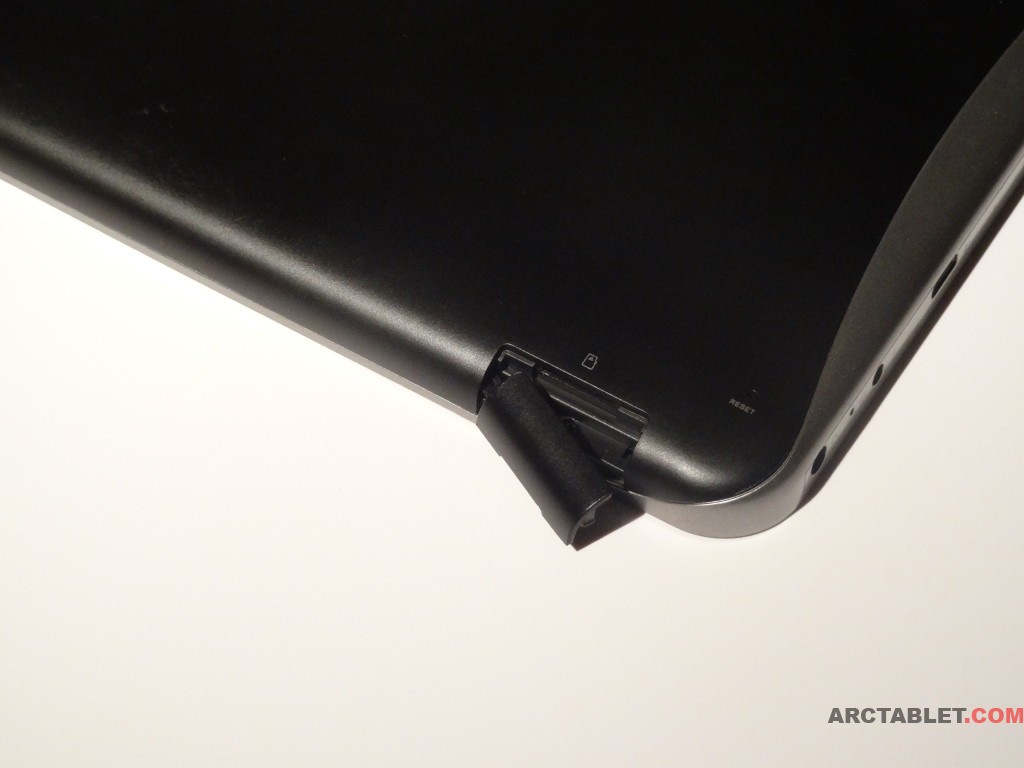 The stereo speakers are located on the right side of the tablet. The sound that comes out is very acceptable, the only problem with the speakers is their placement – when keeping the tablet in landscape mode, you (can possibly) cover the speakers with your hand.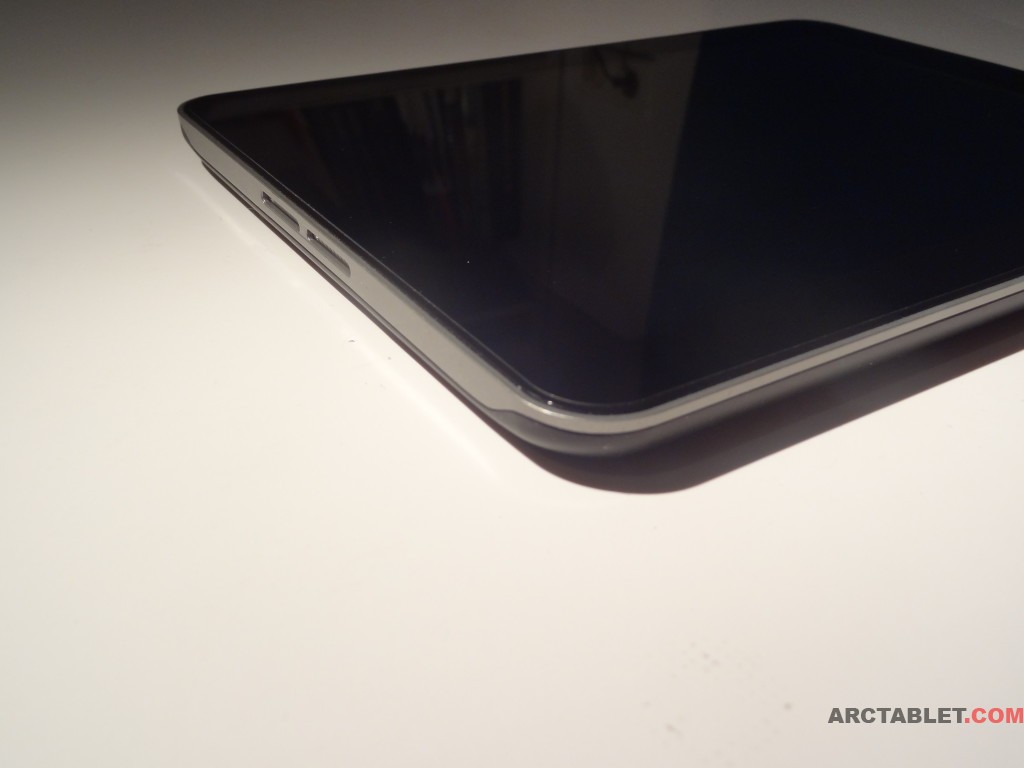 Compared to the other 8″ models from Archos (80 G9 and Arnova 8 G2 / 8 G3), the 8c G3 offers the same aspect ratio and screen size, but much smaller bezels in the width.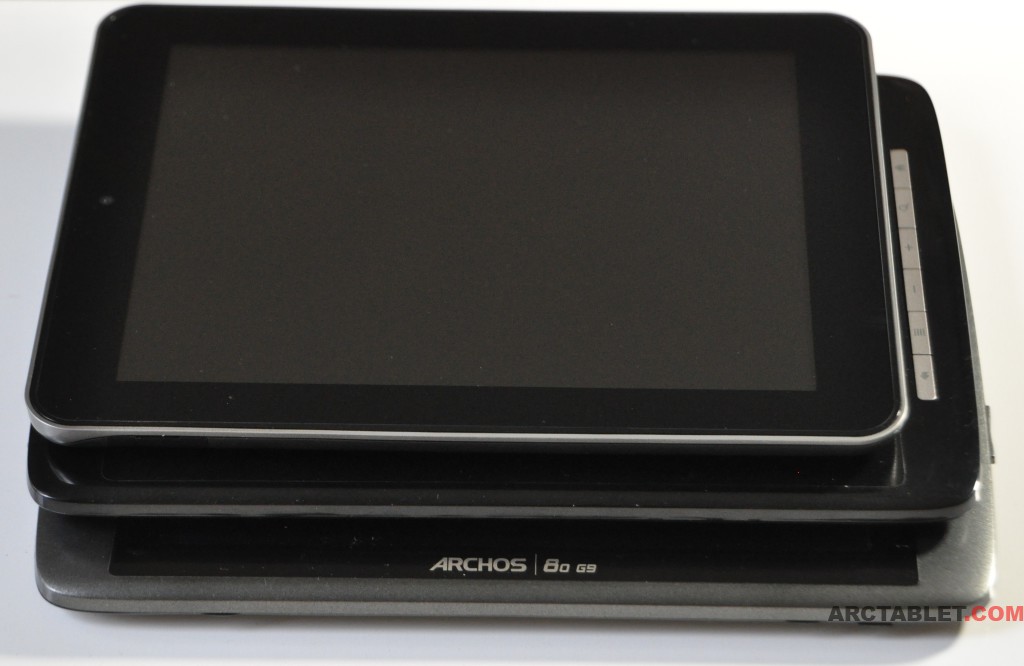 Arnova 8c G3 buttons and connectors
The buttons and connectors are located to the upper side of the tablet(when held in portrait). We can find: volume buttons, power button, micro USB(not OTG / USB Host compatible), power and stereo earphones connectors. The reset pinhole is located on the back.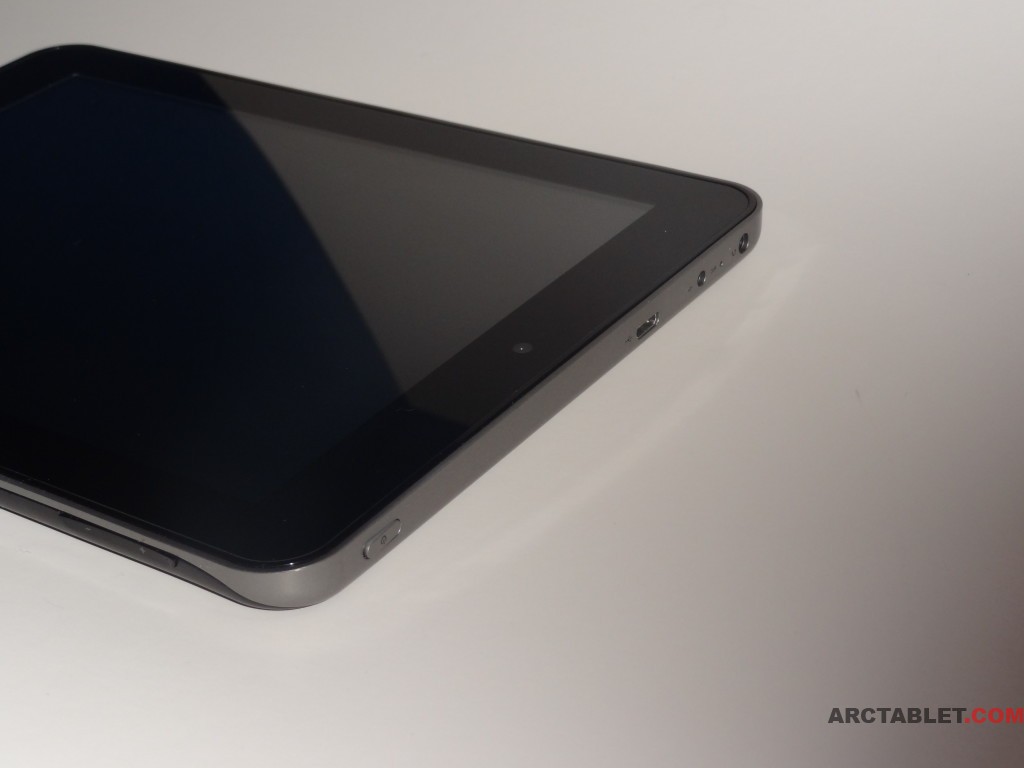 Benchmarks
Arnova 8 G2 vs Arnova 8c G3: benchmarks results
Arnova 8 G2
Arnova 8c G3
CPU / CPU speed
GPU
Memory
Rockchip RK2918 at 1 GHz
Vivante Corporation GC800
512 Mb
Rockchip RK2918 at 1 GHz
Vivante Corporation GC800
1024 Mb
Test setup
Firmware version
Android 2.3 Gingerbread, firmware Android 2.3.1
Build GINGERBREAD.eng.20110903.152730
Android 4.0 Ice Cream Sandwich, firmware Android 4.0.3
Build eng.root.20120406
Antutu Benchmark
higher is faster
Not tested
2101
Linpack Pro v 1.2.9
higher is faster
14.348 MFLOPS
14.462 MFLOPS
CF-Bench v 1.1
higher is faster
Native score: 3381
Java Score:1185
Overall Score: 2063
Native score: 3491
Java Score: 1175
Overall Score: 2101
ArcTools v 0.57
higher is faster
Read: 24347 Kb/s
Write: 4106 Kb/s
Read: 15134 Kb/s
Write: 6964 Kb/s
Smartbench 2011 v 1.2.1
higher is faster
Prod. index: 687
Games Index: 778
Prod. index: 746
Games Index: 472
Quadrant Advanced 1.1.7
higher is faster
Total: 1363
CPU: 2602
Mem: 1025
I/O: 2284
2D: 157
3D: 748
Total: 1668
CPU: 3149
Mem: 2093
I/O: 1882
2D: 629
3D: 585
Vellamo v 1.0.3
higher is faster
484
591
Nenamark v 2.0
higher is faster
25.3 FPS
20.9 FPS
GPUBench v 1.0.0
higher is faster
Absolute: 42451
Relative: 31194
Absolute: 35565
Relative: 27055
For comparison with 7″ tablets, please refer to part 2 of our ChildPad review.
Display
8c G3 features an 8″ screen with 800×600 resolution. This comes down to 125PPI(pixels per inch), which is just a little bit lower than the pixel density on iPad 1 and 2, which have about 132PPI. Though it can't match an 1024×768 8″ IPS panel, for TN screen, it is extremely good. Everything seems readable quite well, the viewing angles from right to left are extremely decent in landscape mode. When used in portrait, the colors start inverting quite fast, especially to the left. The brightness can go up quite high and the touchscreen, which supports up to five points, is also very nice for a tablet in this price range.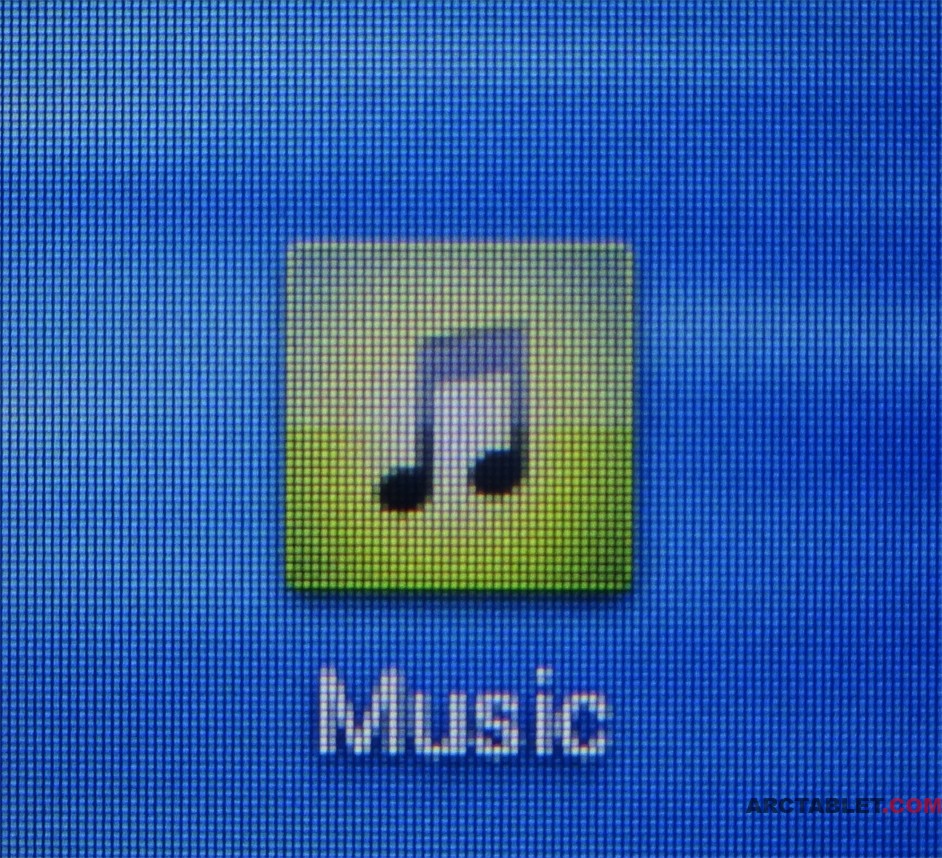 The colors themselves look pretty nice, not oversatured or anything, though black is a little bit greyish(like on many other TN screens).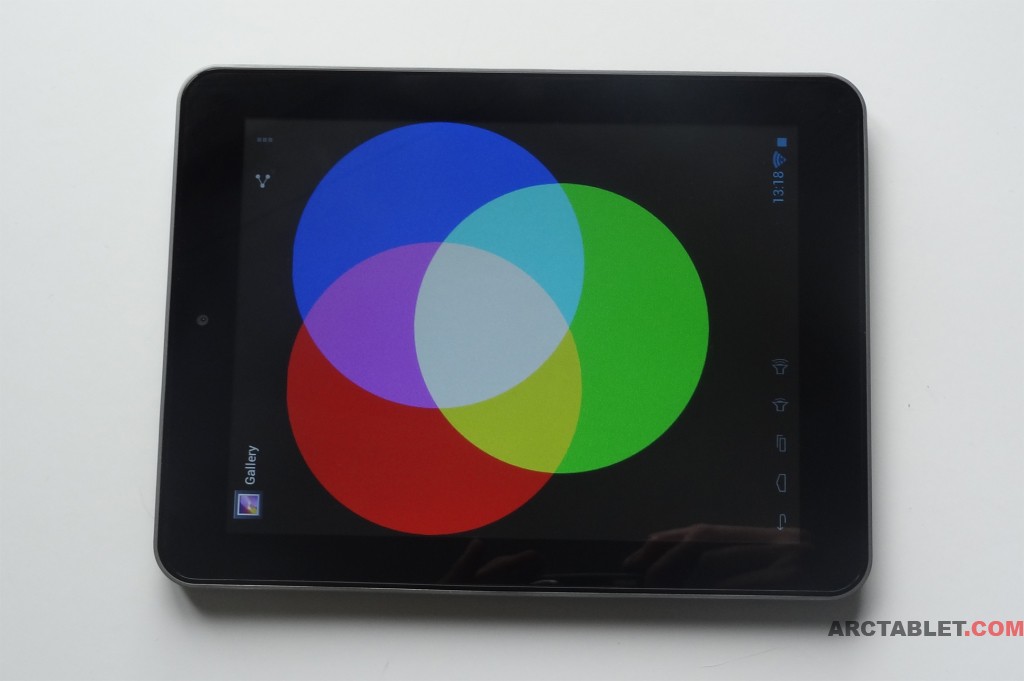 Compared to the 70b IT, the Arnova 8c G3 has a brighter, but a less sharp screen. On the 70b IT, there seems to be a little bit more detail.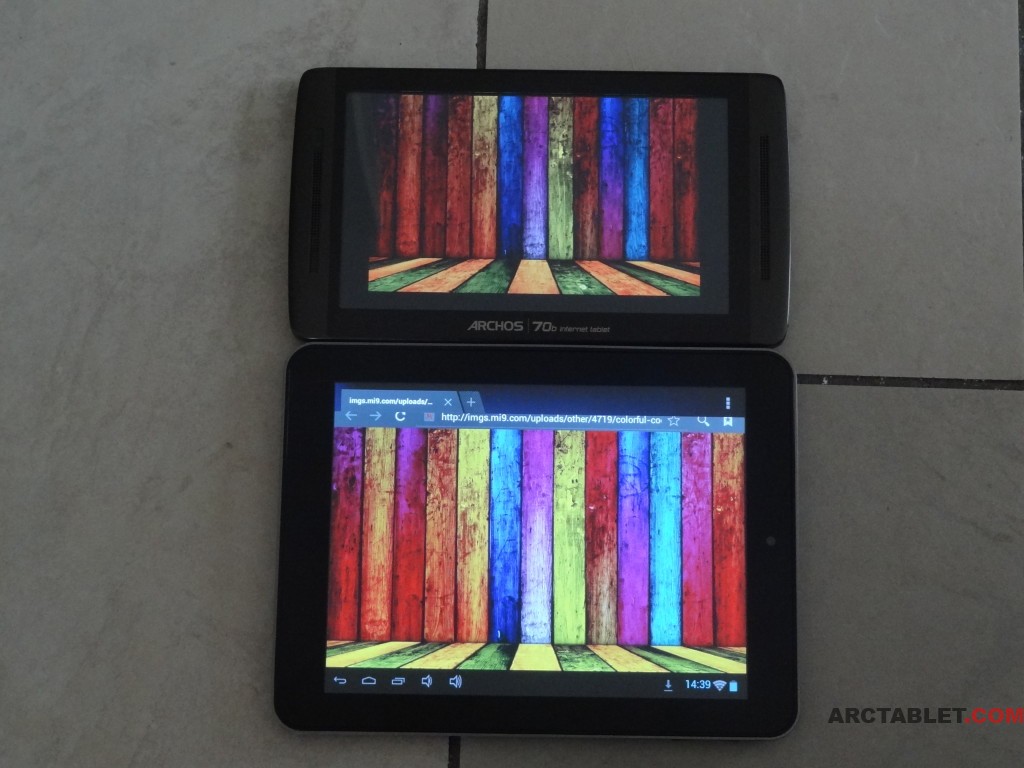 When being exposed to sunlight, the glossy screen of the 8c G3 is quite reflective. Still, thanks to the reasonably high brightness, compared with the Archos 70b IT, it is not too bad. It still acts like  like a mirror when in direct sunlight, but it should be okey in public transport etc.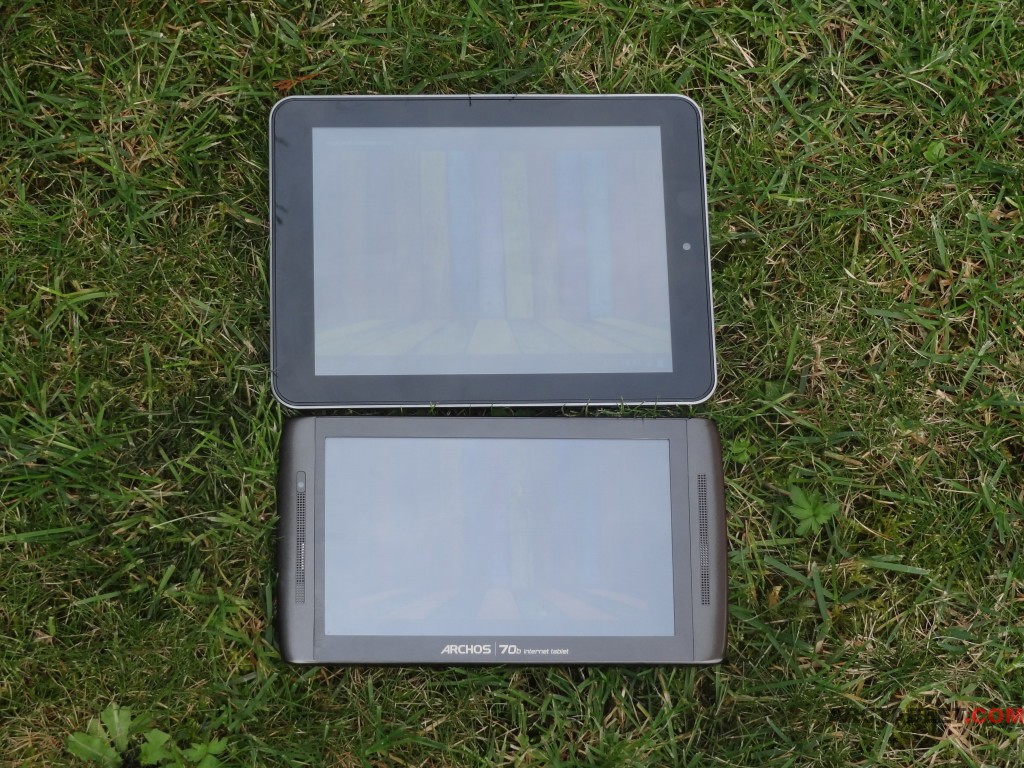 Performance
Equipped with a Rockchip RK2918 CPU, the budget Cortex A8 processor which is now over a year old, you can't expect any wonders. However, with help of Android 4.0 and 1GB of RAM, it works reasonably well. The Allwinner A10 equipped devices may be a little bit faster, still, the RK2918 is not far behind. If you are mainly planning to watch videos(though the screen ration on the 8c G3 is not that suitable for that), or if you are not too demanding user, the 8c G3 should be good enough. Our only concern were some firmware bugs – the flickering backlight on low brightness, screen not always going off after time-out and we believe some settings could have been located a little bit better. From the photo below, you can see that some Android fonts are different which we actually liked, but you can't change the brightness in the quick settings menu on the status bar and neither you can quickly turn Wi-Fi on or off.
For more information about video and games performance on the RK2918-equipped devices, please refer to our Arnova 10G2 review.
Camera
The front facing camera on the 8c G3 is worse than the cameras placed on most other tablets from Archos.
Though it is not that suitable for taking pictures, it should be about usable in video conferencing applications.
Conclusion
We like the 8c G3. Priced slightly under 130EUR, it features a nice design and finish, lies quite comfortably in hands, has solid battery life, performs quite well and offers great features at a great price. Rockchip RK2918 stays quite powerful for a budget tablet and should handle most tasks reasonably well. The 800×600 8″ screen is just good enough and is just enough for browsing, multimedia and gaming(don't expect the sharpness of an iPad 3 here, though 😉 ). Some firmware glitches are not dealbreakers and well, let's hope Arnova will eventually address them. The poor camera neither, at least not for us. If you would like to have USB OTG and HDMI-output, you could give Prestigio MultiPad 5080CPRO a look, which is quite simillar to the 8c G3 and is selling for around 20EUR more.