Arnova has started to ship the new Arnova 84, an updated version of it's Arnova 8 tablet, offering a decent 8.4 inches resistive screen (4/3 ratio), Rockchip 2818 processor and 4 GB of storage. Appart from the device body and the screen, it shares a lot of hardware with other Arnova models and this summary review mainly focuses on the differences, we recommend that you check the Arnova 10 review for more details on other Arnova Rockchip 2818 based products. This Table is good for playing free slot machine games using Android apps.
Arnova 84 specifications
Operating System
Android 2.1 (ECLAIR)
Firmware version says/ 1.0.0 Build Number: 0.18.ECLAIR.eng.root.20110523.135748
CPU
Rockchip 2818
Flash Storage Memory
Capacity 4 GB
Speed: Class 2 range (tested Read 3623 kB/s, Write 1745 kB/s)
System Memory
200 Mb
Additional storage
Full size SD slot (SDHC compatible)
Display
800×600 TFT LCD (4/3 ratio)
resistive screen
Bluetooth
No
Wifi
802.11 b/g
Gravity Sensor
Yes
Camera
No
GPS
no
HDMI
No
Interfaces
USB 2.0 Slave MSC (mini USB format)
Full size SDcard slot
Battery life
??? hours (video playing or web surfing)
Kickstand
No
Dimensions
211 mm x 161 mm x 10 mm
Weight
496 g

Price
129 euros
Yes, we do verify the specifications, some data found on Arnova's page for the 84 model are incorrect, regarding the screen display resolution and device weight.
Packaging
You will find in the box:
– an Arnova 84 tablet
– a power charger with 2 power plugs (English and French types), there is no American format plug
This charger looks similar to the one used on Archos and most Arnova models, but reads "Ktec" as brand on the top. Input 100-240V, outputs 5V 2A
– an USB cable (mini USB format)
– 3 papers that include a Legal and Safety Notice, Arnova 84 User Guide and a promotional coupon.
Unboxing video:

This video covers the following:
– Arnova 84 product unboxing
– comparing Arnova 84 form factor with Arnova 7, Arnova 10b, Arnova 8
– playing Big Buck Bunny video, checking screen and viewing angles
Device body
The device is mostly made of the same plastic material as the Arnova 7, which gives a brillant surface that easily catch fingerprints as well as scratches. There are 2 speakers that are located in two holes in the back of the device and no kickstand. The device weight 496 grams feels a little heavy.
There are two hardware buttons on the top right of the device, to provide previous/ next type buttons, used mainly on ebooks reading. The back of the device has the full size SDCard slot, a mini USB connector, the power and earphone connectors and the power button.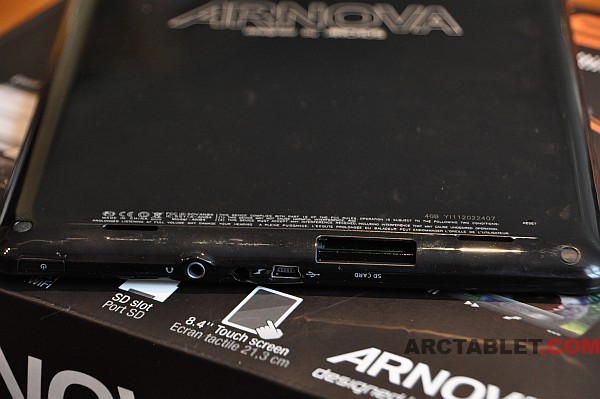 Comparing Arnova 84 and Arnova 8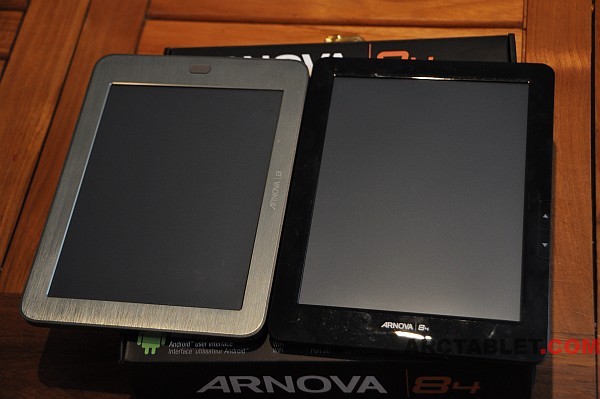 Screen
The Arnova's 84 screen has a 800×600 resolution, it uses resistive technology a provides a single point for touch entry. Viewing angles are reasonably good, but you still need to be in front the device to get a clear picture, as you can see in the unboxing video. Regarding the touchscreen, we feel that this model has a great resistive input, it reacts way better than what we found so far on other Arnova products so far, but is still resistive technlogy so you need to apply a little pressure on the screen to get results, and you don't have multitouch. (see our video to see the difference between capacitive and resistive screen technologies)
Performance
CPU power on this machine is pretty much like the other Arnova devices or the Archos 7HTv2, as they are all powered by the Rockchip 2818 processor. It limits the machine to rather simple applications, like book reading, music/video playing, web surfing on simple page. You probably won't be able to display complex web pages with Flash content, or play 3D or CPU hungry games (see our video of Hungry Birds on Arnova 10)
Conclusion
We are quite pleased with this new model which finally provides an entry level tablet with decent touch screen capabilities and a screen format is quite confortable for ebook reading or web browsing. Still, the device is limited by its slow CPU and you can't expect much when it comes to processor intensive applications.
We are working on a custom firmware for the Arnova 84 to provide Android Market and root to the device, please visit us soon for an update.