The Arnova 8 G3 is a product refresh of the 8 inches (4/3 screen ratio) Arnova 8 G2 tablet upgraded to Android 4 ICS with 1 Gb memory. Unfortunately, as other Arnova G3 tablets, the 8 G3 isn't Google certified and cannot offer Google Play and Apps. We have built a custom firmware based on Arnova's latest firmware release from the July, 12 adding Google Play/Android Market and full root with read-write access to /system partition. The firmware build is dated 20120613.180630 and has been reported by our forum members to correct some serious calibration issues the device had on startup.
Arnova 8 G3 custom firmware features
Clean installation of latest Google Play Store 3.5.15, no more missing apps (Twitter, Facebook…)
Installation of other Google Apps (Gmail, Play Music, Google Search)
Full root support with writable /system partition
Root access is controlled thru SuperSU.apk  0.89 (free version), a cool upgrade to SuperUser.apk by XDA developer Chainfire
Updated Rockchip loader to latest version (2.20)
Our custom firmware can be installed in two ways. The first method is the easiest and will let you have Google Play running in about 10 minutes. The second method erases all the data stored on the tablet, but uses a safer approach.
Arnova 8 G3 custom firmware install easy procedure
Please note that this flashing method is easy to run but includes the same risks as a regular firmware flash. If it goes wrong for some reason and bricks your tablet, the only way to recover it (if the hardware isn't damaged) will be to use
Rockchip Flashing tool
.
Please note this first firmware install method keeps installed apps and data on the tablet.
Step 1. Download and install Arctools from Appslib.

Run Appslib that can be found in the applications on your tablet. While in Appslib, search for "Arctools" application, you should get "ArcTools – Google Play / Android Market & Apps installer" in the list, download, install and run the application.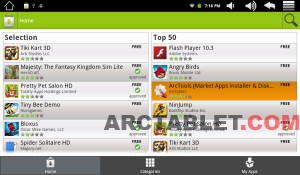 If you don't have Appslib installed, you'll need to download it from
appslib.com servers
.
Step 2. Download firmware

In Arctools, go to Firmware tab, select "Arnova 8 G3 custom firmware 0.42 EZ" (or more recent than 0.42 if there is one)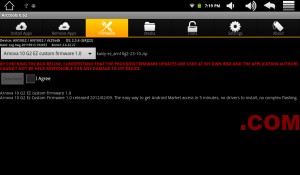 Read the disclaimer in the application and press the checkbox if you agree with the conditions, then press the Download button.
It should take about two minutes to complete the new firmware download.
Restart the tablet when the program is inviting you to.
Step 3. Flashing the firmware
After rebooting the tablet, a "Firmware updating" dialog will ask for confirmation to install the package (=flash the firmware) click Install button. The tablet will reboot and install the firmware.
Step 4. Setup Google Play
After a few minutes, your tablet will be updated with the custom firmware. Setup your Account on Google Play Store and enjoy !
You will find the 4 steps of the installation procedure in the following video (demonstrated on the Arnova 7f G3, but it works exactly the same on the Arnova 8 G3).

Support the project!
If our web site and applications helped you, thanks for supporting us by donating using the Paypal form below or visiting our Donations page. Donations will be used to pay the bills for our server hosting costs, tools and purchase new tablets to support.
Arnova 8 G3 custom firmware alternative install procedure
Before starting, please make sure you backup all your existing apps, data and files that are on your tablet as they will be erased during the flash process. Also make sure your device is charged for more than 35% and is still charging via usb.
Step 1. Arnova 8 G3 custom firmware download
This firmware is specific to the Arnova 8 G3 model and should not be installed on other devices.
WE WILL NOT BE HELD RESPONSIBLE FOR ANY DAMAGE TO YOUR DEVICE.
THIS FIRMWARE UPDATE IS USED AT YOUR OWN RISK.
WE RECOMMEND TO FLASH THIS FIRMWARE ONLY IF YOU ARE ABLE TO RESCUE A BRICKED DEVICE USING ROCKCHIP FLASHING TOOLS.
Step 2. Install and run Rockchip Flashing tool
Please follow the Rockchip Flashing tool procedure: that will explain how to download Rockchip flashing tool, unpack the archive, put your device into flashing mode and flash the custom firmware file that you have unpacked in Step 1.
Step 3. Arnova 8 G3 flashing and restart
After Rockchip flasher has transferred the custom firmware to the tablet, the device will restart and install the firmware. Finally, you will be back to Arnova default startup wizard.
You will find the 3 easy steps of the installation procedure in the following video, see how to get Google Play and root to your Arnova 7f G3 in less than 10 minutes(video shows flashing an Arnova 10b G3, the flashing method for the Arnova 8 G3 is the same) .

Let us know how it works for you in our Arnova 8 G3 forum.
We would like to thank our forum member SupArnova for his help with testing this firmware.