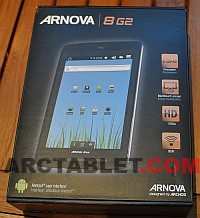 Sowa from archosfans.com has just made a first custom firmware available for the Arnova 8 G2. This custom firmware for the Arnova 8 G2 tablet, brings Android Market and root access to the device.
Firmware download
We have been informed that this firmware should work only on the Arnova 8 G2 8 Gb model,
if you have a 4 Gb storage model, please don't use these custom firmwares.

Full version: AN8G2_full_crom_eu_m2s.zip
Maintain all system applications, added applications Google, except for the map. Updated Market and ROOT.
Installed as a regular way (copying update.img in the bank vntrenney flash), and through RKBatchUpgrade v.1.4.1


Easy version: AN8G2_eazy_crom_eu_m2s.zip
Removed: telephony, living wallpaper, start-up wizard and other minor applications.
Present the updated Market and ROOT. Installation is similar to claim 1
This firmware is specific to the Arnova 8 G2 (8 Gb model) and should not be installed on other devices.
WE WILL NOT BE HELD RESPONSIBLE FOR ANY DAMAGE TO YOUR DEVICE.
THIS FIRMWARE UPDATE IS USED AT YOUR OWN RISK.
WE RECOMMEND TO FLASH THIS FIRMWARE ONLY IF YOU ARE ABLE TO RESCUE A BRICKED DEVICE USING ROCKCHIP FLASHING TOOLS.
Firmware update procedure:
Connect your device to the USB charging cable, fully charge it and leave the socket connected
Unzip the update.img file out of the zip archive
Copy the img file to the root of your device
Unmount USB on your device, it should give a prompt similar to this one: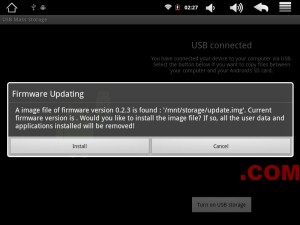 Push the Install button and follow the update procedure
You can also refer to our flashing procedure page for more details.
The first boot after flashing may take some time (few minutes), please be patient.
This first part of the procedure is similar to the one on the Arnova 10, that you can see on this video:

Restoring Arnova 8 G2 default firmware
In case you don't like this firmware or if you just want to go back to the default stock firmware:
From the custom firmware author
Quoting Sowa, the custom firmware author:
Custom ROM For ARNOVA 8G2 [ROOT, Market, YouTube]
All the actions you do at your own risk!
In applying the Custom ROM you lose your warranty.

Update: 03.12.2011
Made 2 versions of the Custom ROM.
When you install custom ROM, the settings you saved applications and data. You may need to reconfigure these applications.

1. Full version AN8G2_full_crom_eu_m2s
Maintain all system applications, added applications Google, except for the map. Updated Market and ROOT.
Installed as a regular way (copying update.img in the bank vntrenney flash), and through RKBatchUpgrade v.1.4.1

2. Lite version AN8G2_eazy_crom_eu_m2s
Removed: telephony, living wallpaper, start-up wizard and other minor applications.
Present the updated Market and ROOT.
Installation is similar to claim 1

In both versions, slightly altered graphics interface.

Returning to the original firmware with the same method.
User data during installation are removed.
AN8G2_orig_rom (updated)

*update.img found in the archive, you must extract before use.

Version 1. 30.11.2011
This ROM is added applications Google, except the map, and ROOT
Removed living wallpaper, phone and startup wizard. Other applications are submitted, as it is.
When setting user data and programs are not affected.
Setting the standard way: copy update.img intrnal flash on and off with usb
agree to the installation.
Download: custom imdge

Returning to the original firmware with the same method.
User data during installation are removed.
Dump the standard ROM