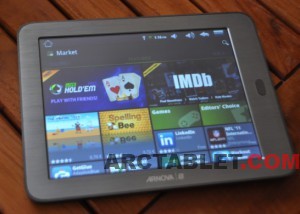 EDIT: With 15 beta testers, we now have enough participants to try this new firmware. For all the others, please wait a few days until the beta ends and we can finally publicly release the custom firmware.
We are almost done with our custom firmware offering Android 2.2 (Froyo) and Android Market (2.2.7 or 3.0.26) to the Arnova 8 Tablet. So far our tests give positive results, but considering the problems that have been reported on the Arnova 10 custom firmwares, we would like to run few extra tests before publicly releasing the firmware.
By tomorrow 2011/09/15 and for a few days, we would like to open the tests to a small group of the Archos/Arnova users community. If you own an Arnova 8 and want to participate, please leave a comment in this article, we will contact you by email to give you access to the firmware. The firmware will be released the following days, when there is enough feedback confirming proper work.
As usual, there are always risks with flashing a non official firmware and we recommend that you contact us only if you are able to restore a broken firmware with Rockchip tools in case things go wrong.
This firmware is specific to the Arnova 8 and should not be installed on other devices.
WE WILL NOT BE HELD RESPONSIBLE FOR ANY DAMAGE TO YOUR DEVICE.
THIS FIRMWARE UPDATE IS USED AT YOUR OWN RISK.
WE RECOMMEND TO FLASH THIS FIRMWARE ONLY IF YOU ARE ABLE TO RESCUE A BRICKED DEVICE USING ROCKCHIP FLASHING TOOLS.
Edit 10/17/2011: Please note that the final release for this firmware is currently delayed. We currently have a lot of work with custom firmwares for other Archos and Arnova machines as well. If anyone want to jump in and help on custom firmwares, don't hesitate to give us a hand.