Our friend from JBMM.fr got his hands on an Arnova 7c G2 tablet for a quick photo shoot.
This new Arnova model is running Android 2.3.3 Gingerbread and is powered by a Qualcomm MSM7627 CPU running at 800 MHz, offers 3G connectivity and has apparently around 350 MB system memory.
The Qualcomm MSM7627 CPU is a rather old processor from year 2009, supporting ARMv6 instruction set with a ARM1136EJ-S CPU core, an Embedded QDSP5000 DSP and Adreno 200 (Ex ATI Imageon product) GPU. This graphic processor can also be found on Qualcomm QSD8250 Snapdragon equipped phones, such as the Google Nexus One.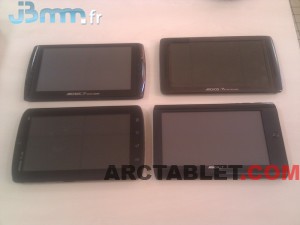 The 7 inches device has a new casing compared to its older brothers, Archos 7HT v1/v2/c, Archos 7 IT and Arnova 7, with few novelties such as a front facing camera and 4 hardware buttons on the face of the device.
The Arnova 7cG2 does not offer the Android Market, but has Appslib, Archos own Marketplace instead. According to the pictures, Adobe Flash seems to install fine and run.
So far, the product can be bought with a phone contract at Carphonewarehouse.com in the UK.
Looking at the benchmarks photos, performance seems average, specially in 3D, the numbers are somewhere between the old Arnova tablets equipped with a Rockchip 2818 CPU and the new Rockchip 2918 powered Arnova 10 G2.
| | | |
| --- | --- | --- |
| 1066 | 6.7 fps | 228 |
Please check back soon for a complete review of this entry level 3G Android tablet.
Thanks to Jbmm.fr for the pictures