With the Arnova 7b G2 Dual Touch, Arnova is starting to offer a cheaper version of the Arnova 7 G2 Android Tablet. The major difference is a Dual Touch 7 inches resistive screen instead of the capacitive one on the Arnova 7 G2. The new tablet case breaks from the old habits of the Archos 7HT heritage, with a new case inspired by the older Archos 70 IT model, slightly modified (plastic only backside structure and no kickstand)
The device keeps most of the other attributes from the Arnova 7 G2, such as the Rockchip 2918 CPU running at
1 GHz, a camera and Android 2.3 Gingerbread system which is setup to support 3G wireless networks with the aid of Archos 3G Stick.
This Archos 7b G2 Dual Touch seems to have a quite agressive pricing, being available as low as 99 euros in France.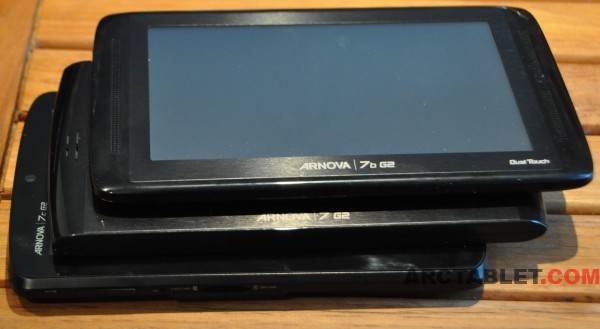 Arnova 7b G2 specifications
Operating System
Android 2.3.1 (Gingerbread)
Linux Kernel Version: 2.6.32.27
Build number: 1.0.4.GINGERBREAD.eng.root.20111213.124400
CPU
single core Rockchip 2918 CPU running at 1 Ghz
Integrated GPU: Vivante Corporation GC800
Flash Storage Memory
Capacity 4 GB
Speed: Class 2 range
(tested Read 24843 kB/s, Write 2824 kB/s)
System Memory
512 Mb (to be Confirmed)
Quick System Info Pro reports 287 Mb, as the Arnova 7G2
Additional storage
Micro SD slot (SDHC compatible)
Display
800×480 TFT LCD 7 inches
resistive 2 points Dual Touch screen
Bluetooth
No
Wifi
802.11 b/g
Gravity Sensor
Yes
Camera
Yes, VGA resolution (640×480)
GPS
No
HDMI
No
Interfaces
micro USB Slave Mass Storage Class (MSC)
MicroSD slot
Battery life
Video playing test: TBD hours

check our Archos and Arnova battery tests page
Android Market
No (Appslib application Marketplace)
Kickstand
No
Dimensions
205 mm x 119 mm x 12,6 mm
Weight
351g

Price
99 euros at Conforama in France
$149 at HHGregg in the USA
144.81 euros at Pixmania in France
Packaging
Packaging is very similar to other Archos and Arnova products, you will find in the box:
– an Arnova 7b G2 tablet
– a power charger with 3 power sockets (American, English and French type)
An power charger from Arnova, input 100-240V, outputs 5V 1.5A, micro USB socket
– an USB cable (micro USB format)
– 3 papers that includes: Arnova 7b G2 User Guide, Legal and Safety Notices and a $10 music credit coupon at emusic.com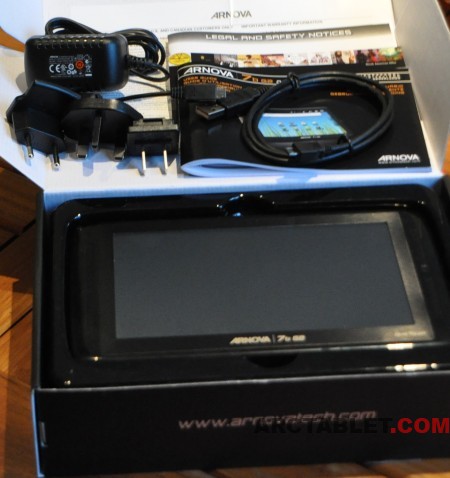 Arnova 7b G2 connectors
The right side the tablet gets the Power button, the micro USB connector (which also serves to charge the device), the micro SDcard slot, the stereo ear connector, a reset button and a power LED. It is interesting to note that there is a plastic cover (not removable) of the size of an HDMI connector. The model has two speakers located on top of the device, on each sides of the screen, which should give good channel sound separation.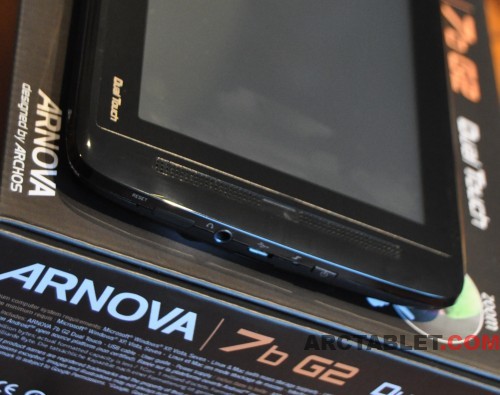 Thanks to Cajl/Jbmm.fr for lending me his Arnova 7cG2.
Please check back soon for the rest of this product review, you can also refer the our Arnova 10 G2 review for further info on this 10 inches model very similar to the Arnova 7b G2.