Arnova 7 G3 is a entry level 7 inches Android 4 ICS tablet from Arnova. It's first device in the Arnova G3 line powered by a Boxchip Allwinner A10 CPU. It offers some nice features such as HDMI output, a great 1080p video player, overclocking capabilities and even comes rooted out of the box ! Selling at around $105/99 EU/95 UKP, we found that the price for these features is quite good.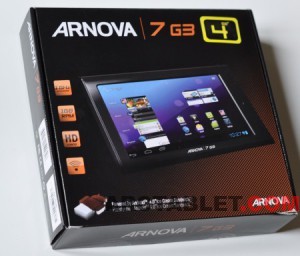 Arnova7 G3 specifications
Operating System
Android 4.0.3 (Ice Cream Sandwich)
Build fingerprint: 20120409
Linux Kernel Version: 3.0.8
CPU
Boxchip Allwinner A10 running at 1 Ghz (Arm Cortex A8)
Integrated GPU: Mali 400
Flash Storage Memory
Capacity 4 Gb
Tested speed: Read: 18681 kB/s Write: 6745 kB/s Class 6 equivalent
System Memory
1024 Mb
Additional storage
Micro SD slot (SDHC compatible)
Display
TFT LCD 7 inches capacitive 5 points screen
800×480 resolution


Bluetooth
No
Wifi
802.11 b/g/n
Gravity Sensor
Yes
Camera
0.3Mp (front facing)
GPS
No
HDMI
Yes (mini HDMI, aka HDMI type c connector)
Interfaces
Micro USB slave 2.0: Mass Storage Class (MSC)
MicroSD slot
Battery life
Video playing test: 5 hours 14 mins
(no Wi-FI, brightness to 50%, Bick Buck Bunny 720p continuous video play)
Android Market / Google Play
No Has Archos own Market place, Appslib
Kickstand
No
Dimensions
193 mm x 118 mm x 13 mm
Weight
310 g

In the box
The box contains the tablet, 2 booklets (user manual and a legal/safety notice), a power charger with an EU format plug, a micro USB cable.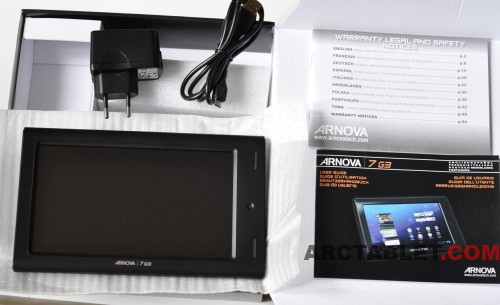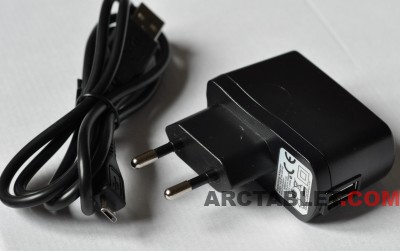 Arnova 7 G3 tablet design
Two speakers, front video camera (0.3 Mpix resolution)


Buttons & connectors, from left to right: power button, power LED, micro USB host, micro sdcard slot (on top), headphones connector, microphone hole.


The back of the tablet is made of plastic, mate surface which does not catch fingerprints.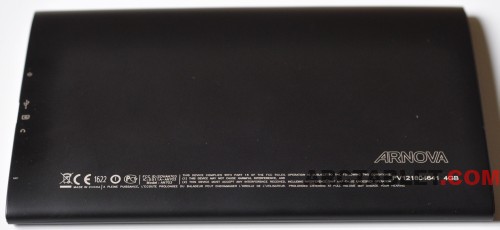 Arnova 7 G3 video player

The Arnova 7 G3 comes with a video player called Super-HD Player which supports 1080p video play, lots of video formats and many features:
– file selector to choose the video file to play
– volume controls: – / +
– video controls: pause/play, change position in video

– subtitles: changing subtitle color, subtitles fonts, charset
– change audio track
– change video aspect ratio: full screen video ratio, full screen screen ratio, original size, 4/3, 16/9
– some 3D rendering effects rendering (multiple modes)

According to the Arnova 7 G3 specs, the following multimedia formats are supported:
Video formats
H.264 up to 1080p resolution – 30 fps
MPEG-42– 30 fps
With the above codecs, the device can play video files with the following extensions: .avi .mp4 ,mkv, .mov, and .flv

Audio formats
MP3, WAV, APE, OGG, FLAC
Photo formats
JPEG, BMP, GIF, PNG
Please refer to our Super-HD Player application review on the MPMan MID74c for more details on the video player features, format support, 1080p and HDMI output.
Arnova 7 G3

AMAZON USA
Usually ships in 1-2 business days
$ 75
AMAZON UK
Usually dispatched within 1-2 business days
£ 81.5
AMAZON DE
71.99 EUR
Arnova 7 G3 user review by lohtse
After using the device for two weeks,
lohtse member in our forum
is giving us his impressions on the Arnova 7 G3 tablet, thanks for your input lohtse !
Having had the Arnova 7 G3 for just over two weeks now I  thought I'd give my thoughts on it…


First impressions out of the box is you feel it's a very cheap tablet but after a few minutes that cheap plastic feeling turns into quite a solid device, nothing creeks and feels comfortable to hold.. Turning it on is done by the only button you can find this is a downside as personally I like having hardware buttons for volume, menu and home but I have learned to  live with it.  There is a Headphone socket, HDMI port and Micro USB/power port located the same side as power button.

On first boot as always it can take a little time but after that depending on how many apps you have installed it's fairly quick.. As this device does not come with Google Market it has no setup wizard as you would expect, so you are straight into using the device..

The screen is responsive and has a 5 point multi-touch one which is a bonus especially for gamers. It is quite clear and viewing angles aren't too bad either (some will disagree but what angles are you look at it?) It's not too bad to view outdoors either! Using the keyboard within apps is excellent with no lag (typed original review using it), My preferred keyboard is hacker keyboard and is on all our tablets and it works excellently on the 7G3..

Sound is provided by the two speakers on the front and whilst not bad for game play (more later on gaming) they are poor for MP3's and video.. But having said that they will do the job when needed. But I would advise earphones for better sound quality!

Video play back is great once you install a better player as the inbuilt one which is part of the Gallery app which is good is also lacking in some area's.. We use MX player+neon codex of google market and all formats inc MKV have played without any issues. The 7G3 is equipped with HDMI and play back for video is pretty damn good as far as I'm concerned.

The speed of the tablet is damn good and as the 7 G3 comes with a 1ghz processor with 1gig of ram Android 4 ICS seems very at home and responds very well indeed.. Menu's open quickly and most applications do too (found adobe apps to be slow). Moving around the screens is effortless and a joy.

Now web browsing! This is excellent on the 7 G3 the stock browser as always is poor so I installed Maxthon 1.6 Tablet (it will say for 10.1 tabs).. I surf via home wifi or wifi tether on phone and speeds vary depending on connection and location. Generally pages open fast and are easy to navigate, Even Flash is working perfectly (would suggest you update to latest) which is a plus for Facebook addicts..




Maxthon 1.6 Tablet on the 7G3

The Wifi connection itself is not the best as has quite a limited range(5m max for best connection) and can drop occasionally but it is ok for what you pay and hopefully in any updates from Arnova this may be sorted..  As to updates there is a hint of an update as the tablet has an app installed for this purpose so here's hoping!

Now the Camera, well this was a surprise as I found it to be quite good, Picture quality is not bad for a VGA camera(1.3meg is mentioned else where but unable to confirm) and video isn't to bad either and it even supports zoom!!! and works well in low light too, If you use Skype then(use modded version of XDA) you will be happy with the out come as both Camera and Microphone work fine.

As for gaming well you will not be disappointed the 7G3 plays most games well (even Brother in Arms and Frontline commando) and in most cases better than well. So far every game we have thrown at it has worked and are fully playable. Only issue is that OLDER games don't play well with the G-sensors, New games are fine. The G-Sensors work perfectly too and are very responsive, I like to play X-plane which plays better on the 7G3 than it does on our Advent Vega (tegra) tablet!!!

The MicroUSB port can be used for connecting to the PC or using a mouse/keyboard on the 7G3 plus you can use usb sticks and card readers to via a Micro USB adapter found on ebay. All work well that I have tried so far,  just a shame Bluetooth and gps drivers aren't built in to the OS.

As to battery life. Well this depends on to many factors really. Gaming,video,wifi, heck list is quite large. The longest running time I have managed was just over 6 hours and that was at night with screen low and now wifi. But in general with average usage I get 4 and a half hours a day when using wifi, full screen brightness etc.

My primary use for this tablet is work related and mapping (Oruxmaps,Lucus pro) and my partners is web n gaming (she's a gaming geek) And both of us love the device for this (I had to get her one grrr). It does everything we ask of it and does it well.. It has pretty much taken over most day today tasks from the Laptop. Add a little overclocking and you have a slightly nippier tablet too.

Yes there are glitches but it's new on the market so is to be expected. Our only issues are the Timezones cannot be set via the system but this can be solved by installing clockysync and has no google market but again this can be solved by following one of the various guides mentioned in the forum… Plus I guess no hardware buttons for volume and menu etc and gps or bluetooth support or hostusb…

All in all this tablet is a great little device and would recommend to anyone. It does its job and does it well.. It may not be sexy too look at and as feature/hardware rich as others but it holds it own against them and hey it's £100+ so what did you expect!?




Market on the 7G3


And it comes rooted (lovely surprise) and you get a lot for you money..




7G3 overclocked!
Links of interest:
Overclocking guide http://www.arctablet.com/blog/forum/arnova-7-g3/overclocking-the-7g3/
Market installation http://www.arctablet.com/blog/forum/arnova-7-g3/arnova-7-g3-google-play-android-market-setup/
Thanks lohtse for the review.
Manufacturer's page: Arnova 7 G3