It looks like Arnova has decided to recycle their old Arnova 7 G2 and update these tablets to Android 4.0 Ice Cream Sandwich (ICS) like they did for the Arnova 9 G2i.
At first look, this model is just an Arnova 7 G2 tablet with the same specs: Rockchip RK2918 CPU at 1 GHz, 512 Mb RAM, 7″ screen. This "new" Arnova 7 G2i seems to be currently available in a few European countries (Belgium, Netherlands, UK).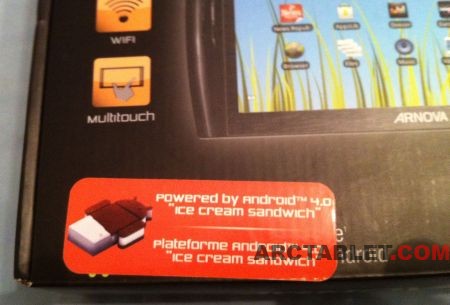 The product box is identical to the old Arnova 7 G2, with just an additional Android 4.0 ICS sticker.
The system is running on Android version 4.0.3 (build eng 4.0.3 IML74K eng.root.20120615.040238 test-keys) with a Linux Kernel version 3.0.8+ (built Fri Jun 15 09:25:37 CST 2012)

We do confirm that this Arnova 7 G2i ICS firmware can be flashed on a regular Arnova 7 G2 model. We are currently working on making a custom firmware to update the Arnova 7 G2i and the older 7 G2 model to Android 4.0 ICS with Google Play Store and root access, stay tuned !
Thanks to exelletor and our forum member Oream for the 7 G2i device pictures and the firmware update.