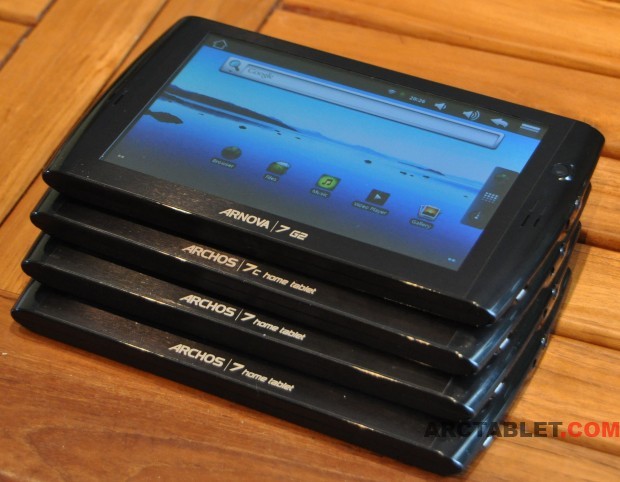 The Arnova 7 G2 tablet is an awaited upgrade of the long running Archos 7 HT (Home Tablet). This new release brings a Rockchip RK2918 processor (single core) running at 1 GHz, Android 2.3 Gingerbread, capacitive screen and a front (web)camera.
The Arnova 7 G2 should not be confused with the Arnova 7c G2, which support 3G, has a slower CPU (Qualcomm MSM7627), less memory (350 Mb) and a casing a little different.
Arnova 7 G2 specifications
Operating System
Android 2.3.1 (Gingerbread)
Linux Kernel Version: 2.6.32.37
CPU
single core Rockchip 2918 CPU running at 1 Ghz
Integrated GPU: Vivante Corporation GC800
Flash Storage Memory
Capacity 8 GB
Speed: Class 2 range (tested Read kB/s, Write kB/s)
System Memory
512 Mb (DDR2 ?)
Additional storage
Micro SD slot (SDHC compatible)
Display
800×480 TFT LCD 7 inches
capacitive 2 points screen
Bluetooth
No
Wifi
802.11 b/g
Gravity Sensor
Yes
Camera
0.3Mp (front facing)
GPS
No
HDMI
No
Interfaces
micro USB Slave Mass Storage Class (MSC)
MicroSD slot
Battery life
Video playing test: TBD hours

check our Archos and Arnova battery tests page
Android Market
No (Appslib application Marketplace)
Kickstand
Yes
Dimensions
203 mm x 107 mm x 12 mm (8" x 4.2" x 0.5")
Weight
370 g / 13 oz
Price
TBD
Packaging
Packaging is very similar to other Archos and Arnova 7 inches products, you will find in the box:
– an Arnova 7 G2 tablet
– a power charger with 3 power sockets (American, English and French type)
This is the classic power charger from Archos/Arnova, input 100-240V, outputs 5V 2A
– an USB cable (micro USB format)
– 3 papers that includes: Arnova 7 G2 User Guide, Legal and Safety Notices (finally under the Arnova brand ;)) and a $10 music credit coupon at emusic.com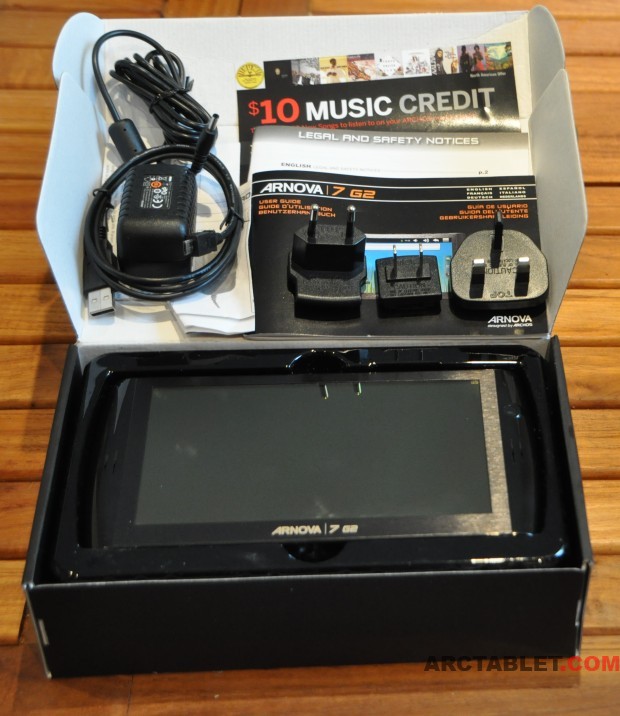 Arnova 7 G2 pictures
This short collection of pictures highlights the connections on the device: micro USB, power supply, and headphone connector on the right side, micro SDcard, tiny microphone hole and power switch on the top, kickstand and reset pinhole in the back, and camera on the front left of the device.
[flagallery gid=6 name="Gallery"]
Please check back soon for the rest of this review, analyzing the device performance and applications.
You can also refer the our Arnova 10 G2 review for further info on this 10 inches model very similar to the Arnova 7 G2.