We recently reported the existence of the Arnova 7 G2i, which is basically an Arnova 7 G2 sold with Android 4.0 ICS. Thanks to Oream member on our forum for making a firmware dump of his device that is confirmed to work on the older Arnova 7 G2. We have modified that firmware dump to add Google Play Store/Android Market, full root, write access to /system partition and extended 1.5 Gb space for applications (/data partition)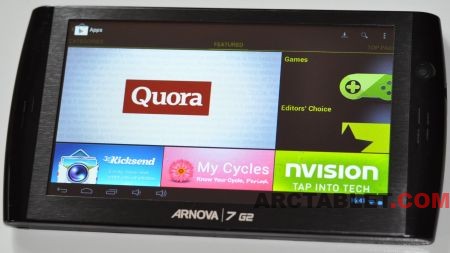 Arnova 7 G2 custom firmware features
Clean installation of Google Play Store, no more missing apps (Twitter, Facebook…)
Full root support with writable /system partition
Root access is controled thru SuperSU.apk v0.96 (free version), a cool upgrade to SuperUser.apk by XDA developer Chainfire
Extended space for applications (/data) to 1.5 Gb
Install procedure
Before starting, please make sure you backup all your existing apps, data and files that are on your tablet as they will be erased during the flash process. Also make sure your device is connected to the power.
Step 1. Download
Kasty custom firmware download (version 0.43)
kasty-ez_arn7g2-40-043-1_5G.zip
This firmware is specific to the Arnova 7 G2 (capacitive model only) and Arnova 7 G2i and should not be installed on other devices.
WE WILL NOT BE HELD RESPONSIBLE FOR ANY DAMAGE TO YOUR DEVICE.
THIS FIRMWARE UPDATE IS USED AT YOUR OWN RISK.
WE RECOMMEND TO FLASH THIS FIRMWARE ONLY IF YOU ARE ABLE TO RESCUE A BRICKED DEVICE USING ROCKCHIP FLASHING TOOLS.
Download the file above and extract the custom firmware image (update.img) on your computer hard drive.
Step 2. Install and run Rockchip Flashing tool
Please follow the
Rockchip Flashing tool
procedure: that will explain how to download Rockchip flashing tool, unpack the archive, put your device into flashing mode and flash the custom firmware file that you have unpacked in Step 1. We recommend that you use
Restore button rather than Upgrade button
in Rockchip flasher to make sure your device gets properly erased.
Step 3. Arnova 7 G2 flashing and restart
After Rockchip flasher has transferred the custom firmware to the tablet, you will have to restart the tablet to finish installing the firmware. Finally you will be back to Arnova default startup wizard.
Support the project!
If our web site and applications helped you, thanks for supporting us by donating using the Paypal form below or visiting our Donations page. Donations will be used to pay the bills for our server hosting costs, tools and purchase new tablets to support.

The following video demonstrates the 3 easy steps of the installation procedure to get Google Play Store and root to your Arnova 7 G2 in just a few minutes. The video shows the procedure for the Arnova 9 G2, but it's very similar for the 7 G2.

Let us know how this firmware works for you in our Arnova 7 G2 forum.
Thanks to exelletor and Oream member of our forum for the Arnova 7 G2i firmware dump.