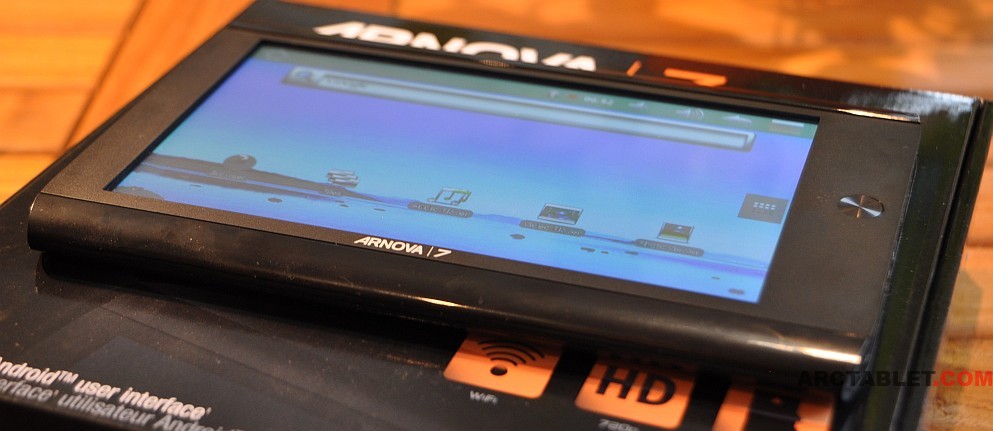 Following the Arnova 7 and Arnova 84 introduction in June, Arnova managed to get the product on shelves pretty quick. The product is not yet widely distributed yet but you soon should be able to find this cheap tablet as 99$ (or 89 euros).
Arnova 7 specifications
Operating System
Android 2.2.1 (Froyo)
Firmware version: 2.2.1 Build Number: MASTER.eng.root.20110602.888888
CPU
Rockchip 2818
Flash Storage Memory
Capacity 4 GB
Speed: Class 2 range (tested Read 6069 kB/s, Write 1705 kB/s)
System Memory
200 Mb
Additional storage
Micro SD slot (SDHC compatible)
Display
800×480 TFT LCD
resistive screen
Bluetooth
No
Wifi
802.11 b/g
Gravity Sensor
Yes
Camera
No
GPS
No
HDMI
No
Interfaces
USB 2.0 Slave MSC (mini USB format)
USB 2.0 Host MSC
MicroSD slot
Kickstand
No
Dimensions
193,3 mm x 120 mm x 12,6 mm (4.698 " x 4.724" x 0.496 ")
Weight
350 g / 11.99 oz
Price
99 USD (or 89 euros)
Packaging
Packaging is very similar to latest Archos and Arnova products, you will find in the box:
– an Arnova 7 tablet
– an USB cable (mini USB format)
– 5 papers that includes Archos(!) Legal and Safety Notices, Arnova 10 User Guide,
– a power charger with 3 power sockets (American, English and French type)
this is a new power charger (that is found also on the Arnova 8), the power plug on the tablet is different from the model used on Archos Gen8 devices, Archos 7 HT and Arnova 8/10. Input 100-240V, outputs 5V 2A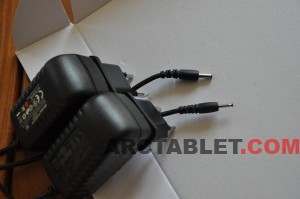 (Arnova 7 charger shown on the right)
Nice improvement, the device can now be charged thru the USB cable, which is uncommon for Archos/Arnova
devices of 7 inches and more.
Unboxing video
This video covers the following:
– Arnova 7 product unboxing
– comparing Arnova 7 powerplug and USB cables with Archos regular cables
– comparing Arnova 7 form factor with Archos 70b eReader, Archos 7c Home Tablet, Archos 70 Internet Tablet
– playing Angry Birds Seasons
– playing Big Buck Bunny video, checking screen and viewing angles
Device body
Most of the device body is made of plastic, with a brillant surface that easily catch fingerprints as well as scratches. There is a single speaker on the back of the device and no kickstand.
On the right side of the tablet you see the full USB connector, a mini USB connector, power plug, headphones connectors and a microSD slot.
The Full size USB connector offers USB Host function and can receive keyboards connections and some USB dongles.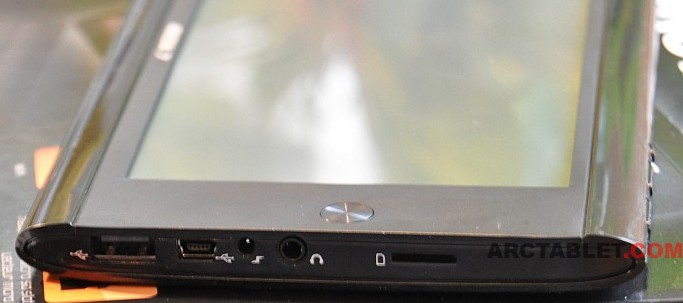 The top side has 3 buttons: Power, M button as an Android Menu hardware button, "ESC" as an Android "Back" button. The top side also contains 2 holes, one for the integrated microphone another one for the reset function.
The big round button on the top side of the device acts as a back button as well.
Screen
The Arnova's 7 screen has a 800×480 resolution with a relatively matte surface. Viewing angles are decent, but you need to be in front the device to get a clear picture, as you can see in the unboxing video.
The screen uses resistive technology a provides a single point for touch entry, the thin resistive film is adjusted on top of the screen and covers the full surface minus a millimeter on each side, as it can be seen on this picture below.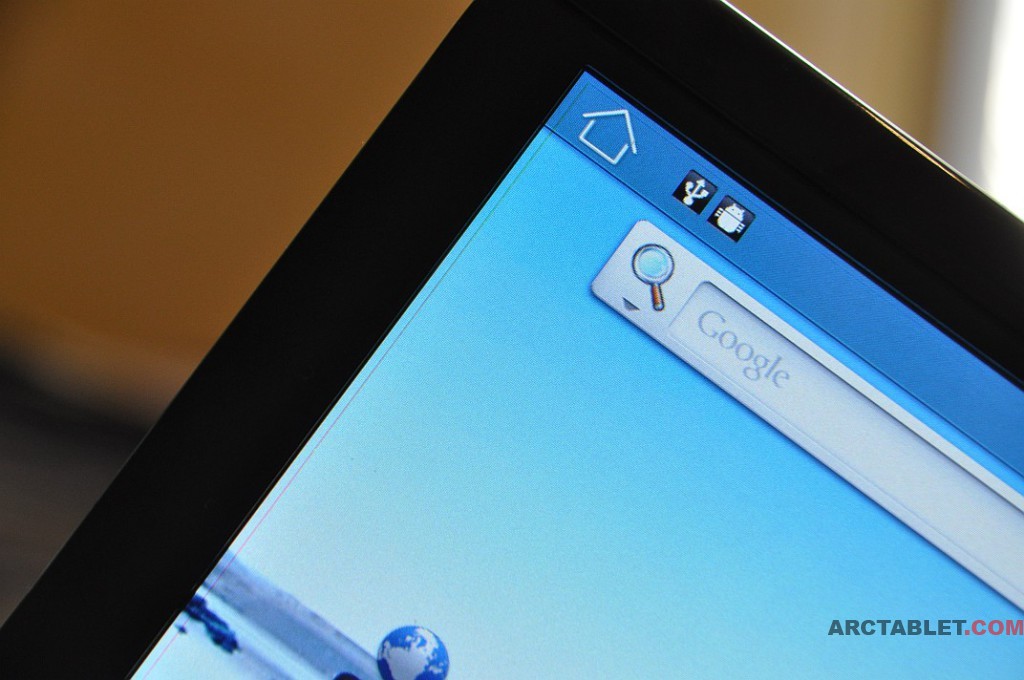 Performance
CPU power on this machine is pretty much like the other Arnova (8 and 10 models) or the Archos 7HTv2/7HT, as they are all powered by the Rockchip 2818 processor. It limits the machine to rather simple applications, like ebook reading, music/video playing, web surfing on simple pages. You probably won't be able to display complex web pages with Flash content or play heavy/3D games (see our unboxing video above).
Even if the device is running Android 2.2 (Froyo), Adobe Flash installation did not work for us.
Conclusion
Arnova managed to produce a budget 7 inches Android 2.2 (Froyo) based tablet, selling under $100. Still, the device is very basic and will have limited use due to the slow CPU and the resistive screen. It is still a good opportunity to get a decent music/video player running Android for the price of a simple PMP or a noname tablet.
---
We are working on a custom firmware for the Arnova 7 to provide Android Market and root to the device, please visit us soon for an update.