The Arnova 10d G3 Android tablet has started to sell a few days ago. A few shops like Conrad.de in Germany or Auchan in France are already running promotions under 120 euros, making this 10 inches Android tablet a great deal on the market. Still, the buyers feedback we gathered on the Internet, give mixed echos: some are quite happy with their new tablet while others are mentioning serious flaws. Let's have a look !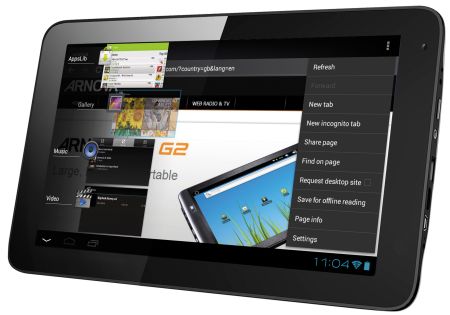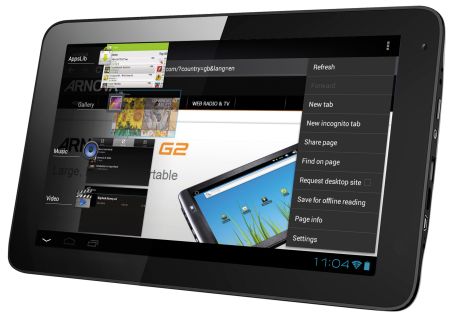 Update 2012/11/21: We have added a video showing the (poor) screen viewing angles, see in the users reported issues below, thanks Mannix.
Arnova 10d G3 specifications
Operating System
Android 4.0.3 (Ice Cream Sandwich)

CPU
Single-core VIA 8850 running @1.2 Ghz (ARM Cortex A9)
Integrated GPU: Mali 400 (single-core)
Flash Storage Memory
Capacity: 4 GB
System Memory
1024 MB
Additional storage
Micro SD slot (SDHC compatible)
Display
TFT LCD 10 inches capacitive 5 points screen
1024×600 resolution
Bluetooth
No
Wifi
802.11 b/g/n
Gravity Sensor
Yes
Camera
0.3Mp (front facing)
GPS
No
HDMI
Yes (mini HDMI)
Interfaces
Full size USB Host
Micro USB slave 2.0: Mass Storage Class (MSC)
MicroSD slot
Google Play Store
Yes (but the device is not Google certified)
Kickstand
No
Dimensions
200 x 127 x 10 mm
Weight
590 g
User reported Arnova 10d G3 issues
There is some users feedback on
android-hilfe.de
german Forum, if you want to save yourself the 30+ pages of forum reading in German 🙂 you will find a summary below: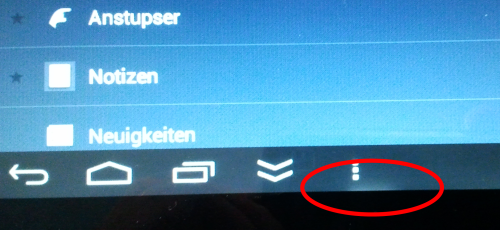 Arnova 10d G3 vs Arnova 10b G3 benchmarks
On the performance side, comparing with the
Arnova 10b G3
, it seems the Arnova 10d G3 got a little performance boost with its Cortex A9 Single core running at 1.2 GHz. Still, it shows limited performance compared to actual Android tablets powered by recent processors such as the Rockchip RK3066 that we added in the comparison table below (Cube U30GT-H model)
Arnova 10d G3 vs Arnova 10b G3 and Cube U30GT benchmarks results

Arnova 10d G3
Arnova 10b G3
Cube U30GT-H
(RK3066 tablet)
Antutu Benchmark
higher is faster
Total score: Total 3088
CPU: 1039  
GPU: 1251 
RAM: 382 
I/O: 416
Total score: 2417
CPU:  743
GPU: 761
RAM: 422
I/O: 491
Total score: 7724
CPU: 4023
GPU: 1578
RAM: 1440
I/O: 683
CF-Bench v 1.1
higher is faster
Native score: 3851
Java Score: 1402
Overall Score: 2381
Native score: 3064
Java Score: 1018
Overall Score: 1836
Native score: 13727
Java Score: 3899
Overall Score: 7830
Quadrant Advanced 1.1.7
higher is faster
Total: 1194
CPU: 1789
Mem: 1139
I/O: 784
2D: 275
3D: 1987
Total: 1551
CPU: 1378
Mem: 2735
I/O: 2142
2D: 457
3D: 1045
Total: 4344
CPU: 7426
Mem: 4555
I/O: 6746
2D: 870
3D: 2122
Nenamark v 2.0
higher is faster
19.2 FPS
18.3 FPS
54.1 FPS
Our opinion
Based on the product specifications and users feedback , the Arnova 10d G3 looks like a
good entry level Android tablet
for anyone interested in a budget 10″ model. If you can do with the relatively low CPU performance and the other limitations we noted in this article, the 10d G3 model should be OK for you to handle simple tasks such as web browsing, video/music playing, Youtube, eBook reading… If you really want more, it may be wiser to wait for a few weeks as new devices with better screen and more CPU power that will probably be available at less than 150 euros near Christmas time.

Loading ...


Sources used in this article:
android-hilfe.de German Forum
Tarnatos member on computerbase.de German forum
First picture from arnova website
Cube U30GT benchmarks: slatedroid.com forum, hardware.fr forum, mp3mp4players.co.uk
Mannix for the display viewing angles video.