The Arnova 10b G3 tablet is a product refresh of the Arnova 10b G2 best seller, updated with latest Android 4.03 Ice Cream Sandwich and 1 Gb of RAM. The rest of the device specifications stay the same: Rockchip RK2918 processor (single core) running at 1 GHz, 10.1″ capacitive touch screen, front camera.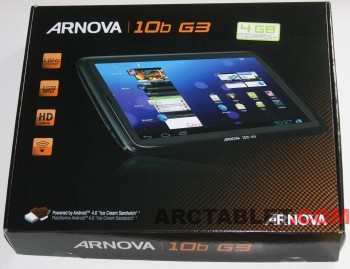 Arnova 10b G3 specifications
Operating System
Android 4.0.3 (Ice Cream Sandwich)
Linux Kernel Version: 3.0.8+
Build fingerprint: Android/rk29sdk/rk29sdk:4.0.3/IML74K/eng.root.20120330.182730:eng/test-keys
CPU
single core Rockchip 2918 CPU running at 1 Ghz
Integrated GPU: Vivante Corporation GC800
Flash Storage Memory
Capacity 4 GB
Speed: Class 4 range (tested Read 20 300 kB/s, Write 3 847 kB/s)
System Memory
1024 Mb
Additional storage
Micro SD slot (SDHC compatible)
Display
1024×600 TFT LCD 10.1 inches
capacitive 2 points screen
Bluetooth
No
Wifi
802.11 b/g/n
Gravity Sensor
Yes
Camera
0.3Mp (front facing)
GPS
No
HDMI
No
Interfaces
Micro USB host 2.0: Mass Storage Class (MSC)
MicroSD slot
Battery life
Video playing test: 3 hours

check our Archos and Arnova battery tests page
Android Market
No (Appslib application Marketplace)
or use our custom firmware to get Google Play / Android Market on the Arnova 10b G3.
Kickstand
No
Dimensions
270 mm x 150 mm x 12 mm (10.6" x 5.9" x 0.47")
Weight
622 g / 21.94 oz

Arnova 10b G3 4 Gb

AMAZON USA
$ 119.99
AMAZON UK
Usually dispatched within 1-2 business days
£ 94.95
AMAZON DE
107.75 EUR
AMAZON FR
Habituellement expédié sous 24 h
113.76 EUR
Packaging
Packaging is very similar to other Archos and Arnova products, you will find in the box:
– an Arnova 10b G3 tablet
– an USB cable (micro USB format), it does not charge the tablet
– 3 papers that includes: Arnova 10b G3 User Guide, Legal and Safety Notices and a $10 music credit coupon at emusic.com
– a power charger with 3 power sockets (American, English and European type), input 100-240V, outputs 5V 2A
Tablet design
The Arnova 10b G3 tablet shares its design with the previous Arnova 10b G2 model. The outside case is fully made of plastic with a brilliant aspect on the perimeter and the back of the tablet, that easily catches fingerprints. Weighting a little more than 600 g, it comparable to other models such as Arnova 10 G2 or Archos G9, the 10b G3 does not provide a kickstand. The camera (0.3 Mpixels) is located on the front left side of the case, the single speaker is on the other side.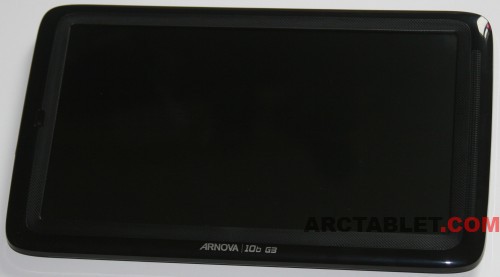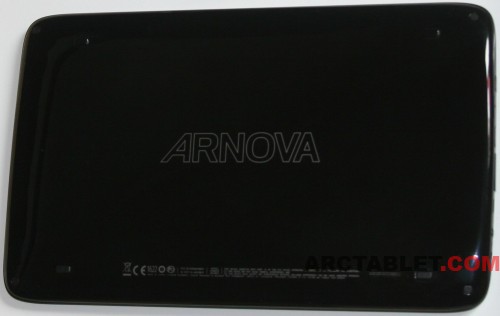 Arnova 10b G3 buttons and connectors
The buttons and connectors are located on the left side of the tablet, we can find: power button, reset pinhole, volume +/- push button, the OTG micro USB, stereo earphone and power connectors.

Arnova 10b G3 benchmarks
October 2012 benchmarks update
Arnova 10b G3 benchmark results

Arnova 10b G3
Test setup
Firmware version
Linux Kernel version 3.0.8+ (root@sc-server-desktop) (gcc version 4.4.0 (GCC) ) #216 PREEMPT Mon Jun 11 09:46 :03 CST 2012
Android version 4.0.3 rk29sdk/rk29sdk:4.0.3/IML74K/eng.root.20120611.162734:eng/test-keys
Antutu Benchmark
higher is faster
Total score: 2417
CPU:  743
GPU: 761
RAM: 422
I/O: 491
Linpack Pro v 1.2.9
higher is faster, benchmark run in multi-thread
(we took the best numbers we could achieve, there is a lot of variance on these bench results)
15.536 MFLOPS
CF-Bench v 1.1
higher is faster
Native score: 3064
Java Score: 1018
Overall Score: 1836
ArcTools v 0.73
higher is faster
Read: 20 300 Kb/s
Write: 3 847 Kb/s
Smartbench 2011 v 1.2.1
higher is faster
Prod. index: 415
Games Index: 791
Quadrant Advanced 1.1.7
higher is faster
Total: 1551
CPU: 1378
Mem: 2735
I/O: 2142
2D: 457
3D: 1045
Vellamo v 1.0.3
higher is faster
745
Nenamark v 2.0
higher is faster
18.3 FPS
Neocore v 1.9.35
higher is faster
GPUBench v 1.0.0
higher is faster
Absolute: 31073
Relative: 21589
Arnova 10b G3 battery life
We ran a battery life test playing Big Buck video (720p, mp4, reencoded sound in AAC format: this file
big_buck_bunny_720p_AAC.mp4
), brightness was set at 50%, sound at 50% and Wi-FI disabled.
The tablet was running Arnova 10b G3 official firmware from 2012/06/11 and
ArcTools battery life test
was used to generate the following graph.
With this test scenario, the battery life of the Arnova 10b G3 continuously playing a video was around 10 000 seconds, that is ~ 3 hours. This is one of the lowest battery life we got to see on a 10 inches tablet.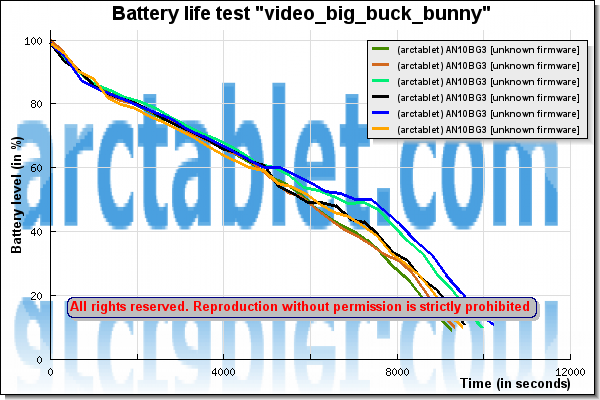 You can also refer the our Arnova 10 G2 review for further information on this 10 inches model very similar to the Arnova 10b G3.