We recently announced a series of custom Android 4.1 Jelly Bean firmwares for Arnova G3 devices. The Arnova 10b G3 tablet is the first tablet to receive a custom Android 4.1 JB firmware with root and few extra features. This firmware is based on the Oma JB, the work of OMA, a respected xda-developers.com who has produced many great firmwares so far for Rockchip tablets, thanks a lot to him for that. We have modified this firmware to make the flash process easier on the Arnova 10b G3. While this firmware is already very stable and brings some great additions to the original 10b G3 firmware, it suffers a few limitations: the battery indicator isn't working properly and the video camera picture is mirrored horizontally.
Update 2012/11/20: The battery level issue is fixed, thanks to Morka, Oma & Exelletor.
Arnova 10b G3 Android 4.1 JB firmware feature list
rooted Android 4.1.1 Jelly Bean with SuperSU 0.96 by ChainFire (free version)
full Google Play and Apps support, including Google Now
full ext4 file system on cache, data and system partitions
/system partition fully writable
extended space for application (/data) to 2 GB
Picture in Picture (PIP) video player
super fast tablet shutdown (about 1 second)
Picture in Picture (PIP) video player
The Picture in Picture (PIP) function is a great new feature of the Video Player that let you put the playing video in a resizable and movable window, so you can watch a movie while you continue to use the Android tablet for other things. This feature is similar to what Samsung offers on their latest
Galaxy SIII
and Note II with the "
Pop Up Play
" feature.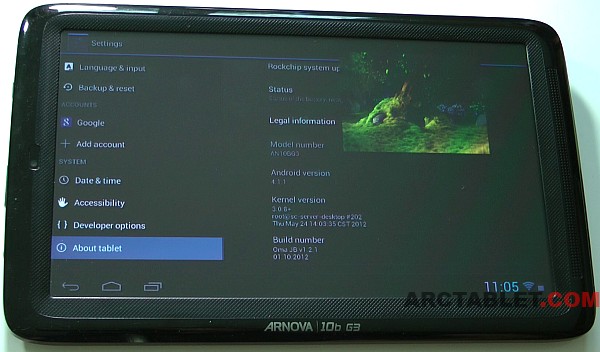 Install procedure
Before starting, please make sure you backup all your existing apps, data and files that are on your tablet as they will be erased during the flash process. Also make sure your device is connected to the power.
Step 1. Download
Custom OMA JB firmware download (version 0.46), updated 2012/11/20
kasty_oma-arn10bg3-41-046-2G.zip
This firmware is specific to the Arnova 10b G3 capacitive model and should not be installed on other devices.It will not work on the Dual Touch (DT) resistive model.
WE WILL NOT BE HELD RESPONSIBLE FOR ANY DAMAGE TO YOUR DEVICE.
THIS FIRMWARE UPDATE IS USED AT YOUR OWN RISK.
WE RECOMMEND TO FLASH THIS FIRMWARE ONLY IF YOU ARE ABLE TO RESCUE A BRICKED DEVICE USING ROCKCHIP FLASHING TOOLS.
Download the file above and extract the custom firmware image (update.img) on your computer hard drive.
Step 2. Install and run Rockchip Flashing tool
Please follow the
Rockchip Flashing tool
procedure: that will explain how to download Rockchip flashing tool, unpack the archive, put your device into flashing mode and flash the custom firmware file that you have unpacked in Step 1.
Step 3. Arnova 10b G3 flashing and restart
After Rockchip flasher has transferred the custom firmware to the tablet, the device will restart and install the firmware. Finally you will be back to Arnova homescreen, there is no setup wizard with this firmware.
You will find the 3 easy steps of the installation procedure in the following video, see how to get Google Play and root to the Arnova 9 G3 in less than 10 minutes, it works on a similar way with the Arnova 10b G3.

Firmware Limitations
we have observed that the touchscreen is sometimes not working just after flashing this firmware on the Arnova 10b G3, the source of the problem isn't clear but it may be related to an issue with the touchscreen calibration routine that isn't present in this firmware. Luckily, the fix is quite simple, just flash the stock firmware or one of our custom firmware based on it that contains the calibration.
Let us know how it works for you in our Arnova 10b G3 forum.
Release history
2012/11/20
: version 0.46, the battery level issue is fixed, thanks to Morka, Oma & Exelletor
2012/10/15
: version 0.45, restored original "host" file, advertisements are not filtered anymore, please use
Adfree
or
AdAway
on Google Play Store if you need ads filtering)
2012/10/10
: version 0.44, updated to OMA JB v1.2.2 + fixed the ext4 partition setup
2012/10/08
: version 0.43, first release
Great thanks to OMA for his work on this Jelly Bean firmware.