Arnova, Archos little sister company for entry level products has just released the Arnova 10b, a new device that finally brings a capacitive touch screen to the Arnova 10 inches tablet. This new screen greatly improves the device usability by providing a capacitive 2 points multitouch screen.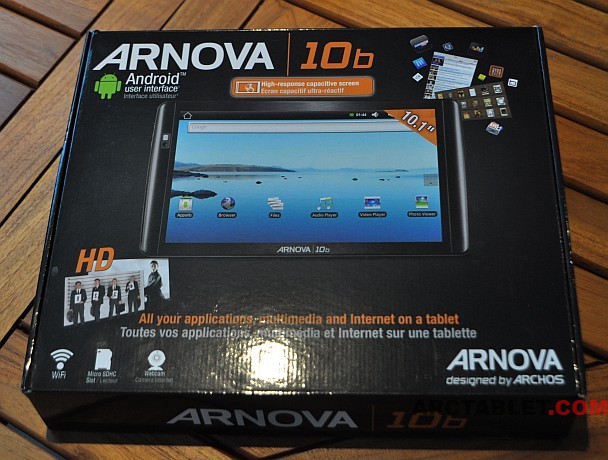 Appart from the new screen, the Arnova 10b looks 100% identical to the Arnova 10 resistive model, same device body, same connectors, same CPU, same Android 2.1 Operating System. This review will focus on the Arnova 10b differences, we recommend that you refer to the Arnova 10 complete review where most items applies also the the Arnova 10b.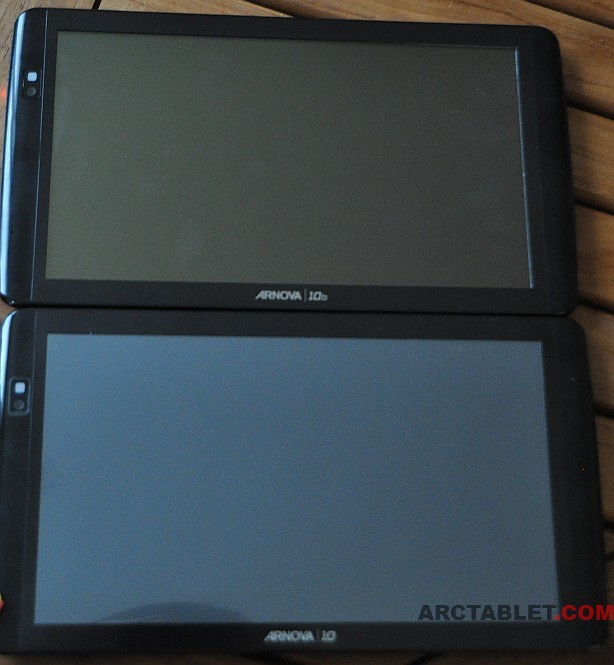 Here is a summary for the Arnova 10b specifications:
Arnova 10b 4GB
Operating System
Android 2.1 (ECLAIR)
Firmware version says: 1.1.20
Build Number: 0.18.ECLAIR.eng.root.20110513.888888
CPU
Rockchip 2818 running at 311.29 Mhz
Flash Storage Memory
Capacity 4 GB
Speed: Class 2 range (tested Read 4656 kB/s, Write 1935 kB/s)
System Memory
200 Mb
Additional storage
Micro SD slot (SDHC compatible)
Display
1024×600 TFT LCD 10.1 inches
capacitive 2 points screen
Bluetooth
No
Wifi
802.11 b/g
Gravity Sensor
Yes
Camera
0.3Mp (front facing)
GPS
No
HDMI
No
Interfaces
USB 2.0 Slave MSC (micro USB format)
USB 2.0 Host MSC
MicroSD slot
Battery life
Video playing test: 5 hours

check our Archos and Arnova battery tests page
Kickstand
No
Dimensions
(from Arnova 10, resistive model)
272 x 152.3 x 13.5 mm (10.7" x 6" x 0.5")
Weight
(from Arnova 10, resistive model)
570 g / 20.1 oz
Price
199 Euros
Performance
In term of performance, the Arnova 10b offers about the
same power as it's older resistive brother.
| | |
| --- | --- |
| | |
| Linpack: 3.882 MFLOPS | Quandrant: Total: 253, CPU: 445, Memory: 218, I/O: 603 |
Battery life
| | |
| --- | --- |
| | We have compared the battery life of the Arnova 10b versus the Arnova 10. The battery of our Arnova 10 test machine did wear a bit over time, which explains the time difference on the graph . As you can see in our Arnova 10 battery life test, we are reaching about the same numbers: arround 18 000 seconds which is about 5 hours of continuous video play. |
Conclusion
Selling at 199 Euros, this device offers an entry level 10 inches capacitive tablet which is perfect for music/movie playing and simple tasks such as ebook/email reading or web browsing. If you want to enjoy more CPU demanding applications such as 3D games, Adobe Flash content, you will quickly be limited by its out of date Android 2.1 operating system and slow Rockchip 2818 CPU.
It's good to note that the original Arnova 10 (with resistive screen) price has considerably dropped, in France it can be found
as low as 139 euros at Darty.fr
or 160 euros at
FNAC.com
which makes this product a great 10″ budget tablet.
There are chances that a new device with a Rockchip 2918 CPU gets out soon, in a similar price range, which is probably worth the wait if you want some extra processing power and a more up to date Android 2.3.
We are working on updating our custom Kasty firmware for the Arnova 10 so it supports the Arnova 10b.
Feel free to post comments if there are items that you want detailed in this quick review.