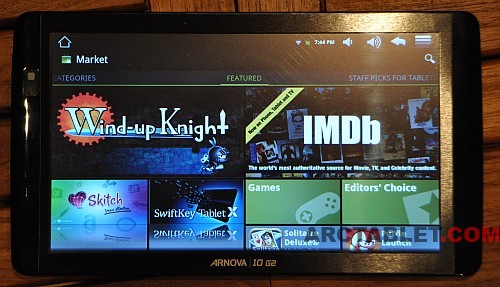 A custom firmware for the Arnova 10 G2 providing Android Market and root has been built by CyberSoft from Htcmania spanish forum. We have slightly modified this Firmware so it can be used with ArcTools to get the Android Market 3.1.5 installed.
Please note this firmware is valid on the Arnova 10 G2 (second generation, see picture above) and will not work on Arnova 10 or Arnova 10b. It's unknown yet if the firmware is compatible with Arnova tablets from the Philly.com bundle or other Arnova 10 G2 OEM devices.
Edit 2011/11/03: User HaroldG on our forum reported a failure on his Philly tablet flashing. We are currently having a closer look at the situation, but we recommend that you don't flash your Philly.com tablet for the moment.

Our modified firmware is available for download here: arn10g2-23-01.zip
This firmware has not been deeply tested yet and we recommend that you let the most adventurous or knowledgable users try the firmware and report their success or issues. Please use our forum for feedback on this firmware.
This firmware is specific to the Arnova 10 G2 and should not be installed on other devices.
WE WILL NOT BE HELD RESPONSIBLE FOR ANY DAMAGE TO YOUR DEVICE.
THIS FIRMWARE UPDATE IS USED AT YOUR OWN RISK.
Firmware update procedure:
Connect your device to the electricity socket, fully charge it and leave the socket connected
Unzip the update.img file out of the zip archive
Copy the img file to the root of your device
Unmount USB on your device, it should give a prompt similar to this one: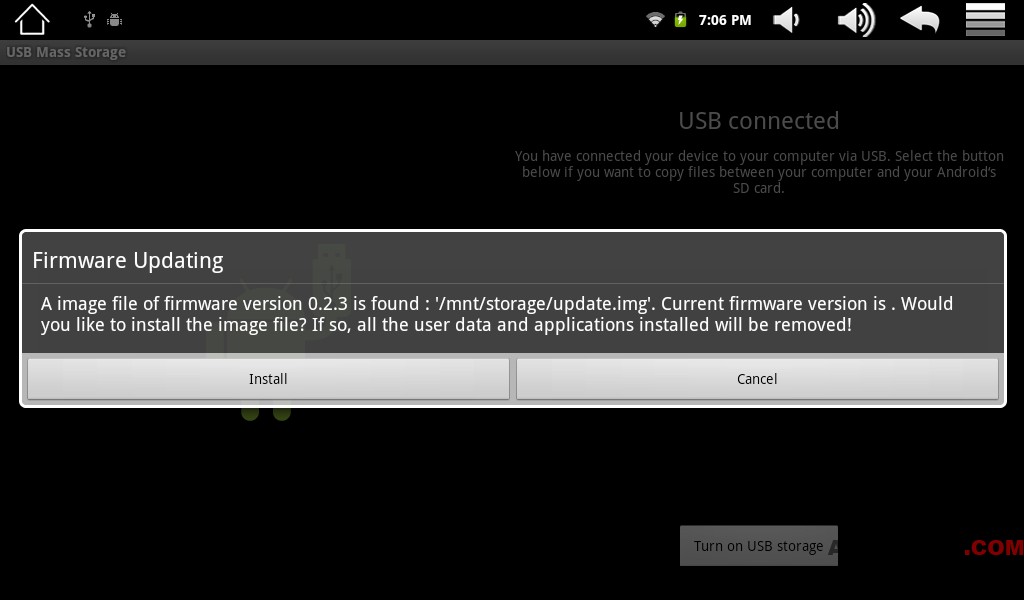 Push the Install button and follow the update procedure
(if the firmware update dialog does not show up right after the USB unmount, you may need to restart the tablet and the dialog should show right after the device has booted)
The first boot after flashing may take a few minutes, please be patient. While booting, some garbage lines may be displayed on screen after the Arnova logo, it is a normal, this little glitch comes from Htcmania's firmware.
Android Market installation
After the custom firmware has been installed, please follow
ArcTools tutorial to install Android Market
.
After installation, the Market should show most of the applications and the Market fix procedure should not be needed.
Restoring Arnova 10 G2 default firmware
In case you want to go back to the default stock firmware:
Check our Arnova firmware download page to get the latest firmware for your device


Follow the firmware update procedure described earlier in this article
In case things go really wrong
Please use
Rockchip flashing tool for RK29xx
processors to restore your device.
For reference, you can find the original Arnova 10 G2 firmware and instructions in Spanish on their site