The ARNOVA 10 G2 best-seller has been left with an outdated Android 2.3 Gingerbread, users have been hoping for months to get an Android 4.0 Ice Cream Sandwich or more recent system, we even tried building an update on our own without much results so far. Finally, we got our hands on a new Android 4.03 ICS system and we are now preparing a custom firmware with Google Play Store and root for the Arnova 10 G2, no April fool 🙂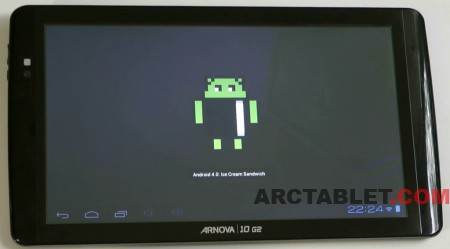 Our initial tests with this firmware reveal that the tablet performance is average, in par with the limited specs on the Arnova 10 G2: 512 MB RAM, RK2918 CPU. While it's good to finally have an updated system, we feel that older Android 2.3 Gingerbread firmware was actually a little smoother for GUI and most operations.
Our custom firmware will feature the following:

root with latest SuperSU 1.25 (free version)
system default setup English
removed unnecessary applications
Google Play Store fixes so more application are visible/compatible
Support the project!
If our web site and applications helped you, thanks for supporting us by donating using the Paypal form below or visiting our Donations page. Donations will be used to pay the bills for our server hosting costs, tools and purchase new tablets to support.


Our custom ICS Arnova 10 G2 firmware should be released in the next few days. it will be published when it's ready, no need to ask for ETAs.