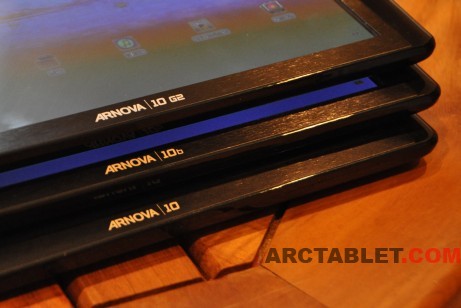 [EDIT] 2011/09/13 The review has been updated with details on the HD Video capabilities
The Arnova 10 G2 tablet, latest Arnova upgrade with Android 2.3 (Gingerbread), capacitive screen and Rockchip RK2918 CPU should be available in the next days.
It offers a capacitive multitouch (2 points) screen. This screen seems to be very similar to the Archos 101 IT screen, as you can see it has the same transparent thin grid at the surface. It has a same limits on the view angles, which are just average. This Table is good for playing free slot machine games using Android apps.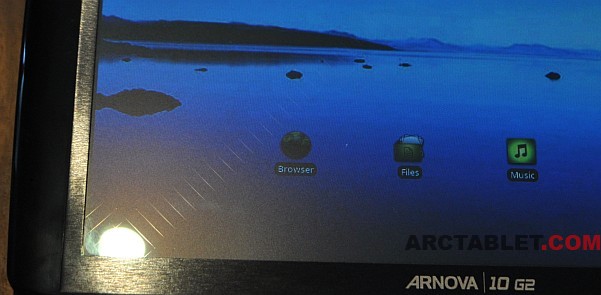 The Arnova 10 G2 shares a device body very similar to the two previous models (Arnova 10, Arnova 10b) and we encourage you to check the Arnova 10 review for more details about the this subject/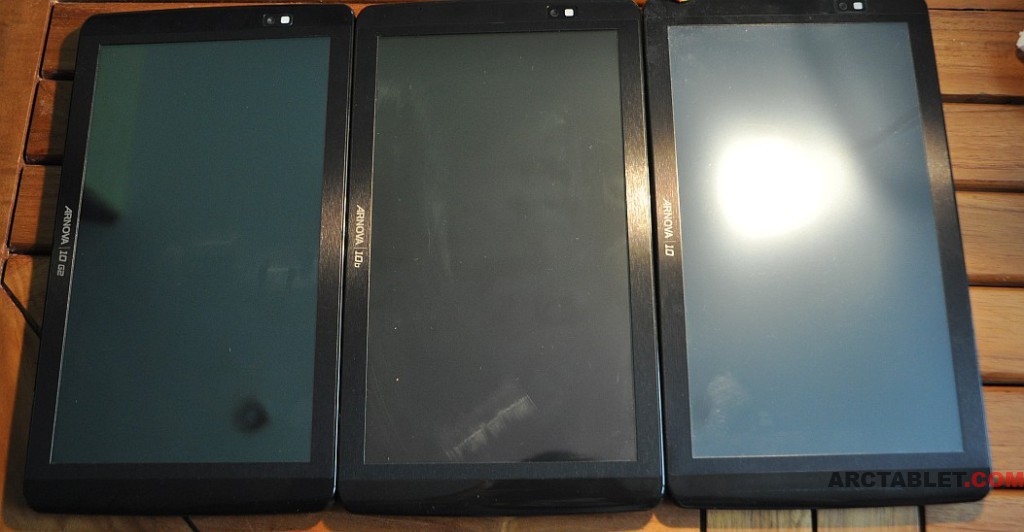 From left to right:
| | | |
| --- | --- | --- |
| Arnova 10 G2 | Arnova 10b | Arnova 10 |
| (capacitive screen, RK2918, 512 Mb, Android 2.3) | (capacitive, RK2818 screen, 200 Mb, Android 2.1) | (resistive screen, RK2818, 200 Mb, Android 2.1) |
Arnova 10 G2 specifications
Arnova 10 G2
Operating System
Android 2.3.1 (Gingerbread)
Linux Kernel Version: 2.6.32.37
CPU
single core Rockchip 2918 CPU running at 1 Ghz
Integrated GPU: Vivante Corporation GC800
Flash Storage Memory
Capacity 4 GB
Speed: Class 2 range (tested Read 6536 kB/s, Write 2761 kB/s)

System Memory
512 Mb (DDR3 ?)
Additional storage
Micro SD slot (SDHC compatible)
Display
1024×600 TFT LCD 10.1 inches
capacitive 2 points screen
Bluetooth
No
Wifi
802.11 b/g
Gravity Sensor
Yes
Camera
0.3Mp (front facing)
GPS
No
HDMI
No
Interfaces
USB 2.0 Slave MSC (micro USB format)
USB 2.0 Host MSC
MicroSD slot
Battery life
Video playing test: TBD hours

check our Archos and Arnova battery tests page
Android Market
No (Appslib application Marketplace)
Check our Arnova 10 G2 custom firmware to install Android Market on the device.
Kickstand
No
Dimensions
(from Arnova 10, resistive model)
272 x 152.3 x 13.5 mm (10.7" x 6" x 0.5")
Weight
(from Arnova 10, resistive model)
570 g / 20.1 oz
Price
TBD
System Information
Performance
Compared to previous
Arnova 10b and Arnova 10 models
, the Arnova 10 G2 upgrade offers a great performance improvement, thanks to the new Rockchip 2918 CPU and the 512 Mb of memory.
We have measured this thru a series of benchmarks, that show a raw speed increase between x2 and x3.
Arnova 10G2
Arnova 10b
TBD
Archos 101 IT (Stock firmware, Optimal mode (800 Mhz)
Linpack
10.92 MFLOPS
3.882 MFLOPS
10.553 MFLOPS
Quadrant
Total: 1246
CPU: 2341, Memory: 986
I/O: 2119
2D: 175, 3D: 607
Total: 253
CPU: 445, Memory: 218
I/O: 603

TBD
Neocore
39.3 fps
TBD
35.4 fps
Vellamo
451
TBD
TBD
Benchmark screenshots on the Arnova 10 G2:
Vellamo: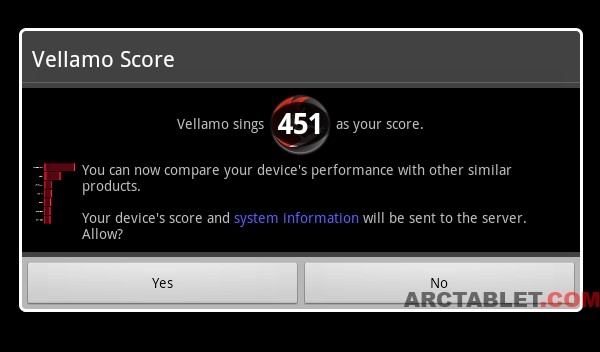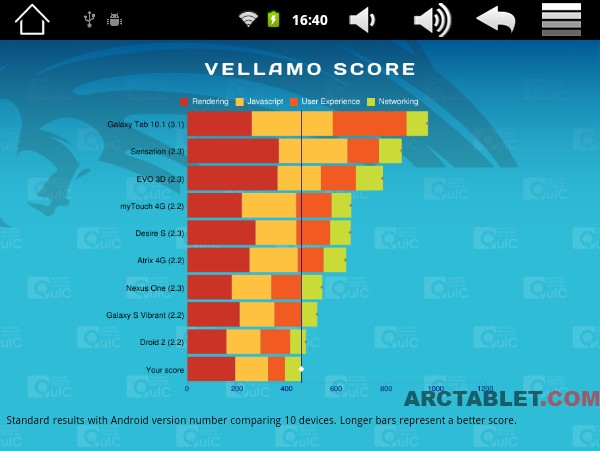 Quadrant: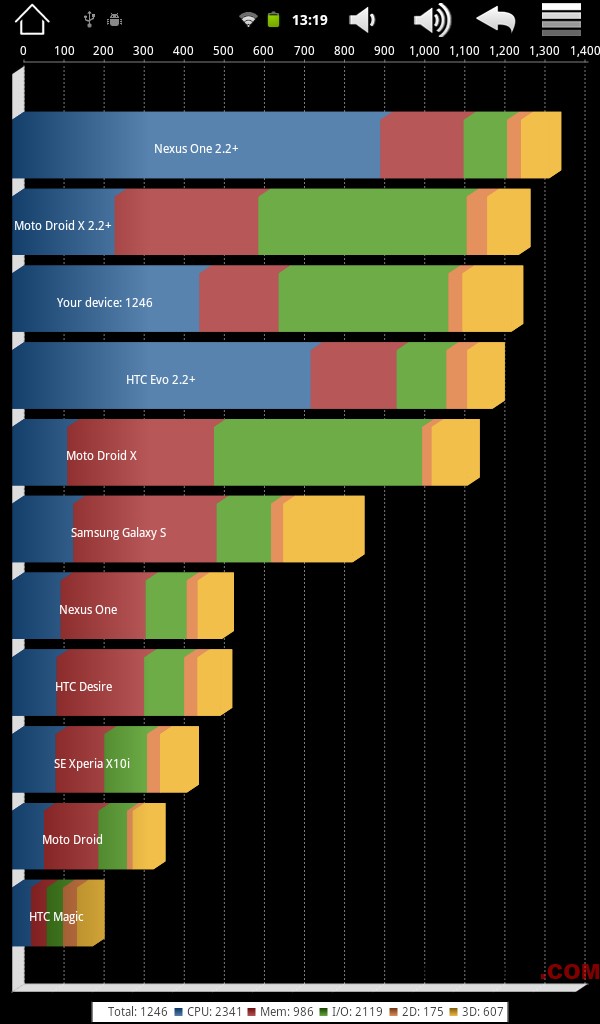 Neocore: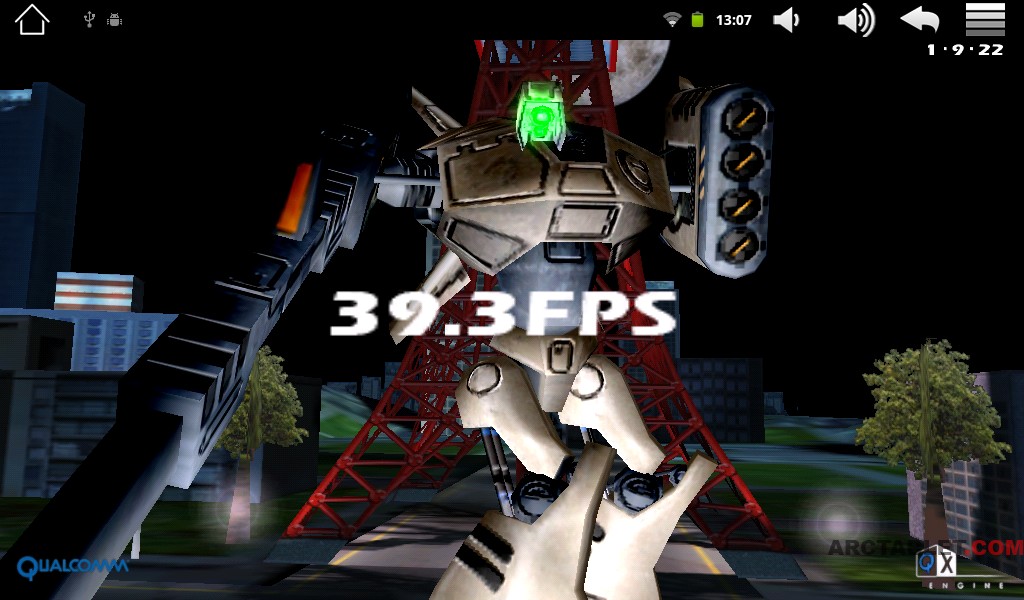 Linpack: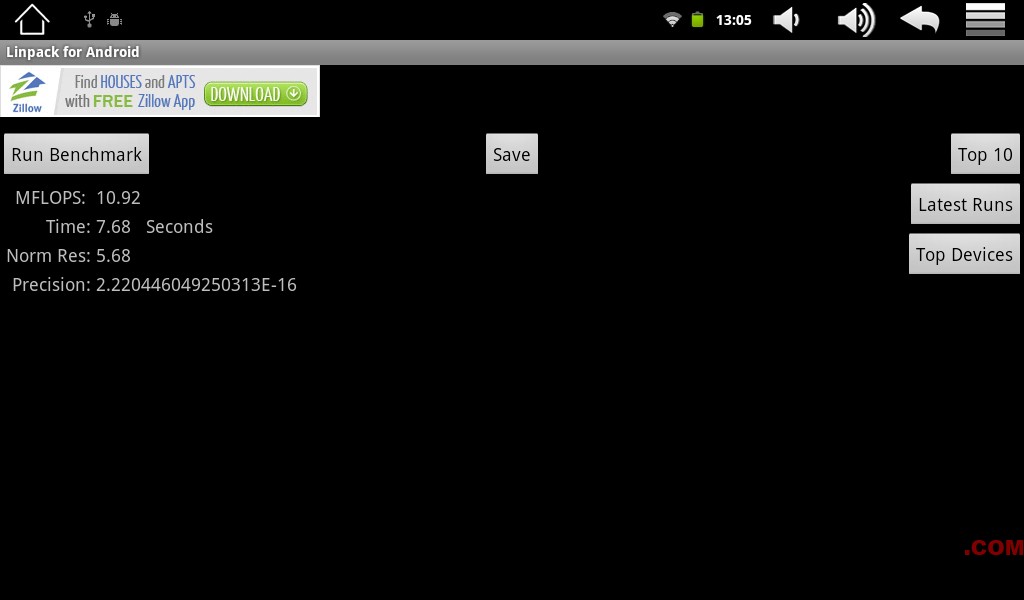 HD Video capabilities
As you can see on our
product review video
, the device is completely HD capable.
We tried the 3 following movie samples and experienced a good video playback, with only a few frames skipped.
The Simpsons Movie – 1080p Trailer
Video Type: 1920×800 (1080p), 23.967 FPS, CE-High profile (PS3 and Xbox 360 compatible)
Audio Type: AAC LC Stereo
Download Link: simpsons_movie_1080p_trailer.zip (120 MB)
I Am Legend – 1080p Trailer
Video Type: 1920×816 (1080p), 23.967 FPS, Blu-ray Profile
Audio Type: AAC, 5.1 Channel
Download Link: i_am_legend-1080p_blu-ray_trailer.zip(121 MB)
Limitless – H.264 HD 1080p Theatrical Trailer
Video Type: 1920×1080 H.264
Audio Format: AAC 48 kHz, VBR
Download Link: Limitless – H.264 HD 1080p Theatrical Trailer (121 MB)
3G Support
As other Arnova G2 products, the 10 G2 model has a limited support for 3G dongles. Please check our article on
3G support on the Arnova 8 G2
to get more details.
Gaming capabilities
(update 2011/12/14)
Thanks to its integrated
Vivante GC800
GPU, the tablet provide decent gaming performance for 3D and 2D games. Here is a video of Frontline Commando, a 3D first person shooter game.
Conclusion
With the
Arnova 10 G2 tablet
, Arnova is finally offering a tablet with decent performance and a more up to date Android Operating System. Compared to the Archos 101 IT, it can be an good value tablet for any entry level use that do not require extra features such as HDMI or Bluetooth. The Rockchip 2918 CPU upgrade did good to the machine as it can now play most of the applications and 3D games, it offers a decent web browsing speed and
video playing up to 1080p
. Adobe Flash is supported as well, thru a download on Appslib.
Edit 2012/02/12:
To install Android Market on the device, you can either follow our EZ firmware that is very simple to flash or go with a more advanced latest Arnova 10 G2 custom firmware with Android Market and root.
Don't forget to check our other articles on the Arnova 10 G2 for latest updates on the device or the Arnova 10 G2 section on our forum.