With more than 10 years of multimedia experience, Archos is well known for the rock solid video playing features on their devices. They have been perfecting their multimedia suite over years, delivering optimized multimedia solutions that , unfortunately, were proprietary and locked to Archos tablets only. For the first time, they are now releasing their software as a paid application simply named Archos Video available on Google Play Store, for €4.99 or $4.99. Android 4.0 or later is required to run the application.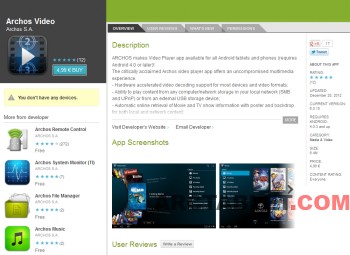 Archos Video main features
Compared to similar Android video playing applications from Google Play Store, Archos Player offers a very complete list of features:
–
support for most video formats
, hardware or software decoding depending on the devices.
MPEG2 video
format and DTS need extra plug-in (see below)
– play videos
locally
from the tablet, from an
attached USB storage
or from
local network
(UPnP and SMB / Windows shares)
– automatic
online retrieval of Movie and TV show information
with poster and backdrop for both local and network content (uses open databases from
themoviedb.org
for movies and
thetvdb.com
for TV/Series)
–
subtitles support: display and automatic download
(uses
opensubtitles.org
)
Don't forget to check our quick review of Archos Video, as we tested it on the Archos G9 tablet.
The video below illustrates the following features: retrieving movie and TV series information online, movie classification and library feature with posters, H264 1080p content display.

The application is already included (for free) in the following tablets: Archos Gen8, Gen9, Gen10 (80 XS, 101 XS), Archos GamePad, FamilyPad and probably on coming Elements models.
Optional MPEG-2 support
MPEG-2 format videos (that are mainly used on DVD files) aren't supported in Archos Video application, purchasing the optional Archos MPEG-2 Video Plugin is required for these file formats to be played.
This plug-in is
currently available for €5.00
on Google Play Store.