Spotted a few months ago under the name Ludo, the product has recently been renamed to ARCHOS TV Connect when introduced early 2013 at the CES in Las Vegas. The Android device is designed to be clipped on top of a TV, it is the "computer" part of the TV connect, it has similar specs to the ARCHOS 101 XS, featuring a Texas Instruments TI OMAP 4470 processor running at 1.5 GHz, 1 GB of RAM, a full USB host connector, WiFI, Bluetooth, an Ethernet port, a micro SD slot, a webcam and a LED notification system (that should help to warn you for incoming calls while watching TV)
The TV Touch remote control offers a full QWERTY keyboard coupled with rotational mouse capability and analog stick and buttons for gaming. The TV Connect currently runs on Android 4.1.1 Jelly Bean, it should be available in the coming weeks at ~ €129 / £99 / $129.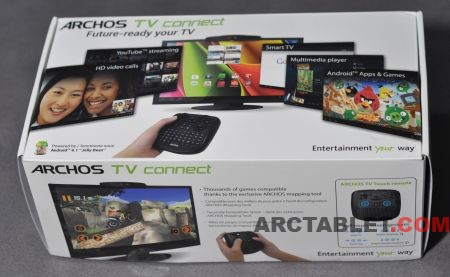 This review will first present the device specifications and packaging, see how the remote controller and Android works, check the performance and usability of using Android on a TV.
ARCHOS TV Connect specifications
Operating System
Android 4.1.1 Jelly Bean
Build number: JRO03L
CPU
Dual Core Texas Instruments TI OMAP 4470 running at 1.5 GHz
Integrated GPU: Imagination POWERVR SGX 544 (single core)
Flash Storage Memory
Capacity 8 GB
Speed: Class 6 range (tested Read: 28041 Kb/s Write: 7130 Kb/s)
System Memory
1 GB
Additional storage
Micro SD slot
Display
Up to 1080p (TV resolution dependent)
Bluetooth
Yes
Wi-FI
802.11 b/g/n
Gravity Sensor
Yes (on ARCHOS TV Touch Remote controller)
Camera
1 Mpixels (front facing)
Pictures resolution: 1280×960, video: 720p
GPS
No
HDMI
Yes(mini HDMI, aka HDMI type c connector)
Interfaces
microUSB port
full size USB Host port
MicroSD slot
Integrated Microphone
2 notification LEDs
Battery life
Not applicable as the ARCHOS TV Connect has no battery, AC powered only.
ARCHOS TV Touch Remote (controller) battery life not measured
Google Play Store / Android Market
Yes
The ARCHOS TV Connect is net yet reported in the Google Play certified devices.
Dimensions
As announced by ARCHOS: 235 x 105 x 34 mm
Weight
ARCHOS TV Connect: 190g
ARCHOS TV Touch Remote: 190g
Official Product page
at archos.com
ARCHOS TV Connect unboxing video
ARCHOS TV Connect packaging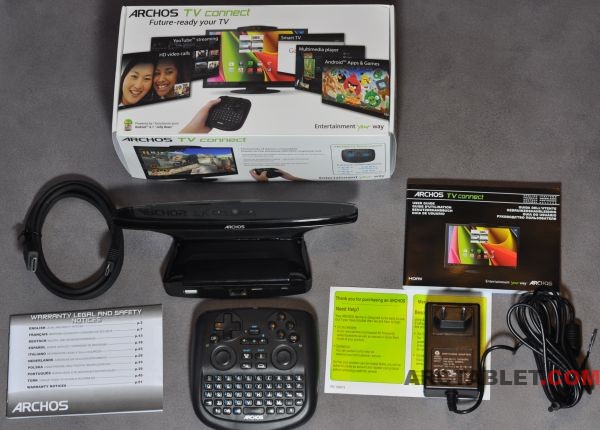 You will find in the box:
the main unit (ARCHOS TV Connect) that clips on the TV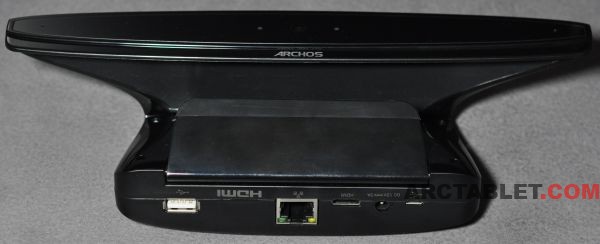 the remote controller (ARCHOS TV Touch Remote)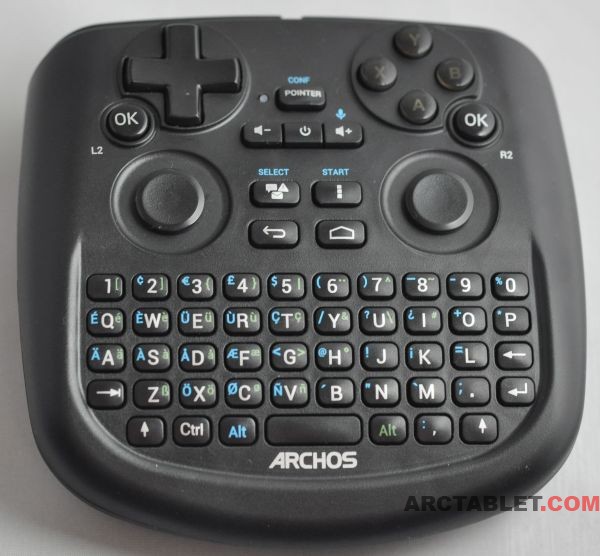 The keyboard is currently not localized and comes only in QWERTY layout for all territories, let's hope ARCHOS will consider making local versions for non English users.
Here is a
360° view
of the controller (Flash required), use your mouse or keyboard to turn.
a power charger it outputs 12 V, 3 A, European socket for the power on the wall.
The TV Connect can't be powered from the micro USB connector.
a mini-HDMI (HDMI type C) cable to connect the tablet to a TV
booklets: a "need help ?" paper, a warranty/legal and safety notice, a user guide
It looks like ARCHOS has put some efforts in improving their user manual as the TV Connect ships with a complete 226 pages user guide in multiple languages (EN / FR / DE / ES / IT / NL / PT / RU)
It covers the specifics of the TV Connect, from getting the user started, remote control TV Touch handling, Game Mapping Tool and more general topics with Android and Archos Media player
Follow us on 






and check back soon for the rest of our ARCHOS TV Connect review: device features, performance, gaming and more !