ARCHOS keeps working on new models to complete their existing smartphones line. Latest production is jointly designed with Oxylane group, the company behind Decathlon, a major French sporting goods chain store distributed in the whole Europe. The Quechua Phone 5 is an all-terrain smartphone made for outdoor sports and activities. It will be distributed in Decathlon stores in France, Spain, Italy and few other European countries, it should be available next month at a price of 229 euros.
Quechua Phone 5 specifications
By the information gathered by mac4ever.com website, the phone specs should be as follows:
quad-core Qualcomm processor, Android 4.1, 5″ IPS screen (qHD definition), 8 Mpixels camera and external storage thru microSD card.
Barometer and altimeter sensors are integrated for the hikers and other flyers enthusiasts. A large 3500 mAh battery which is announced to power the phone for 3 days while using the GPS (this kind of number looks seriously overrated and will probably need to be explained/verified)
Quechua Phone 5 by Geonaute rugged design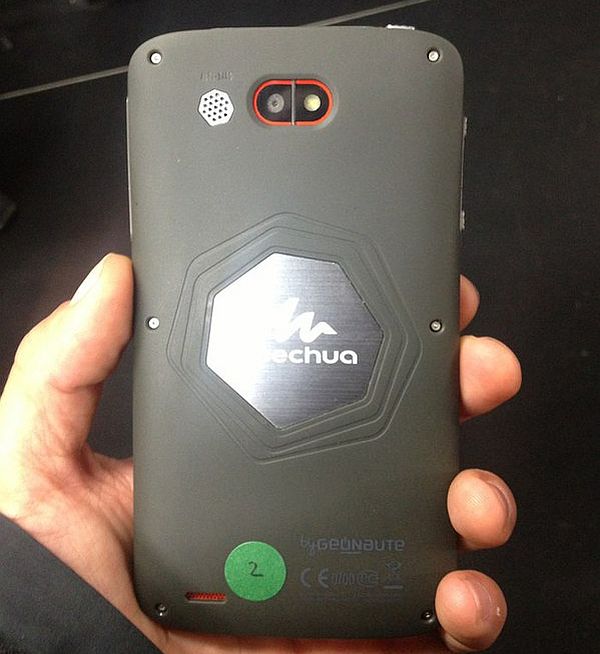 The Quechua Phone 5 rugged design gives an IP54 rating (Ingress Protection) offering protection against dirt, dust, and water exposure. The 5″ size (display) and large bumpers on the device look really massive, compared to other designs from the big brands such as Sony Xperia Z ( IP55 and IP57 protection) or Samsung Galaxy S4 Active (water-resistant IP 67 case)
Beta testing customers
According to
usine-digitale.fr
website, the phone is currently in a testing phase, where 15 devices were available to buy in a French retail store. The happy customers interested in evaluating the early product are given the opportunity to interact with the designers for product feedback and enhancements.
Finally, a tablet model with the same sports features should be available in Spring 2014, the story doesn't say if it's ARCHOS based…
Source and pictures credits:
mac4ever.com (in French)
usine-digitale.fr (in French)
frandroid.com (in French)