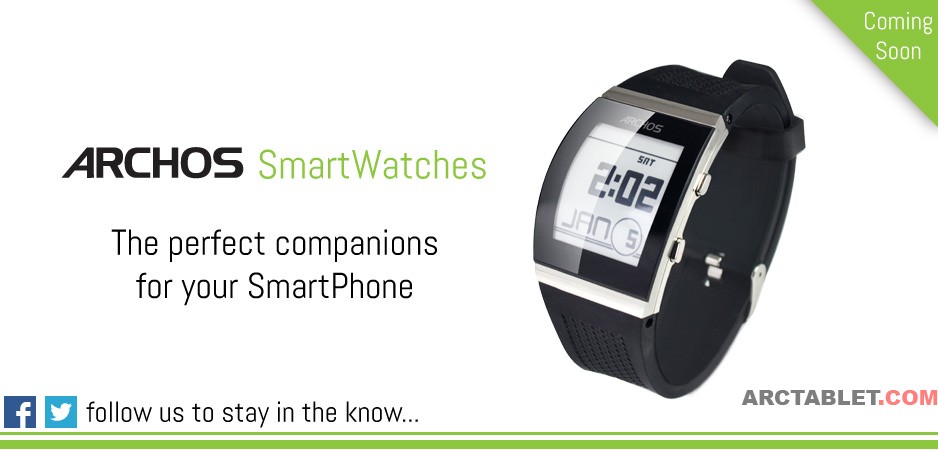 Archos is planning to launch 3 SmartWatches this summer, with prices ranging from $50 to $129 and our colleagues from liliputing got a quick hands-on on the three models. The SmartWatches are designed to pair with an iOS or an Android device and let you view notifications on your wrist and control multimedia playback. The watches are not intended to replace your smartphones, so you will not be able to send messages or take photos like it is possible with the Samsung Galaxy Gear. The 50$ model will offer a black-and-white memory 1.55″ screen,  will not feature a touchscreen and you will have to use the physical buttons on this device to navigate.
For $100, Archos will offer a model with a 1.8 inch color capacitive touchscreen and up to 2 days of battery life. The band on this watch is swappable.
Finally, there is an 129$ E-ink model too. This "premium" watch will sport an advertised battery life of 1.5 weeks. The 1.8″ screen is the same size as on the color model, but because it's based on E-Ink technology, it only uses energy when the screen needs to refresh. The disadvantage of this is that the screen has a noticable refresh rate – when the time changes, the screen goes dark for a second.
Hands-on from liliputing:
Like them? It is not yet time to run straight to your local electornics store, as Archos is planning to start shipping the SmartWatches by the summer. The cheapest model will be available first and the other two will become available a few months afterwards. Speaking of alternatives, the 50$ price tag seems cheap, but it is not unique. Scope Smartwatches are starting as low as 35$, Charbax from Armdevices.net filmed one of their models:
Via: liliputing, armdevices