By looking at ARCHOS releases from IFA tradeshow held a few days ago in Berlin, it seems ARCHOS is now reproducing their tablet strategy on the smartphones, by flooding the market with a lot of devices. During the show, no less than 7 new phones were introduced in addition to the existing 2 models released last May. The cheaper model, the ARCHOS 35 Carbon is confirmed to be canceled as we could suspect.

The ARCHOS Smartphone line is divided in 3 branches, which first two follow the naming from ARCHOS tablets activity: Titanium for lower cost models and Platinum for mid-range. The 50 Oxygen phone is a new phone which just starts the Oxygen line and appears to be in the higher end category for the vendor. Thanks to our friend from jbmm.fr, we've now got some details on the new phones specs and prices.
ARCHOS 40 / 45 / 50 / 53 Titanium phones
Titanium phones are powered by a
MediateK MTK 6572w dual-core processor running at 1.3 GHz, offering 512 MB of RAM, 4 GB of storage
, single SIM card, Bluetooth 3.0, 5 MPixels back camera with LED and auto-focus, front camera (resolution is 0.3 MPixels on the 40 Titanium, VGA resolution cam on the other models)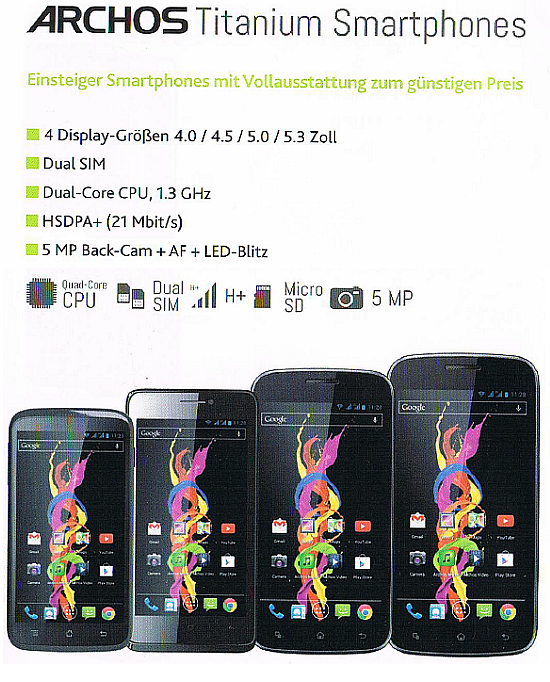 The differences in specs and pricing for each model should be as follows:
ARCHOS 40 Titanium: 4″ (TFT display,1500 mAH battery) for €99
ARCHOS 45 Titanium: 4.5″ (TFT display,1730 mAH battery) at €129
ARCHOS 50 Titanium: 5″ (IPS QHD 960×540, 2100 mAH battery) at €149
ARCHOS 53 Titanium : 5.3″ (IPS display, FWVGA, 854×480, 1500 mAH battery) at €149
ARCHOS 40 / 50 / 53 Platinum phones
The existing Platinum line gets 2 new entrants with a small
40 Platinum (4″ model) and a larger 45 Platinum
(4.5″ display that
we already announced
)
Platinum models are powered by a Qualcomm 8225q quad-core ARM Cortex-A5 processor running at 1.2 GHz, offering 1 GB of RAM, 4 GB of storage, dual SIM card with a qHD resolution (960×540) on all models (TFT for the 4.5″, IPS for the bigger displays)
The new Titanium 40 should be selling for €99, the Titanium 45 for €129, the older models should see their prices reduced since June 2013: Titanium 50 at €149 and Titanium 53 at €149.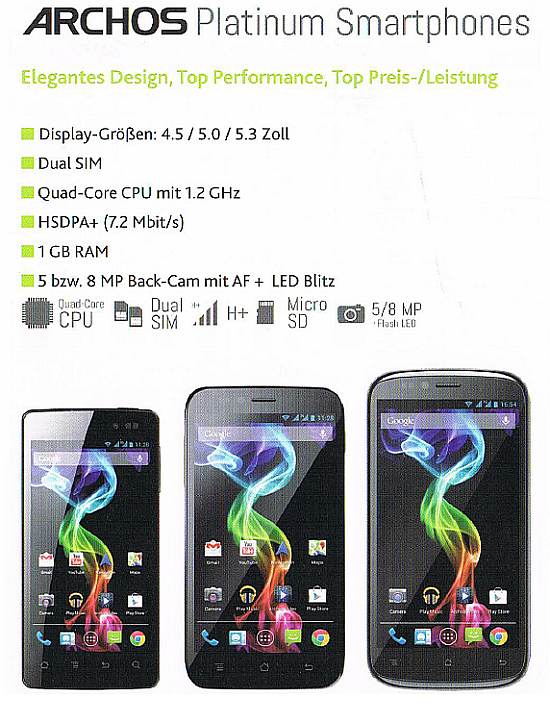 The ARCHOS Platinum phones are middle/low range as current standards, they provide a relatively low processing performance compared to similar priced devices from the competition using MTK6589 such as the Acer Liquid E2.
For anyone with a high speed data contract looking for 3G+ (HSDPA) network performance, these Platinum may may not be very appropriate. (see our video below comparing the ARCHOS 50 Platinum with an Acer Liquid E2: download speed runs at 12 Mbit/s average on the Acer while 3 Mbit/s on the ARCHOS)
Check our ARCHOS 50 Platinum and smartphones videos.
ARCHOS 50 Oxygen phone
The Oxygen is the higher-end model from ARCHOS, featuring a
MediaTek MTK6589T quad-core ARM Cortex-A7 processor and the HD resolution (1920×1080) display
, 2 cameras (5 MPix front, 13 MPix rear). The ARCHOS 50 Oxygen should be available in October for €299.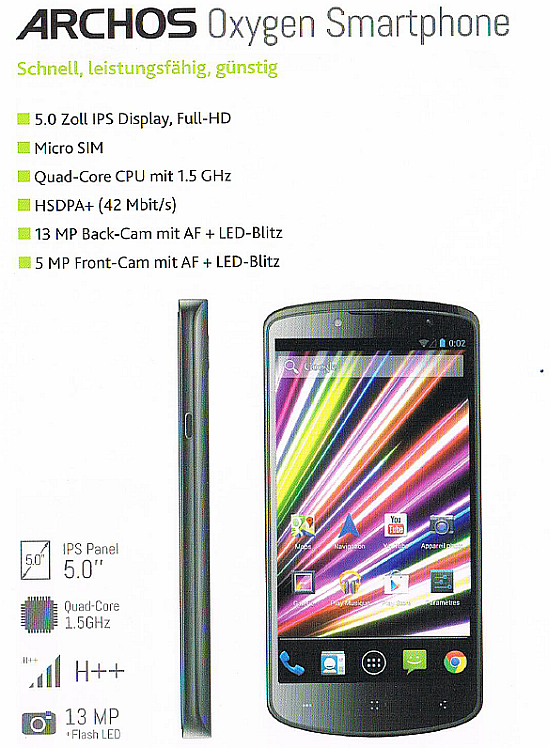 Quechua Phone 5 rugged phone
This model was not officially introduced at IFA, but it has been seen there, you can read me about it in
our Quechua Phone 5 article
.


Looking at these 9 smartphone models, while there is a lot to choose from, we couldn't find one that is particularly appealing in term of features, specification, design or even price. All these devices are just in the average of the existing offers from Chinese vendors such as Xiaomi or from Taiwanese models like Acer Liquid devices.
Via jbmm.fr (in French)
ARCHOS Smartphone range (scanned document, IFA 2013 marketing documentation) Archos_Smartphone.pdf (jbmm.fr)
(local copy Archos_Smartphone.pdf)