It's been a while since ARCHOS have surprised us with innovative products. In a press release published today, they announced plans to present a new line of high-end smartphones (octo-cores and 4G) to complete their existing range which was more oriented to low and mid-level products.

In more than 20 years of existence, ARCHOS is known for the production of computer accessories, portable media players, tablets, smartphones and TV centric devices. According to the press release, they should expand their product range in 2014 with "a full line of connected objects", exploring the possibilities of electronic sensors and Internet of things (IoT) around the house, sport and well-being activities. Among other things a "unique concept of connected watch" is expected.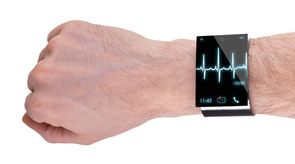 Quotes from the press release:
In English:
Future plans in the ARCHOS product strategy include enriching its smartphone lineup with the addition of 4G LTE models and to develop a full range of Connected Objects, including a unique Smart Watch concept.
The French communiqué is a little more detailed:
En janvier 2014, à l'occasion du CES, ARCHOS dévoilera de nouveaux smartphones 4G et octo-coeurs ainsi qu'une gamme complète d'objets connectés, autour de la maison, du sport et du bien-être, avec notamment un concept unique de montre connectée.
Press release documents:

archos.com: ARCHOS_Products_Strategy_IFA_2013_UK.pdf (English) and ARCHOS_Products_Strategy_IFA_2013_FR.pdf (French)

(hosted copies) ARCHOS_Products_Strategy_IFA_2013_UK.pdf (English)ARCHOS_Products_Strategy_IFA_2013_FR.pdf (French)
Smartwatch concept illustration © Robert Lehmann – Fotolia.com