A few days before CES 2013 tradeshow in Las Vegas (January 8th to 11th 2013) , ARCHOS is just announcing new products. The first device is the ARCHOS TV connect, an Android 4.1 Jelly Bean set-top box for SmartTVs. According to the press release, the TV Connect is Google™ Certified with Full Access Google Play Store and will be available starting in February, 2013 for £99 (that is ~ €129 or $129)
The second announce in the press release is the ARCHOS Elements Platinium device, a new Android quad-core Android tablet with HD retina like resolution (2048×1536) IPS screen.
ARCHOS TV connect
The
TV connect
is a small device targeting home entertainment on the TV. Henri Crohas, ARCHOS founder and CEO already mentioned such a device as one of ARCHOS 2012 projects
in an interview late 2011
. In the press release he's now saying:
"As a pioneer in multimedia Android devices, we wanted to create a bigger, better way to enjoy Android […] The ARCHOS TV connect provides users with a multi‐touch, multi‐media Smart TV experience powered by Android."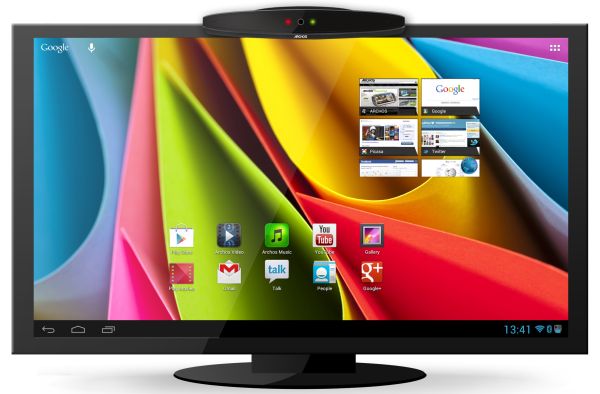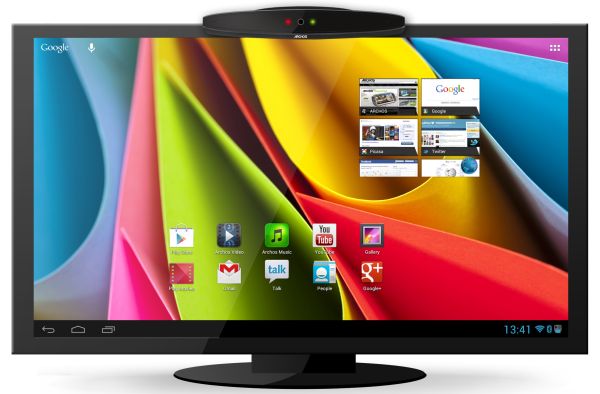 The idea is similar to Android MINI PC (also known as HDMI Stick) which are devices made to connect to a TV, as they don't have have a screen or internal battery like in a tablet / phone. The TV Connect comes in two parts: the Android device itself that is connected to the TV with an HDMI cable and a TV Touch keyboard/remote control.
The Android device is designed to be clipped on top of a TV, it is the "computer" part of the TV connect, it offers a full USB host connector, an Ethernet port, a micro SD slot, a HD webcam and a LED notification system (that should help to warn you for incoming calls while watching TV) The webcam is announced to be compatible with all popular video calling apps ‐ Video chatting with Skype or Google Talk.

The press release does not mention the processor specification, but we can expect a middle range SoC such as the Rockchip RK3066 or the TI OMAP 4470 like the ARCHOS 101 XS. ARCHOS has confirmed on their Facebook page that the TV Connect is powered by a TI OMAP 4470.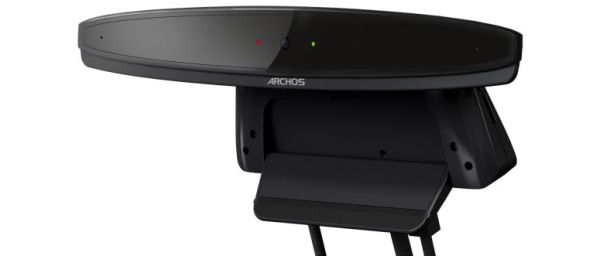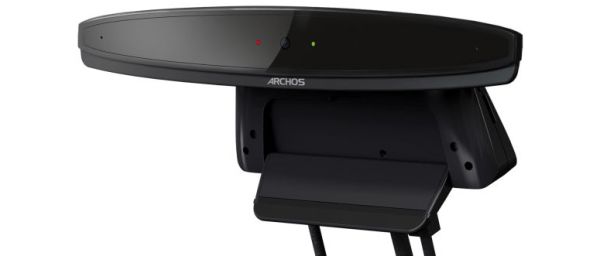 TV Touch remote
The remote controller offers a full keyboard with Android shortcut keys including a key for voice controls and voice typing. There are also controls dedicated to gaming which are similar to
ARCHOS GamePad
offering analog pads, a direction pad and left/right buttons (L2/R2 are shown, we can expect L1/R1 triggers on the back of the TV Touch)
Games on ARCHOS TV Connect
The TV Connect includes ARCHOS Mapping tool, an exclusive application to ARCHOS devices that is already present on the GamePad and 101 XS. This application maps touchscreen game controls to a physical joysticks, it comes configured for over 200 games.
Here is a quick video demonstrating ARCHOS Game Mapping tool and PS3 Sixaxis controller on an ARCHOS 101 XS:

ARCHOS Elements tablets Titanium (dual-core) and Platinum (quad-core) with HD display
The CES 2013 press release also unveils a new model in the Elements product line with a quad‐core tablet named Platinum offering HD retina like IPS display (2048×1536 resolution) The Platinum may be an upgraded variant of the existing
Titanium model
that has been released a few days ago. No details have been given about the quad-core processor reference, availability and price for tha ARCHOS Platinum.
ARCHOS at CES 2013 – Come and experience the ARCHOS TV connect first hand during CES 2013 in Las
Vegas, NV from January 8‐11. In addition to the TV connect, ARCHOS will be showing off its new line up
of tablets which include the recently announced GamePad and new entrants to the ARCHOS Elements
line ‐ the dual‐core Titanium range and the quad‐core Platinum range, both of which feature tablets
with stunning 2048×1536 resolution IPS screens. The ARCHOS booth is located in Central Hall (15322) of
the Las Vegas Convention Center.
ARCHOS CES 2013 PRESS Release