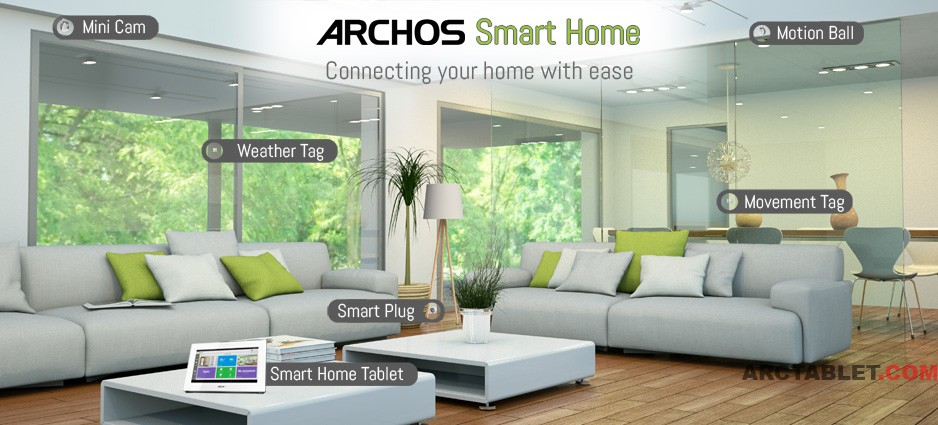 Archos just revealed the Smart Home product for home automation of which we heard for the first time back in 2012. The Smart Home is part of the Connected Line of devices. In the centre of the whole system is the Smart Home Tablet. From the front, it looks to be just a normal Android tablet, but it is probably one of the first tablets to include an onboard temperature and humidity sensor to help take control of your home. The Smart Home Tablet easily manages and links multiple miniaturized wireless objects around your home for simplified home information and automation. The 460g heavy tablet runs on RK3168 dual-core 1.2GHz processor, has an 7″ 1024×600 screen and Android 4.2.2 is the operating system. There is also 8GB of flash memory with a microSD slot for those who would like to have more. With only 512MB RAM onboard, it is not going to replace your "main" tablet, but it should be perfect for streaming multimedia and home automation.
The Smart home range further consists of the following products:
Archos Mini-Cam
The ARCHOS Mini-Cam with its wide angle lens lets you monitor your home with pictures and short videos from anywhere through the ARCHOS Smart Home App.
The magnetic stand lets you angle it to capture what you need and it's waterproof for outside use.
Archos Motion Ball
The ARCHOS Motion ball can detect motion in a room within 10 meters and it's waterproof for outside use. The Smart Home Application shows when there is motion over time, but the motion ball comes to life when paired in a scenario to other objects.
Archos Weather Tag
Able to detect precise temperature and humidity, the ARCHOS Weather Tag shows you variations over time in the Smart Home Application, but it's best when used to detect events and alert you to changes whether inside or out.
Archos Movement Tag
Monitor the opening of doors and windows with the two part ARCHOS Movement Tag. It can detect when the two parts are split or when it moves with its onboard accelerometer. Perfect for monitoring a door, window or drawer.
Archos Smart Plug
With the ARCHOS Smart Plug you can switch on or off power to a light or appliance wirelessly from anywhere. The ARCHOS Smart Home app will give details on the electricity used by the appliance over time. When tied with other objects in the scenarios tool it lets you automate virtually any simple electrical device.
Furthermore, the Connected Home line will also include self-standing devices for locating your pets and more. Connected Self line will include a smartscale(which are now actually being sold by many manufacturers), a smart blood pressure meter and the Activity tracker. We expect that the at least some of the devices will be shown at CES2014, along with the Archos SmartWatches. Stay tuned for more news in the new year. 😉