While Archos officially only revealed three tablets in its Gen10xs line-up, thanks to the last years kernel revealings we knew that a ~12″ version was also coming.  And thanks to IDBOOX, we now got a few more details of it.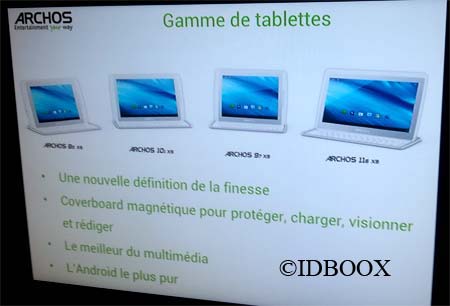 According to IDBOOX who attended the Archos presentation, the Archos 116 XS, a 11.6″ tablet should be available at the beginning of 2013 and should feature a FullHD 16:10 screen. Archos told that they will do their best for the price not to exceed 500€. IDBOOX also mentioned details for the other models in the line-up. The  Archos 80xs should be available for as low as 200EUR and fully target the Google Nexus 7. Possibly, for this price, the keyboard dock will not be included. The IPS screen equipped Archos 97xs should be available in November for 399€, slightly more than Archos is currently planning to ask for the 101xs.
Missing in the list is the Archos Ludo. Possibly, this device is not really a FullHD tablet aimed at gaming, but more like a game console/settop box which can be connected to a tv.
Via: IDBOOX.