Charbax, one of the funniest ARCHOS fan is bringing some videos of the GamePad, the latest Android game tablet currently presented at the HKTDC Hong Kong Electronics Fair. One unique feature of this console is the button mapping functionality that let the user attribute the console hardware buttons to any controls in the game, each action on the a touchscreen zone can be affected to a button. The mapping configuration is stored for each game, so the tablet remembers the settings you defined. We can probably expect that the tablet will ship with a large database pre-defined mapping for many games and it will hopefully be possible to share yours with other gamers on the Internet.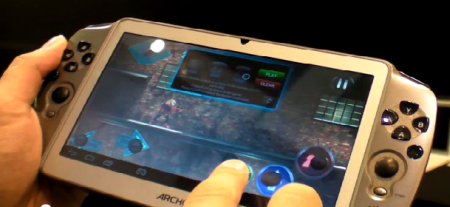 ARCHOS GamePad buttons
The devices comes with many controls buttons, you can see a block of buttons on the left side, another on the right side and two buttons on the top. Each side contains a 4 directions control pad, an analog stick and 2 buttons.
There are also two extra buttons at the top of the tablet, in the left and right angles.


Gaming alternatives
While the GamePad offers a quite nice gaming solution, it is also possible to use your existing Android Tablet with an existing game controller such as the WII Remote connected thue Bluetooth, see a demo here on an
Archos 101 G9
.
ARCHOS GamePad demo video
GamePad pictures and video from ARMDevices.net