With the GamePad, ARCHOS made one of the first great Android portable console. During our product review on a pre-production model a few weeks ago, we regretted the short battery life. Since then, we have been doing some extra measurements to report the battery performance on a retail version of the GamePad in different usage scenarii.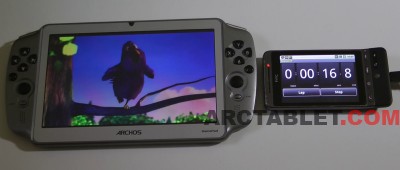 ARCHOS GamePad battery
According to
hailrazer member in our forum
, who did some surgery on his GamePad, the following specs
(3.7V, 11.1Wh) are printed on the Lithium Polymer (LiPo) battery
. This represents a 3000mAh capacity, but it seems to deliver really less in reality.
With the supplied 2A charger, it takes about 2 hours and half to get the tablet battery fully charged.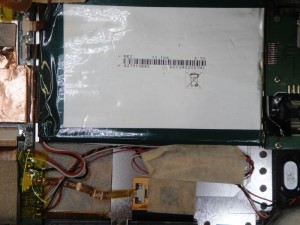 Battery life test methodology
From a fully charged tablet, we let a test scenario loop until the tablet battery gets empty.
Unless mentioned otherwise, our battery life measurements were done under the following test conditions:
– using latest firmware from 2012/12/27 on a retail device (Android build signature: archos/RK3070GP/A70GP:4.1.1/JRO03H/20121220.155836:user/release-keys)
– tablet was started after a fresh reboot
– tablet fully charged (lockscreen says "Charged", Settings / About tablet / Status says Battery level100%)
– media sound volume set to 50% (Settings/Sound/Volume, set Media bar to middle position)
– brightness set to half (Settings/Display/Brightness)
– WiFI disabled
– each battery test has been run at least 2 times
In each test, the battery level is monitored using our ArcTools application.
Video test
This first test deals with
playing this video file big_buck_bunny_720p_AAC.mp4
(Big Buck Bunny 720p, stereo sound in AAC format) in loop until the tablet battery gets empty. We have done 2 extra tests measuring the battery life with display brightness set at minimum and maximum values.
The battery measured were the following:
– brightness at 50%: ~5 hours (~18 000 seconds)
– full brightness: ~3 hours 20 minutes (~12 000 seconds)
– minimum brightness: ~6 hours and 10 minutes (~22 000 seconds)

Here is a video showing the battery life test measurement:

Stability test
This second test uses
StabilityTest
application which can be downloaded for free on Google Play Store. It's a CPU, GPU and memory stress-testing tool that will help us to check the
system stability
.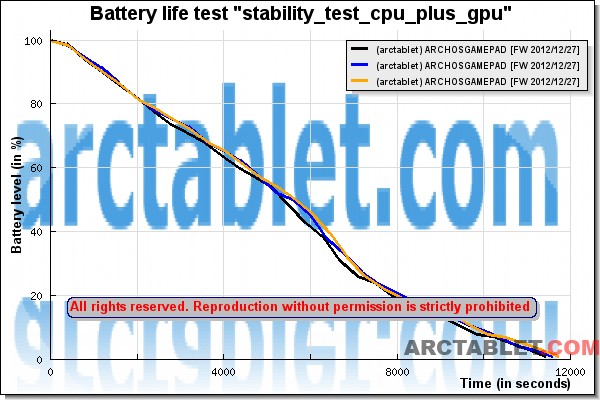 Stability battery life test gave ~3 hours and 12 minutes (~11 500 seconds)
Epic Citadel
This last test probably reflects gaming conditions the most, as
Epic Citadel
">Epic Citadel application is a real-time demonstration of Unreal 3 graphic engine.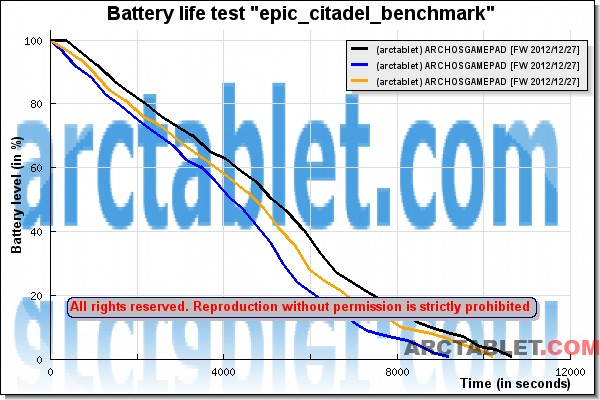 Epic Citadel battery life gave ~2 hours and 45 minutes (~10 000 seconds)
Our opinion
Based on all our measurements, we can see that the ARCHOS GamePad battery life is
quite limited for a device that is designed for mobile gaming
. With brightness set at the maximum and WiFI enabled, the battery life can easily go under 2 hours. You can check this article by hailrazer member
in our forum
, who provided a DIY modification to install a battery with a bigger capacity. (
warning: this may void the tablet warranty
).
If you want to help us submitting your own battery life test results, please let us know in the comments section below or in our forum.