Announced by ARCHOS exactly 3 months ago, the GamePad Android portable game console still hasn't hit the shelves. Pixmania online shop in France had the GamePad in pre-order with a release date of November 23 which hasn't been met and the product is actually not listed anymore on their web pages. A French e-tailer specialized in gaming jeuxvideoandco.com has recently changed the release date to early 2013, while ARCHOS is just giving some vague information on their Facebook.
ARCHOS GamePad in pre-order at jeuxvideoandco.com, announced for 3rd of January, 2013.
ARCHOS Facebook comments on GamePad availability
Earlier this week, ARCHOS commented on their
Facebook page
to clarify about the situation about some rumours on potential copyright problems with the name GamePad (also used on latest
Nintendo Wii U console
) They also gave a vague update on the product release in the "next couple of weeks".
"Everyone, chill out. There are no copyrighting problems on the name GamePad. The Archos GamePad will be releasing in the next couple of weeks. We decided to hold the launch to squash some last software bugs."
ARCHOS GamePad specifications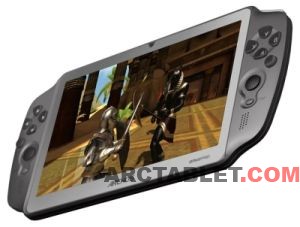 Operating System
Android 4.1 (Jelly Bean)
CPU
ARM Cortex A9
Rockchip RK3066 CPU @ 1.5 Ghz
Integrated GPU: Quad-Core Mali-400
Flash Storage Memory
Capacity: 8 GB
System Memory
1024 Mb
Additional storage
Micro SD slot (SDXC compatible up to 64GB)
Display
1024×600 Expected (TBC)
Capacitive MultiTouch
Bluetooth
No (TBC)
Wifi
802.11 b/g/n (TBC)
Gravity Sensor
Yes
Camera
front facing 
GPS
No
HDMI
Yes
Interfaces
MicroSD slot
Android Market / Google Play
Yes
Kickstand
No

Please visit us again, we will post updates on the ARCHOS GamePad availability as soon as we get new information.
Source: ARCHOS World Wide Facebook
open-consoles.com Open Consoles (in French)