Archos has just made available their Special developer edition firmware (SDE) for their G9 tablets. This special firmware helps developers or advanced users to flash a custom kernel or boot a custom image on their Archos G9 tablet.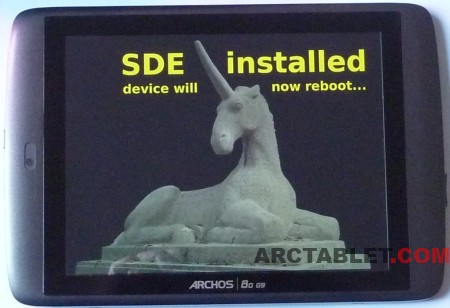 Archos Generation 9 SDE features
Installing the SDE on your G9 tablet will give you access to a special SDE menu offering the following features:
Flash Kernel and Initramfs
Export Data Partition
Export Hard Disk (H models only)
Uninstall Developer Edition (Media Storage will not be affected)
Remove Android Kernel (Media Storage will not be affected)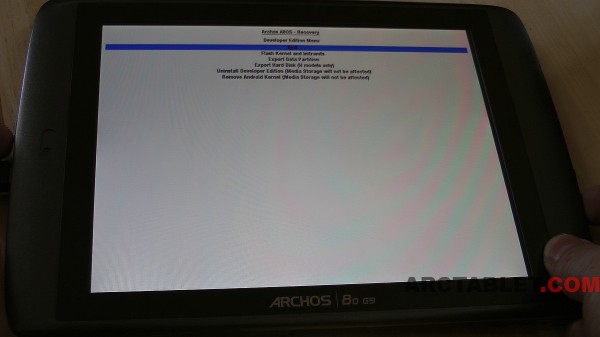 Archos Generation 9 multiboot
See also our
article about Archos G9 multiboot system
, which relies on Archos SDE to be installed.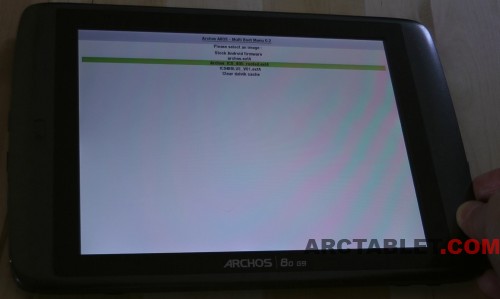 Archos Generation 9 SDE remarks
Generation 9 SDE firmware consists only in an enabler for being able to flash a kernel or install a new system image through Archos recovery. Note that no real system image (e.g. Ångström distribution) is provided in this SDE firmware, there is only a small Linux kernel that display a logo on the screen and then reboots. (see http://gitorious.org/archos/archos-gpl-gen9/blobs/master/Readme_SDE.txt)
Archos Generation 9 SDE instructions
Important notices to be acknowledged before downloading and installing the SDE firmware:
Once the SDE firmware is installed on a device, this device will be watermarked and ARCHOS will be able to detect that this firmware has been installed once.
After SDE firmware installation, you will not be able to play DRM protected content anymore.
Installing the SDE firmware is considered by ARCHOS as a voiding of the warranty and ARCHOS declines all liability and responsibility for any issues resulting from the installation of this SDE firmware.
ARCHOS strongly advises that only experts in embedded software development should install this firmware.
This firmware is provided "as is" and is not supported by ARCHOS.
The firmware must be installed on a unit with a firmware version above 4.0.1 (Ice Cream Sandwich). Once the SDE firmware is installed, powering on the device while pressing the 'volume down' button will now trigger a "Boot Menu". This menu allows to select which operating system is to be launched (Android, the newly installed Developer Edition or the Recovery System). If the device is powered on while pressing jointly the 'volume down' and the 'volume up' buttons, the Developer Edition will be launched. If the device is powered on without any other button pressed, Android will be launched.

Installing a new ARCHOS (Android) firmware WILL NOT remove the SDE firmware. In order to uninstall the SDE, boot into the recovery using the Boot Menu, select "Developer Edition Menu", then "Uninstall Developer Edition".