ARCHOS has just released a firmware update for their Gen9 tablets. It seems to be pretty much a fixed release of the broken 4.0.24 firmware that caused hardware issues on some G9 tablets. The system version actually moves from Android 4.0.3 to latest ICS version 4.0.4. The revision history is quite long, it covers main Media Center fixes, a new Remote Control feature and a more robust Wi-FI driver that should hopefully fix the latest problems.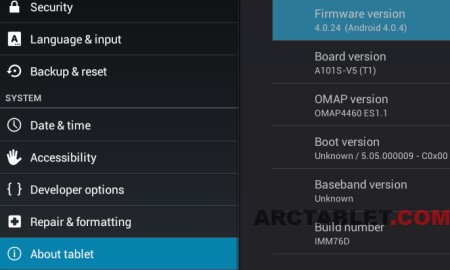 According to the release information, the detailed changes are the following:
Version 4.0.25 – October 25th, 2012

Android: IceCream Sandwich 4.0.4 version
Media Center: network indexing on network shortcut menu (+), network shortcuts creation is proposed on network share directory long press
Media Center: new simplified Movie/TV Shows/All Video views
Media Center Video: new video information view with backdrop display and chooser (click on backdrop to change it)
Media Center Video: poster can be changed by clicking on it in the video Information view
Video Scraper: faster media information retrieval process. Note that in the migration process, all your video scraper information will be lost.
Subtitles: ability to download and save subtitles for network shares
Media Center: add video search
Media Center Music: Album art swipe gesture support
Remote control: control your tablet with your TV remote through HDMI on TV compatible hardware (directional pad, multimedia and color TV remote keys)
Archos Remote: support of remote touch pad
Wi-Fi: new more robust driver
Media Center Video: fix audio desync for some MPEG4/AVI files
Media Center Video: fix MPEG PS/VOB audio track selection
Media Center Video: fix UPNP playback of large files (>4GB)
Media Center Video: fix seeking in some TS files
Media Center Video: fix playing certain MKV files
Media Center Video: fix playing certain H264 files
Media Center Video: improve DVD/VOB playback in case there are IFO files present
Media Center Video: add support for MPL2 subtitle format
Media Center Video: improve playback of H264/AAC TS files


| | |
| --- | --- |
| Archos G9 4.0.25 Firmware download | |
Firmware update procedure at Archos.com
Archos Remote Control feature tested on an Archos 101 XS, works the same on the Gen9.

Gen8 firmware is coming too, stay tuned. 😉