Archos has just published a new test firmware to fix Wi-FI issues, improve CPU stability and GPU performance.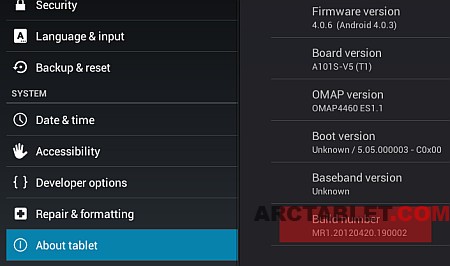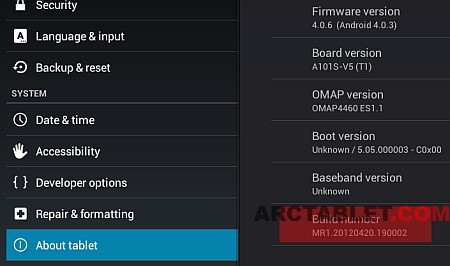 Download the 4.0.6 test firmware here
We recommend that if you do not experience Wi-FI or stability issues on your device, there should be no need for your to update your tablet with on this test firmware, please wait for the final 4.0.7 (or later) firmware.
Apart from Wi-FI fixes, the following changes are expected on this test firmware:
i) skype audio fix, ii) SGX performance boost, iii) some more CPU scheduler stability patches.
GPU performance boost
We have measured the claimed performance boost for the GPU on our test device (Archos 101 G9 Turbo 1.5 GHz, 512 Mb RAM). It looks like the PowerVR SGX540 GPU integrated in the TI OMAP 4 chip has received some faster clocking 😉 Our tests on Nenamark benchmarks give 26.3 fps on 4.0.6 test4 firmware vs 20.9 fps on 4.0.6 test3 firmware,
25% increase
.
| | |
| --- | --- |
| 4.0.6 test3 firmware | 4.0.6 test4 firmware |
| | |
Archos also made available a Debug Log Extractor application, that will pack debug information in a zip, on your tablet root directory. This debug information should help Archos support to resolve the issues. Use XDA thread if you want to send your logs to Archos support…
Thanks to Jbmm.fr for the info.