La très attendue tablette Arnova ChildPad (initialement annoncée en tant que  Archos ChildPad) est enfin en vente aux Etats Unis. Cette tablette est a été conçue a destination des enfants, et sera disponible en version d'écran capacitif et résistif, avec ou sans l'interface graphique Alvin UI. Ce test présentera le modèle a interface Alvin disponible en Europe, équippé avec 4 Go de mémoire flash de stockage, un écran résistif (mono point); cette tablette partage une bonne partie de ses spécifications avec les autres ChildPads de la gamme.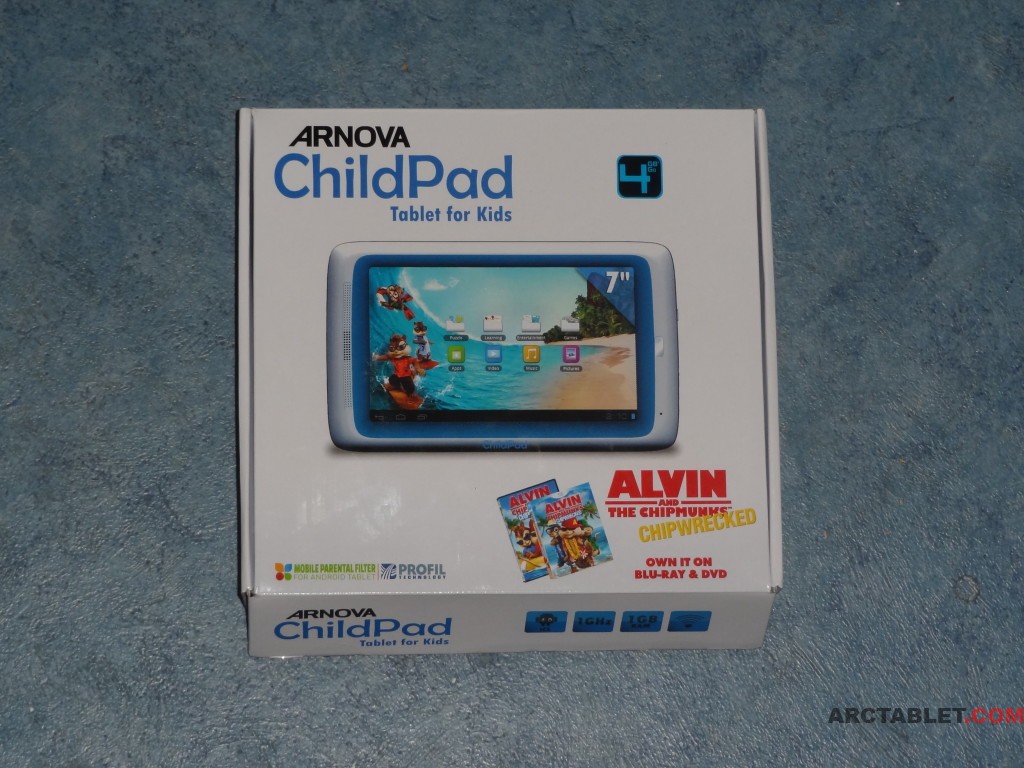 Vidéo de déballage et test de l'Arnova ChildPad
Spécifications de l'Arnova ChildPad
Système d'exPloitation

Android 4.0.3 (Ice Cream Sandwich)

Linux Kernel Version: 3.0.8+

Build fingerprint: Android/rk29sdk/rk29sdk:4.0.3/IML74K/eng.root.20120503.144920:eng/test-keys

CPU

processeur simple coeur Rockchip 2918 CPU fonctionnant à 1 Ghz

GPU intégré: Vivante Corporation GC800

Mémoire de stockage flash

Capacité 4 Go

Vitesse: Read: 15195 kB/s Write: 6589 kB/s

Mémoire système
1024 Mo
Stockage additionel
Micro SD slot (SDHC compatible)
Ecran

800×480 TFT LCD 7.0 pouces

Resistive monopoint

Bluetooth
Non
Wifi
802.11 b/g/n
Accéléromètre
Yes
Camera
0.3Mp (frontale)
GPS
Non
HDMI
Non
Interfaces

Micro USB host 2.0: Mass Storage Class (MSC)

MicroSD slot

Autonomie de la batterie

Video playing test: TBD hours

Android Market / Google Play
No (For children optimised Appslib application Marketplace)
Kickstand
No
Dimensions
223 mm x 142 mm x 12.2 mm
Poids

342 g
Packaging
Le packaging de l'Arnova ChildPad diffère des autres produits Archos et Arnova, la boite contient:
– une tablette Arnova ChildPad
– un cable USB (micro USB format) pour charger la tablette
– un cable USB cable (micro USB format) pour transférer des fichiers
– 4 documents: le guide utilisateur Arnova ChildPad, le guide de démarrage (Mes premiers pas), des publicités Alvin (DVD & Blueray) et la notice des mentions légales
– un chargeur secteur 100-240V, sortie 5V 1.5A
Tablet Design
The ChildPad shares its design with the Arnova 7d G3, the only difference are the colors. While Arnova 7d G3 is just black, the ChildPad is painted in nice-looking white and blue colors. The tablet is made of matte plastic, which should not catch fingertips that easily. Weighing 342 grams, it's quite light and lies comfortable in hands. Nothing cracks, but compared to the more expensive Archos 70b IT; it looks a little bit cheaper. No patented stainless steel frame on the ChildPad, but the blue rubber frame around the screen feels nice.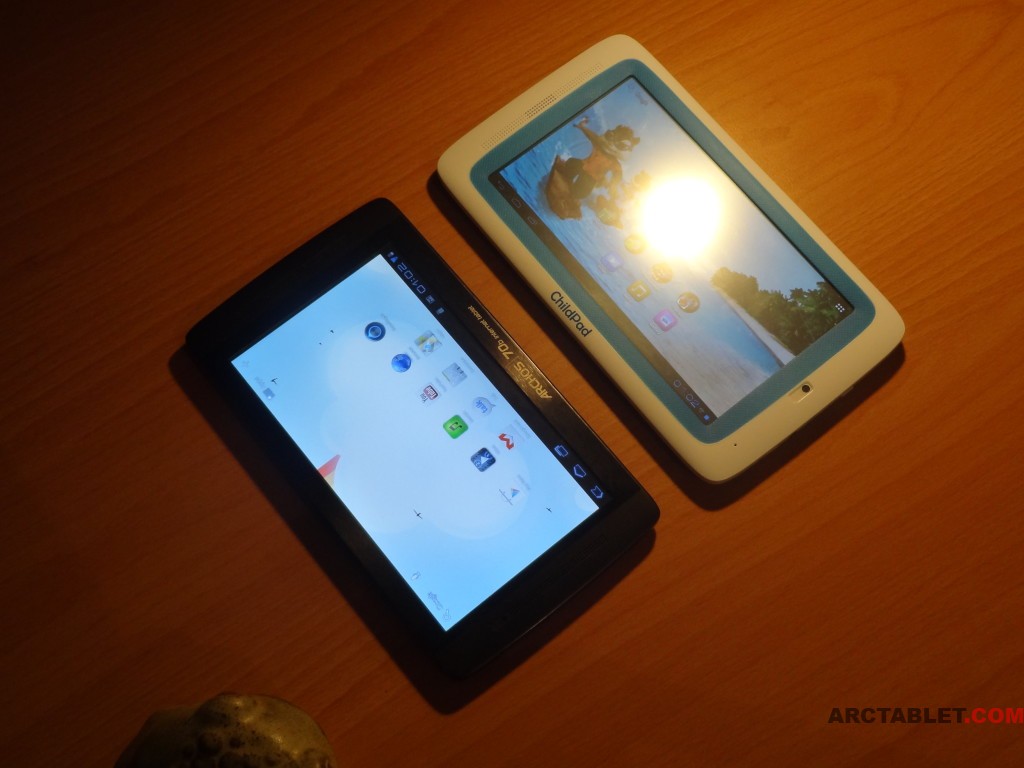 L'arrière de l'appareil est également en plastique souple, de couleur bleue et apparence matte.
Arnova ChildPad boutons et connectique
Les boutons et connecteurs sont situés sur le coté droit de la tablette, nous trouvons précisément: le boutton power, le trou du reset, le connecteur OTG micro USB, le connecteur stéreo 3.5mm pour un casque et une capot plastique couvrant une espace réservé à un port HDMI (non connecté).

N'hésitez pas à revenir sur notre site pour la suite de ce test qui couvrira plus précisément les performances de l'Arnova ChildPad,  les applications, le module de control parental et l'autonomie de la tablette.
N'hésitez pas à nous faire part de vos commentaires à propos du test de l'Arnova ChildPad sur notre forum our forum.