The longly awaited
Arnova ChildPad
(first known as Archos ChildPad) has finally started shipping in the USA. This tablet is developed with children in mind and will be available in capacitive and resistive versions and with or without the Alvin UI. This review covers the Alvin model for the EU, with 4GB of flash memory, resistive screen(no dual-touch on this one); though it shares many specifications with other ChildPads.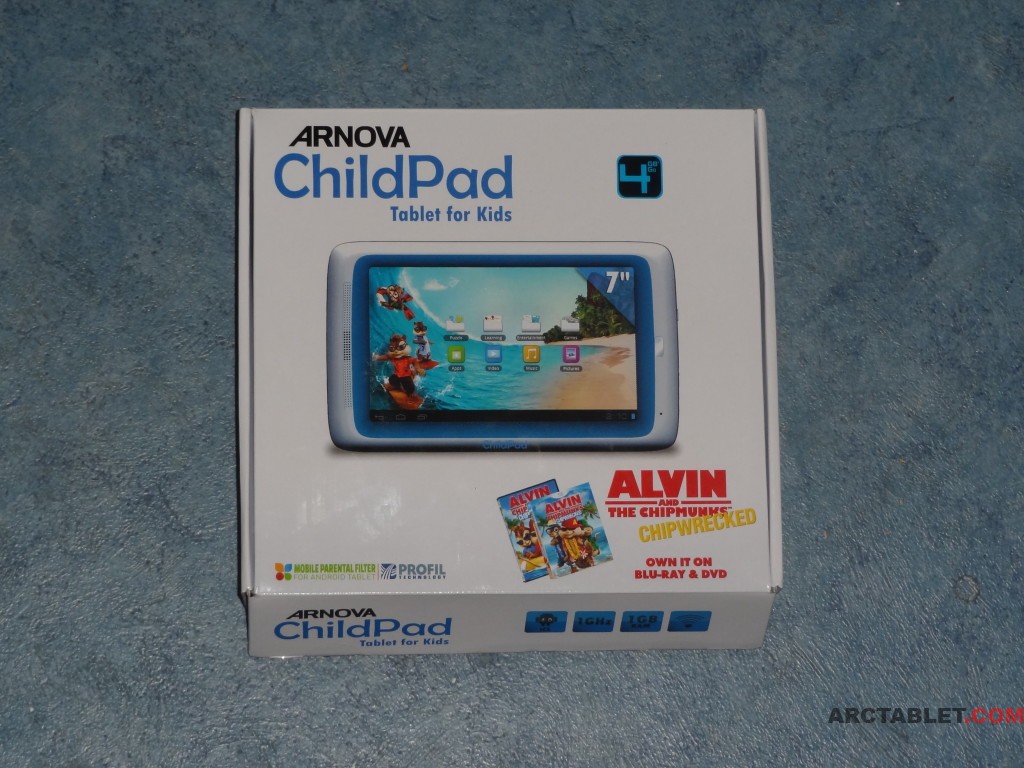 Arnova ChildPad video unboxing&preview
Arnova ChildPad specifications
Operating System
Android 4.0.3 (Ice Cream Sandwich)
Linux Kernel Version: 3.0.8+
Build fingerprint: Android/rk29sdk/rk29sdk:4.0.3/IML74K/eng.root.20120503.144920:eng/test-keys
CPU
single core Rockchip 2918 CPU running at 1 Ghz
Integrated GPU: Vivante Corporation GC800
Flash Storage Memory
Capacity 4 GB
Speed: Read: 15195 kB/s Write: 6589 kB/s

System Memory
1024 Mb
Additional storage
Micro SD slot (SDHC compatible)
Display
800×480 TFT LCD 7.0 inches
Resistive 1 point screen
Bluetooth
No
Wifi
802.11 b/g/n
Gravity Sensor
Yes
Camera
0.3Mp (front facing)
GPS
No
HDMI
No
Interfaces
Micro USB host 2.0: Mass Storage Class (MSC)
MicroSD slot
Battery life
Video playing test: 5 hours 15 minutes

Android Market / Google Play
No (For children optimised Appslib application Marketplace)
Kickstand
No
Dimensions
223 mm x 142 mm x 12.2 mm
Weight
342 g

Packaging
Packaging is a little bit different from the other Archos and Arnova products, you will find in the box:
– an Arnova ChildPad tablet
– an USB cable (micro USB format) for charging the tablet
– an USB cable (micro USB format) for transferring files
– 4 papers that include: Arnova ChildPad User Guide, Arnova ChildPad Quick-Start Guide, Alvin advertising paper and  Legal and Safety Notices
– a power charger with one power socket (depends on region, we got an European one), input 100-240V, outputs 5V 1.5A
Tablet Design
The ChildPad shares its design with the Arnova 7d G3, the only difference are the colors. While Arnova 7d G3 is just black, the ChildPad is painted in nice-looking white and blue colors. The tablet is made of matte plastic, which should not catch fingertips that easily. Weighing 342 grams, it's quite light and lies comfortable in hands. Nothing cracks, but compared to the more expensive Archos 70b IT; it looks a little bit cheaper. No patented stainless steel frame on the ChildPad, but the blue rubber frame around the screen feels nice.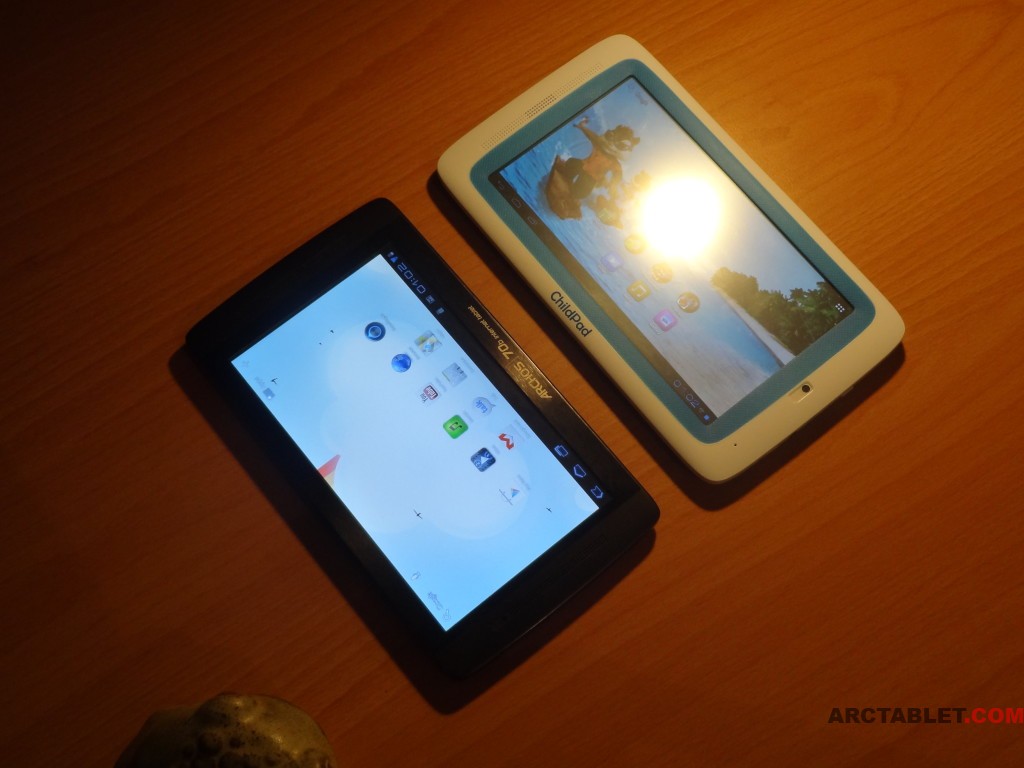 The back is also made of matte, blue, soft plastic.
Arnova ChildPad buttons and connectors
The buttons and connectors are located on the right side of the tablet, we can find: power button, reset pinhole, the OTG micro USB, stereo 3.5mm earphone jack and a plastic cap covering the reserved space for an HDMI-port.

Continue to Part 2: Benchmarks.