The ARCHOS 80 Titanium is part of the new generation of tablets made by ARCHOS. Equipped with a Rockchip RK3066 Dual Core processor at 1.6 GHz, 1 GB RAM, HDMI, 8 inch IPS screen with a decent resolution of 1024×768 and dual cameras, the 80 Titanium is just missing the Bluetooth function. Lets check some of the above specs, assess some pictures and share an opinion regarding this new device.
ARCHOS 80 Titanium specifications
Operating System
Android 4.1 (Jelly Bean)
CPU
dual-core ARM Cortex A9 Rockchip RK3066 CPU running at 1.6 GHz
Integrated GPU: quad-core Mali 400
Flash Storage Memory
Capacity 8 Gb
Tested speed, on our test device: Read: 25570 kB/s Write: 6093kB/s Class 6 equivalent
System Memory
1024 Mb
Additional storage
Micro SD slot (SDHC compatible)
Display
8 inches IPS screen, resolution 1024 x 768 pixels
capacitive 5 points multi-touch screen
Bluetooth
No
Wifi
802.11 b/g/n
Gravity Sensor
Yes
Camera
0.3 MPixels(front facing)
2Mpixels back facing
GPS
No
HDMI
Yes mini HDMI, aka HDMI type c connector
Interfaces
Micro USB 2.0, USB host via OTG
Audio Jack 3.5mm
MicroSD slot (ARCHOS mentions this slot is compatible with 64 GB cards)
Battery life
Due to some issues with compatibility of the app that we use to assess the life spawn, we could not analyse this aspect.
Android Market / Google Play
Yes
Kickstand
No
Dimensions
200 mm x 154 mm x 9.9 mm (7.9'' x 6'' x 0.38'')
Weight
440g (0.97 pounds)
Packaging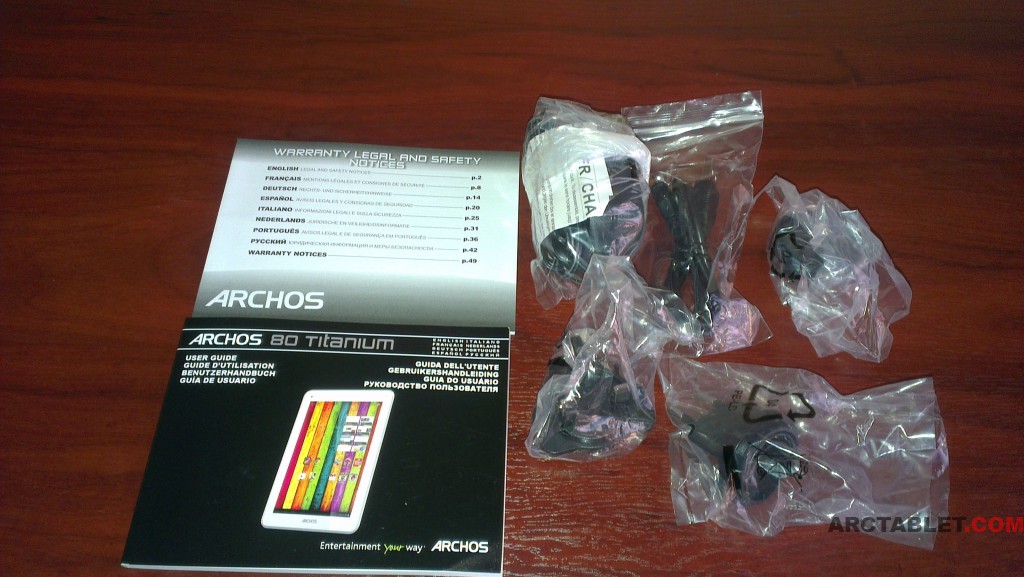 The ARCHOS 80 Titanium packaging is similar to other Archos/Arnova products, the box contains:
– an ARCHOS 80 Titanium tablet
– an USB cable (micro USB format)
– a power charger with three power sockets (UK, EU, US), input 100-240V, outputs 5V 2 Amp with a single paper document explain how to use the plugs
charging the tablet thru the micro/USB connector does not work, as the tablet has higher power requirements
– 2 booklets that include: a user guide, legal and safety Notices
ARCHOS 80 Titanium tablet design
The 80 Titanium has an aluminium back case finished with a white plastic front cover which gives the tablet a neat aspect. Volume rocker is on the left side of the tablet.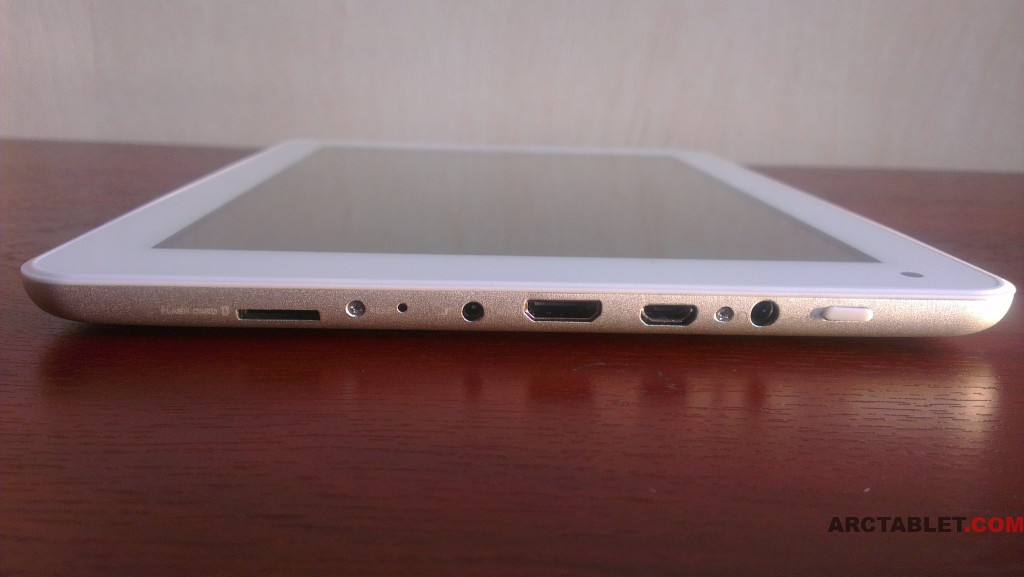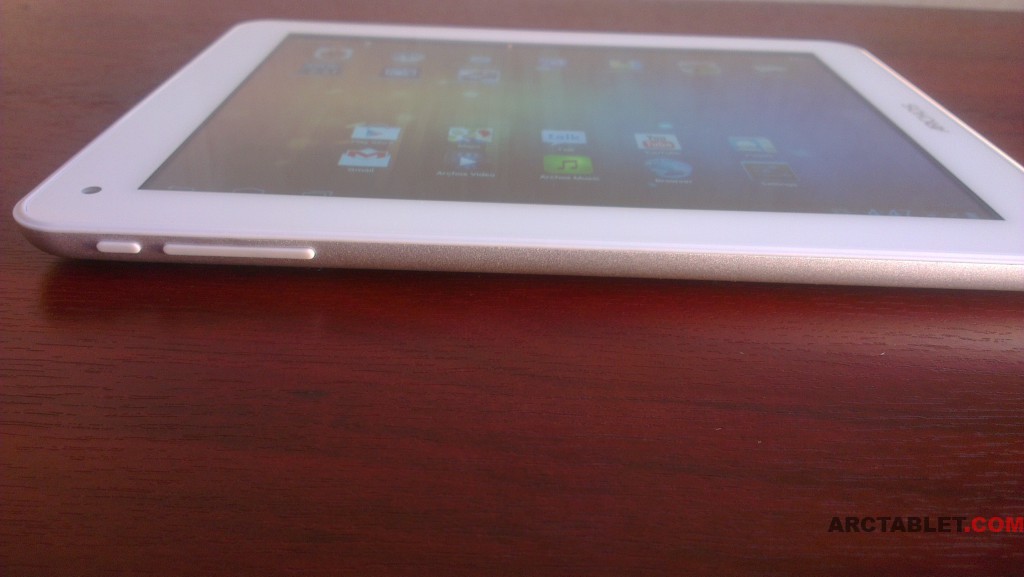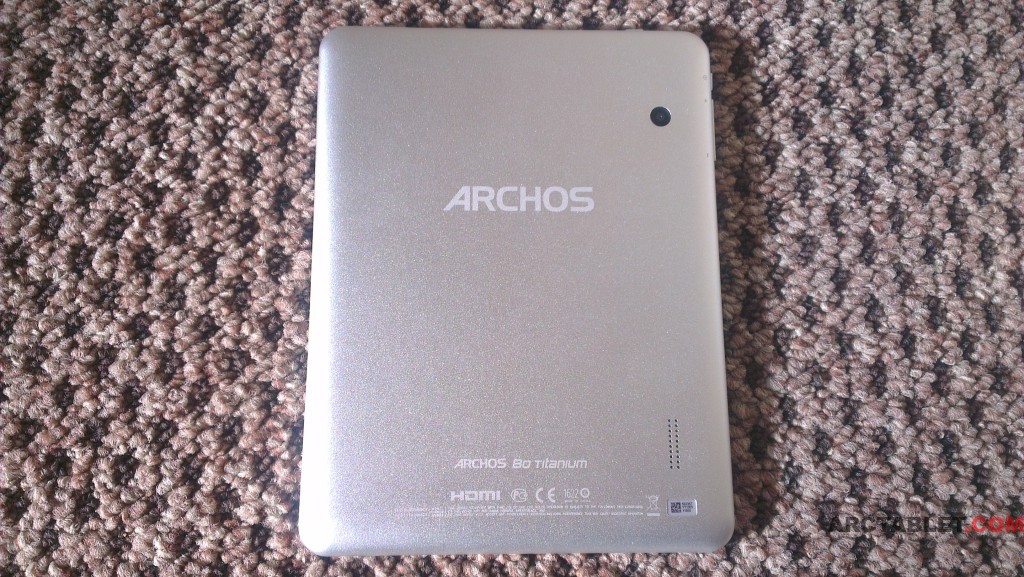 This tablet is lighter and thinner comparing it with ARCHOS Cobalt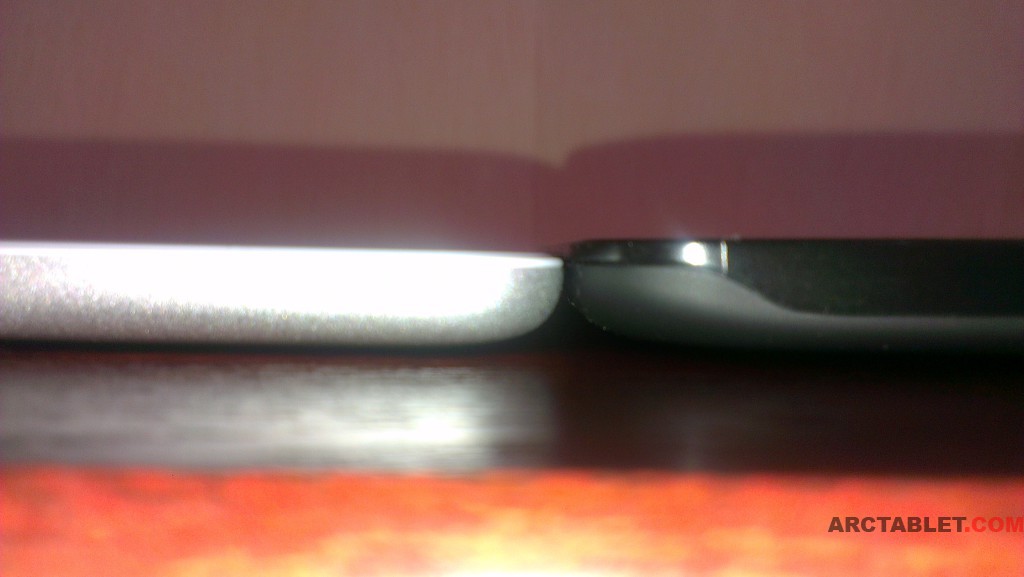 Don't forget to check our ARCHOS 80 Titanium forum to latest updates, discussions and custom rooted firmware.