Back to MWC 2014 trade show in February 2014, we have seen the presentation of the ARCHOS 80 Helium one of the cheapest 4G/LTE Android tablet, expected to sell on the market 3 months later at about €249 according to the company Marketing director.
About six months later, it looks like the device is finally ready to hit the market, with the bonus of a reduced price, as ARCHOS released today in their financial S1 2014 results and perspectives: (copied here)
ARCHOS markets since August 2014 the first 4G tablet at less than €200 and strengthens its range of 3G tablets.
In all likelihood, this refers to the 80 Helium.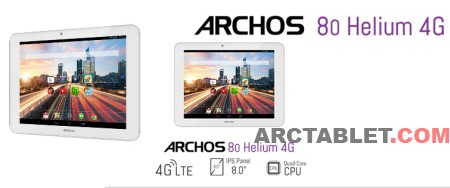 While this kind of 4G tablet model is still very rare at that price on the market, it seems that ARCHOS once again has made economies on the device. As the specifications mention, the ARCHOS 80 Helium should come with a Qualcomm MSM8926 (Snapdragon 400) processor quad-core ARM Cortex A7 (running at 1.2 GHz, not 1.4 GHz like initially announced) 1 GB of RAM, an IPS 8″ display with a low resolution of 1024×768 pixels, Wifi 802.11 b/g/n, Bluetooth 4.0 and a GPS.
The tablet is powered by a 3500 mAH battery, it has 2 cameras: a front one with 2 MPix (was initially announced at VGA resolution 0.3 Mpix) and a rear one with 5 MPix. The ARCHOS 80 Helium will run on Android 4.3 Jelly Bean, a relatively outdated version of the system, which is now about 13 months old and is also used on the ARCHOS 50 Helium 5″ 4G smartphone.