It's great to see the good old Archos 7 Home Tablet v2 is still receiving custom firmwares updates built by independent developers. hvdwolf has recently released a Froyo firmware update for the Archos 7HTv2 on Archosfans.com forum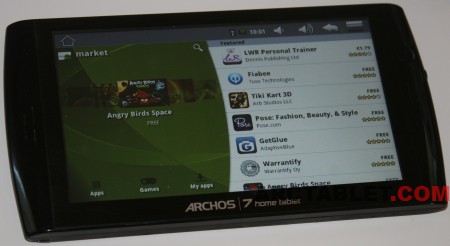 Features
This custom firmware updates your your Archos 7 HT v2 tablet to Android 2.2 (Froyo).
Additionally, you get other interesting features such as:
– Android Market (now Google Play)
– root access
– installed programs: Google Maps, Gmail Youtube and other applications…
– Support for Fullscreen apps and Ad-hoc WIFI thru ROMSettings AdhocAble for APAD applications
– some system optimizations to increase device performance
We did test this firmware for a while and it did not reveal any loss of functionnality over offical Android 2.1 firmware from Archos. Moreover, it is pretty stable and feels faster than the vendor's default firmware (Android 2.1 – Eclair).
Important:
Please note that this firmware is valid only for Archos 7 HT v2 and will not work on Archos 7 HT v1. If you are not sure on which version you have, please check our Archos 7 HT v1/v2 page. If you have an Archos 7 HT v1 please visit our dedicated firmware page.
Installed applications
Archos 7 HTv2 Android 2.2 Froyo custom firmware download
Original file (mediafire.com) 7htv2_froyo.21.zip
This firmware is specific to the Archos 7 HTv2 and should not be installed on other devices.
WE WILL NOT BE HELD RESPONSIBLE FOR ANY DAMAGE TO YOUR DEVICE.
THIS FIRMWARE UPDATE IS USED AT YOUR OWN RISK.
WE RECOMMEND TO FLASH THIS FIRMWARE ONLY IF YOU ARE ABLE TO RESCUE A BRICKED DEVICE USING ROCKCHIP FLASHING TOOLS.
Installation:
– Download the custom firmware (see previous section)
– Connect your Archos 7HTv2 to your computer thru USB cable
– Extract update.img from the zip archive and copy update.img file to the root of your Archos 7 HTv2 device (either the device storage or the SDCard)
– Unmount your USB connection to your computer
– The following popup should show, asking to update the firmware: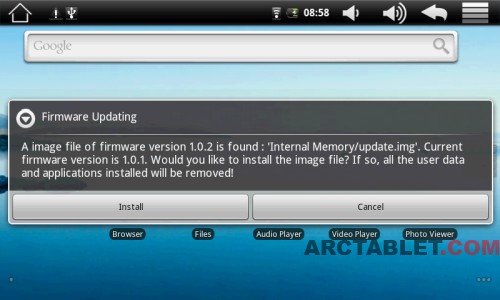 Follow the instructions to update your firmware
– Your first system boot on the updated firmware may be a bit slower than usual, just wait for a few seconds
– When the new firmware has started, follow the setup wizard, configure your WIFI network in the Settings, then start and configure Android Market
– You may get the following message in Android Market / Google Play: "No matching content in Android Market", or there may be just very few application listed in the Market.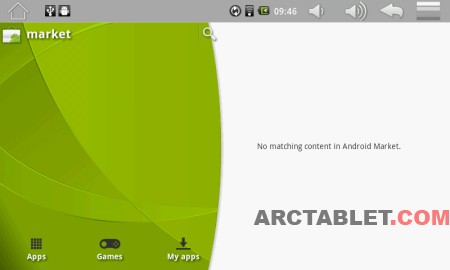 To correct that problem, you may want to apply Android Market fix to make sure all applications are visible.
– Full screen and WIFI Adhoc support
Using Birdiebnl RomSettings APK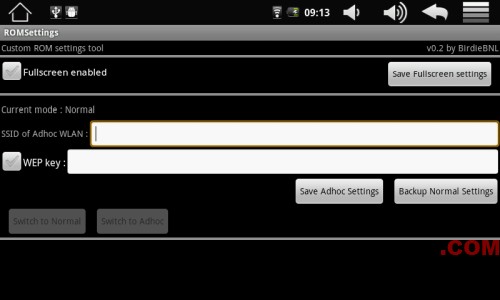 Check latest Files from http://www.bossink.net/rs/
Or our local miror: BirdieBNL_RomSettings_0.2.apk
You can also use the included AdhocAble for APAD application for Ad-hoc WIFI support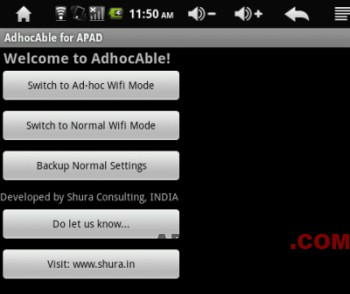 Release information and version fingerprint
Here are some remarks from the custom firmware author (hvdwolf) :
Disclaimer: You apply this firmware on your own risk. For me these ROMs are stable. That doesn't guarantee that it works for you. This firmware is only for the A7HT Version 2!
Note: On first boot: As applications can only be installed when the gui is running, the installation of the non-system apps begins and still continues when the gui is already visible. After about 1 minute after gui "appearance" all apps are available in the application grid. This only on the first boot.

Tips & Tweaks
= Standard USB connection to Mac OS X/Linux/Windows.
After connecting the tablet to the pc, touch and drag the menu bar down. Select "USB connection". (This is the default way on Froyo and later).
= Wifi switching off
Go into settings -> Wireless and networks ->WiFi Settings. Press the menu button again and select the option "Advanced". Here you can set the WiFi sleep policy.
Sub tip:
* Set wifi to never switch off (note that with this setting it will now also drain power when in sleep mode)
* Install one of the wifi on/off widgets from the market.
* Switch wifi on when you need it and switch it off when you don't need it (reading, movies, etc)
= Switching between full screen and normal screen.
The android.policy.jar has been patched to enable this. You need to download Birdiebnl's ROMSetttings.apk to use it.
= Bricked tablet
This should never happen when applying these roms, but in case it does happen: read this wiki article (for windows) and this article (Mac OS X/Linux/BSD) on how to unbrick your tablet.
= Performance improvements
– Menu: Settings->display->animations->No animations
You can also check the full release history for hvdwolf custom firmware on Archosfans.com forum.
Firmware release fingerprint:
Android version : 2.2.1
Build number : froyo1.00 MASTER.eng.temp.20110127.104732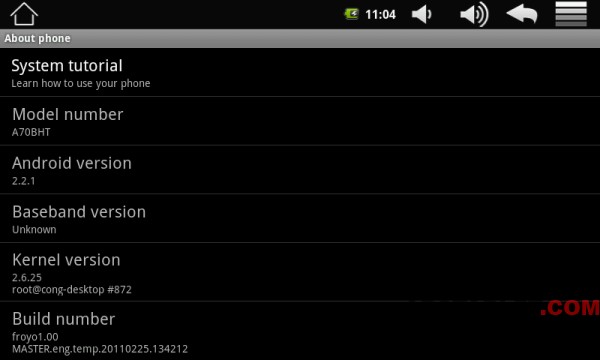 Other Archos 7 HTv2 custom firmwares
We also recommend that you check this other
great Archos 7 HTv2 custom firmware by BirdieBNL
and our
other Archos 7 HTv2 news.
---
Unfortunately this is probably the last Archos 7HTv2 firmware release from hvdwolf as his Archos 7 HTv2 touchscreen passed away and his tablet is not usuable anymore. We wish to thank him for all the great work and support he has done to Archos 7 HT users and community.