ARCHOS has recently introduced, their first line of Android Smartphones with 3 different models from 3.5″ to 5.3″. According to the press release:
"The flagship device, the ARCHOS 50 Platinum, features a stunning 5.0 inch full black IPS display paired with a quad-core CPU at 1.2GHz and an 8MP camera. Enduser will have an experience similar to a Samsung Galaxy S3 for half the price."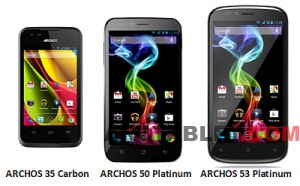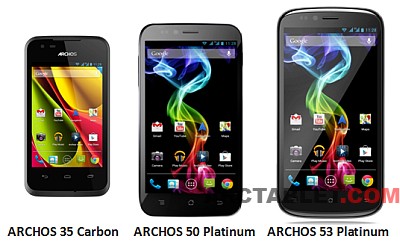 Actually, we would not take this assumption for granted, as we think the Samsung Galaxy SIII and ARCHOS 50 Platinum smartphones can hardly be compared, their hardware is really different, from the CPU to the screen (Samsung model has about 2x more pixels) both offer different performance and features which probably result in a really different user experience, at a different price.
Here is a quick table pointing out the differences on both smartphone specifications:
ARCHOS 50 Platinum specs

Samsung Galaxy SIII specs

VS

CPU: Qualcomm 8225Q (Snapdragon S4 Play)
(quad-core ARM Cortex-A5 at 1,2 GHz)
GPU: Adreno 203
RAM: 1 GB

Display: IPS 5″
960×540 pixels (qHD), 220 DPI
Storage: 4 GB
3G max Speed: HSDPA 7,2 Mbits/s – HSUPA 5,76 Mbit/s
Retail price: 199,99€ / ~ $260

CPU: Samsung Exynos 4412
(ARM Cortex-A9 quad-core at 1,4 GHz)
GPU: ARM Mali-400MP4 at 400Mhz
RAM: 1 GB / 2 GB
(i9300 model / i9305 Lte model)
Display: 4,8″ Super AMOLED HD
1280 x 720 pixels, 306 DPI
Storage: 16, 32 or 64 GB
3G max Speed: HSPA+ 21 Mbps (GT-I9300)
Current price GT-I9300 (unlocked) : €385 / $450
On paper, there is a significant speed difference for processors based on ARM Cortex-A5 and ARM Cortex-A9 architecture. Wikipedia indicates 1.57 DMIPS / MHz (per core) on the A5, while 2.50 DMIPS/MHz/core are announced on the the ARM Cortex-A9. Other factors have great influence on the performance/battery life such the as the semiconductor technology: the Qualcomm 8225Q is built using 45nm technlogy while the Exynos 4412 uses 32 nm HKMG manufacturing process. Quoting Samsung from their blog:
In fact, 32nm HKMG processors are 30% faster and use 30% less power than processors developed on the 45nm process, making them ideal for high-performance mobile applications.
Finally the Graphical Processing Unit (GPU) choice is important as well and we can observe again some important differences between the 2 processors, especially in the pixel fill rates:
ARCHOS 50 Platinum vs Samsung Galaxy S3
Adreno 203 GPU on Qualcomm 8225Q
GPU data from Qualcomm 8225 (dual core)
Mali-400 MP4 on Samsung Exynos 4412
Single core processor
Frequency: 128 MHz
Pixel Fill Rate: 250 M pix/s
Triangle Fill Rate 41 M tri/s

Max Display Resolution 854 × 480

ARM Mali-400MP4 at 400Mhz with 32kB L2 cache
Frequency 240MHz to 400MHz
Throughput 30M tri/s and up to 1.1G pix/s at 275MHz
44M tri/s and up to 1.6G pix/s at 400MHz
Qualcomm 8225Q (aka Qualcomm Snapdragon S4 Play) vs Exynos 4412 benchmark
There aren't many benchmarks measures currently available for the quad-core Qualcomm 8225Q processor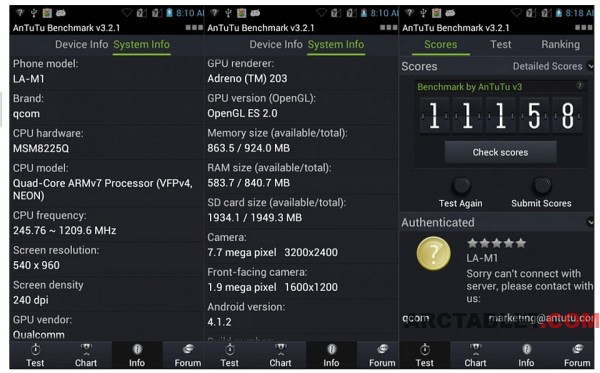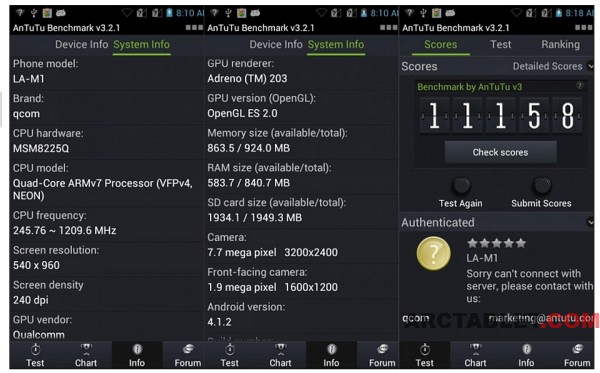 On the other hand, the Samsung Galaxy SIII obtains a score of 16301 on AnTuTu Benchmark 3.x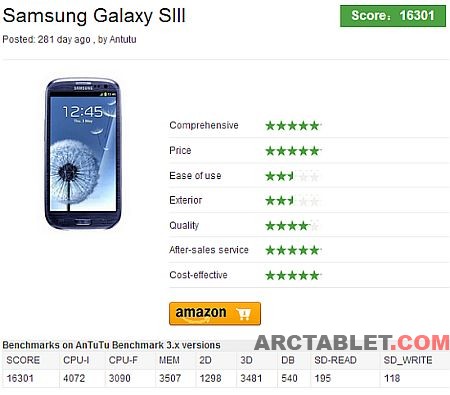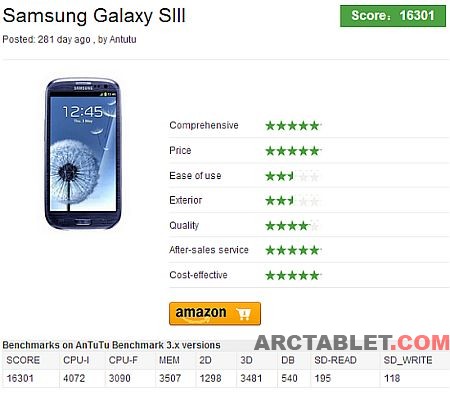 While these numbers give a general idea of the phones performance, we surely can't rely too much on the figures as we don't have much details on the test conditions and which firmware (default of modified) each device had during the benchmarks.
Finally, the end-user experience mentioned in this article introduction could be understood as a combination of different factors: hardware specifications, O/S features and optimization. We'll wait to have both devices in hands to judge the result and attest about our experience, stay tuned !

Loading ...
Links of interest:
Snapdragon SoC information page at Qualcomm, ARM_Cortex-A5 on WIKIPedia
MSM 8225 (dual core version) specs
Samsung Exynos SoC info at wikipedia.org, MALI 400MP info page at arm.com