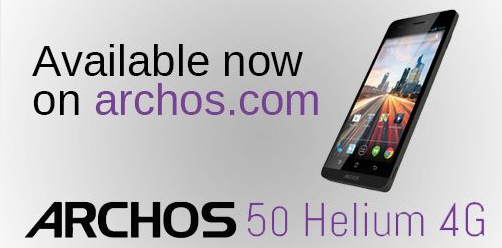 Announced just before CES 2014 trade show, the ARCHOS Helium is the first smartphone featuring 4G (LTE) support from Archos. The device is based on the Qualcomm MSM8926 SoC (System On Chip), a mid range 4 cores ARM Cortex-A7 processor with Adreno 305 GPU. There is 1GB of RAM inside, bundled with 720p screen and Android 4.3. Finally, the 50 Helium is now available on Archos online store, there are considerable price variations from one territory to another, it starts at €199.99 in France to €249.99 in Netherlands, Germany and most European countries. The same 50 Helium products actually sells at 279€.99 in Spain and Italy while product release to the UK does not seem to be opened yet.
Here is the quick unboxing/demo video from Archos:
Companies like Wiko, a major player in the smartphone in France (reporting 8.3% market share in France for December 2013 to February 2014) which is quickly expanding to South Europe and other territories, surely have interest in the 4G market as well. Wiko revealed during the Mobile World Congress in Barcelona that they are coming with a 4G Wiko Wax smartphone under €200, which should be available within weeks from now. Let's have a closer look at both ARCHOS and Wiko offers.
Wiko Wax versus ARCHOS Helium 50 spec comparison
| Wiko Wax | ARCHOS 50 Helium 4G |
| --- | --- |
| | |
Android version
Android 4.3 Jelly Bean
(to be upgaded to Android 4.4 KitKat)
Android 4.3 Jelly Bean
(to be upgaded to Android 4.4 KitKat)
Processor
Nvidia Tegra 4i, 4+1 cores ARM Cortex-A9 r4 at 1.7 GHz
GPU: integrated (60 cores)
Qualcomm MSM8926 4 cores ARM Cortex-A7 at 1.2 GHz
GPU: Adreno 305 / 450 MHz
Display
4.7″ 1280 x 720
5.0" 1280×720 IPS
Toughened glass
Gorilla Glass 2
–
Camera
8 MP rear, 5 MP front
8 MP rear, 2 MP front
Memory
1 GB
1 GB
Storage
4 GB
8 GB
Battery
2000 mAh
2000 mAh
Price
€199.99
€199.99 (£189.99)
Dimensions
140 x 67.5 x 8.8 mm
145 x 71.5 x 8.95 mm
Weight
119g
160g
On paper, the Wiko Wax is a clear winner over the ARCHOS 50 Helium: for a similar price, the Wax offering a faster processor, bigger battery, better display and a more robust protection for the screen.
Knowing that the Wiko Wax should be available later this month (as Wiko just confirmed on Twitter, in French) , it may be worth the wait to wisely compare both devices before make your choice.