Presented 5 months ago, the ARCHOS 50 Diamond smartphone is the new flagship phone from the brand. It packs a lot of interesting features (4G, FullHD display, octo-core processor, 16 Mpixels back camera, 16 MB storage) in a budget price. The 50 Diamond is currently selling for €200 in France, €250 in Spain and £170 in the UK.
Does that new 50 Diamond really shine ? Let's first have a look at the specs, package and design.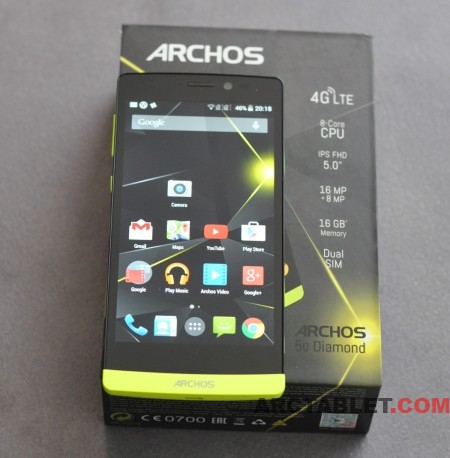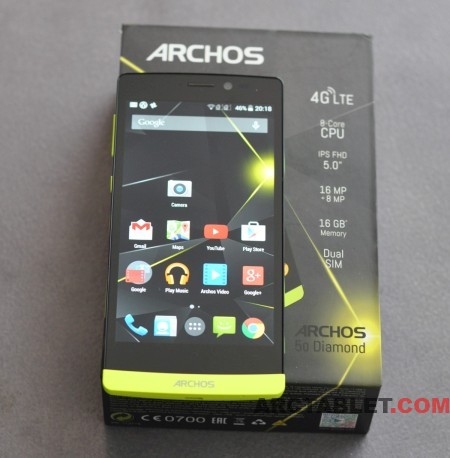 ARCHOS 50 Diamond phone specifications 
Operating System
Android 4.4.4 Kit-Kat

CPU
Octo-Core Qualcomm Snapdragon 615:
Quad-Core @1.7 GHz Cortex A53 & Quad-Core @1 Ghz Cortex A53.
32-bit & 64-bit
GPU: Adreno 405

Flash Storage Memory
Capacity: 16 GB

System Memory
2048 MB

Interfaces
Micro USB 2.0: Mobile Transfer Protocol (MTP)
Micro SD slot (up to 64GB)
Display
5.0″ IPS
1920 x 1080 resolution – 440 ppi
GPS
Yes + Galileo
interestingly, a Galileo global navigation satellite system GPS compatibility is announced on the ARCHOS Diamond, while most Galileo satellites aren't yet launched and the navigation system is only expected to be fully operational by 2019 (according to Wikipedia)
Bluetooth
4.0

Camera
Back: 16 MPx + LED Flash
no details given about the sensor type/brand for the 16 Mpixels rear camera
Front: 8 MPx
Dual-Sim
2x Micro Sim Dual Active

4G / LTE
800 / 1800 / 2600 MHz

3G / UMTS / WCDMA
900 / 2100 MHz
GSM / GPRS / EDGE
850 / 900 / 1800 / 1900 MHz

Download speeds
4G / LTE (cat 4) 150 Mbps / 50 Mbps
DC-HSPA + 42 Mbps / 11 Mbps

Wi-Fi
Yes + Hotspot functionality + Wi-Fi Direct

Dimensions

146 x 70.4 x 8mm 

Weight
146g
Battery
2700 mAh
Included in the pack
ARCHOS 50 Diamond
Battery + Charger
Hands-Free kit, Documentation, Warranty Information
Android version
The 50 Diamond ships with Android 4.4.4 KitKat installed but ARCHOS has announced the device should be updated to Android 5 Lollipop at a later time. No details were given if it will actually make it to latest Android 5.1 Lollipop version which adds dual-SIM support in the system from Google. Hopefully that update will be respected, unlike the Android 4.4 Kitkat promised update for the ARCHOS 45-50 Helium phones
A few spec corrections…
Qi inductive charger
Back to the product announce in October 2014,  the ARCHOS press release (in French) mentioned wireless charging the Diamond. Testing a Qi inductive charger on the Diamond shows this does not work, apparently the Qi support disappeared in the product spec from ARCHOS as the product probably does not support QI inductive charging.
Micro Sim Dual Active, 4G ?
ARCHOS website shows pictures with two 4G connections on the phone on the product picture gallery (here and here)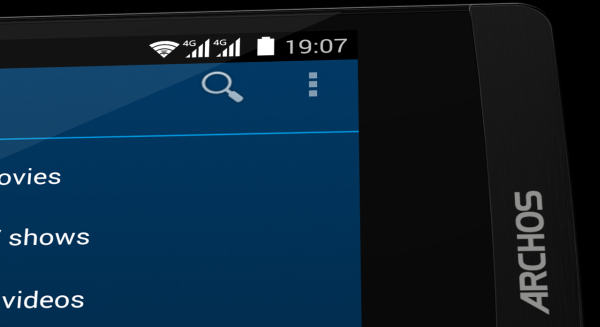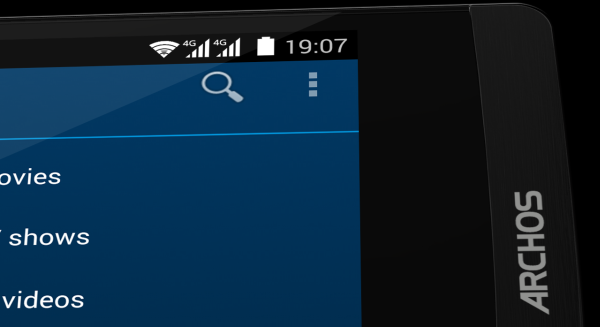 Unfortunately, the reality is a little different as the phone has a sticker near the SIM slot that clearly states 4G (and lower speeds) support is for slot 1, while the second slot only has 2G support.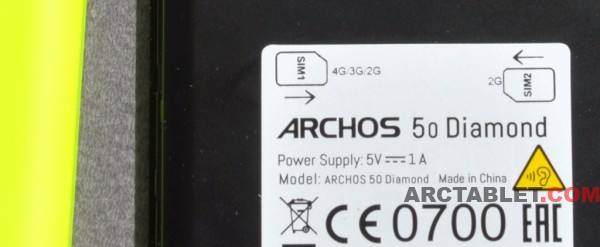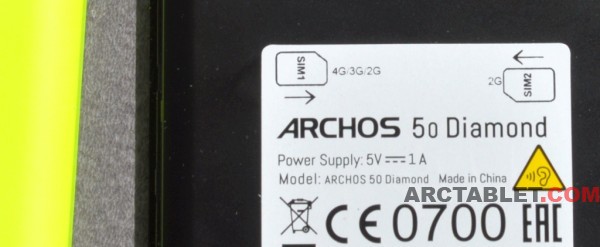 ARCHOS 50 Diamond packaging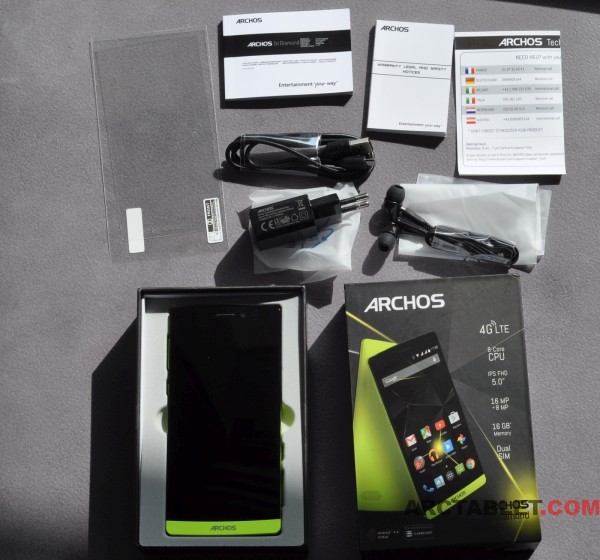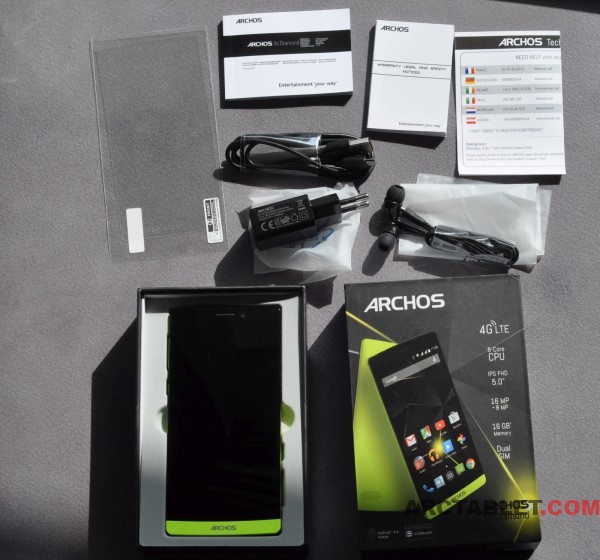 The 50 Diamond packaging contains the following:
the 50 Diamond smartphone
a power charger, input 100-240V, outputs 5V 1000 mA
an USB cable (micro-USB format)
3 documents that include: a quick start guide, warranty legal and safety Notices and a technical assistance contact information
a screen guard protector plastic screen filter
a pair of earphones with a microphone and hangup button
ARCHOS 50 Diamond smartphone design
The device has a basic but nice 8 mm thin design, it is mostly made of plastic but does not feel particularly cheap, everything is cleanly assembled. The back of the case doesn't catch fingerprint, some may find it a little slippery in the hand.
Colors
Yes, the color choice for the 50 Diamond is surprising. It appears as a flashy yellow color with a bit of lime shade. A very casual option that we actually like but it may not please everybody.
As we pointed out a while ago, the ARCHOS 50 Diamond is expected to be a re-brand of the Chinese K-Touch Touch 7 smartphone. The Chinese model actually comes in multiple colors, it's quite strange that ARCHOS only selected to market the yellow model.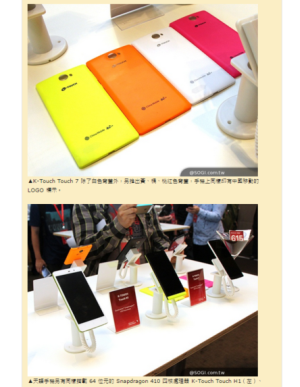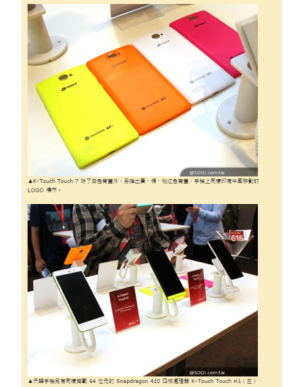 Still, the Diamond smartphone has also been seen is black color on a few websites, but there is no clear communication from ARCHOS that a black version will be ever available.
LED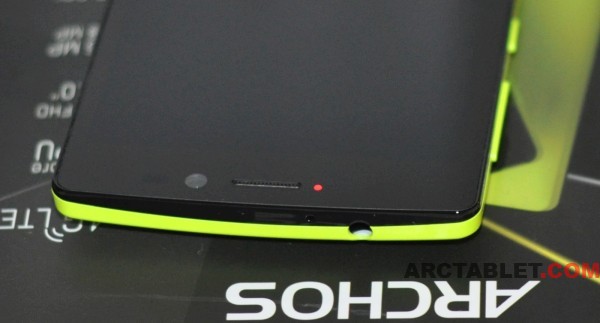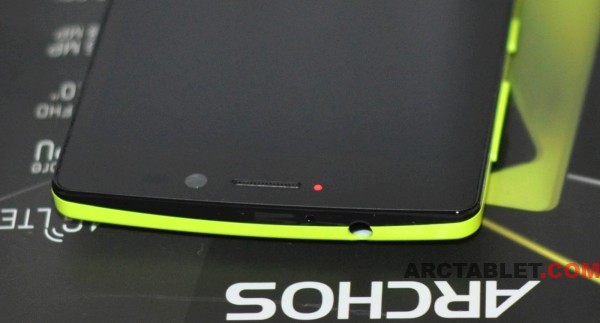 The smartphone has a single LED which is located on the top of the device, it serves only to report if the phone is charging and does not feature any kind of system notifications. This picture also shows the front camera (8 Mpixels) the light sensor and the front speaker. With a 3.5 jack connector for the headphones and apparently another microphone
Display
The screen is a 5 inches Full HD with 1920×1080 pixels resolution, 440 PPI pixel density.
A sensitive panel with backlight is located below the 5″ display and offers with 3 buttons: Menu, Home and Back. We will get back on this topic in another part of the review.


Screen protection
Protection wise, the screen that does not offer any damage-resistant glass treatment (like Corning Gorilla Glass) ARCHOS choose to include a thin plastic film, that will probably help a bit with protecting the display against small scratches, but it may reduce the touchscreen sensitivity and may not look very nice if not applied properly (bubbles).


Inside the phone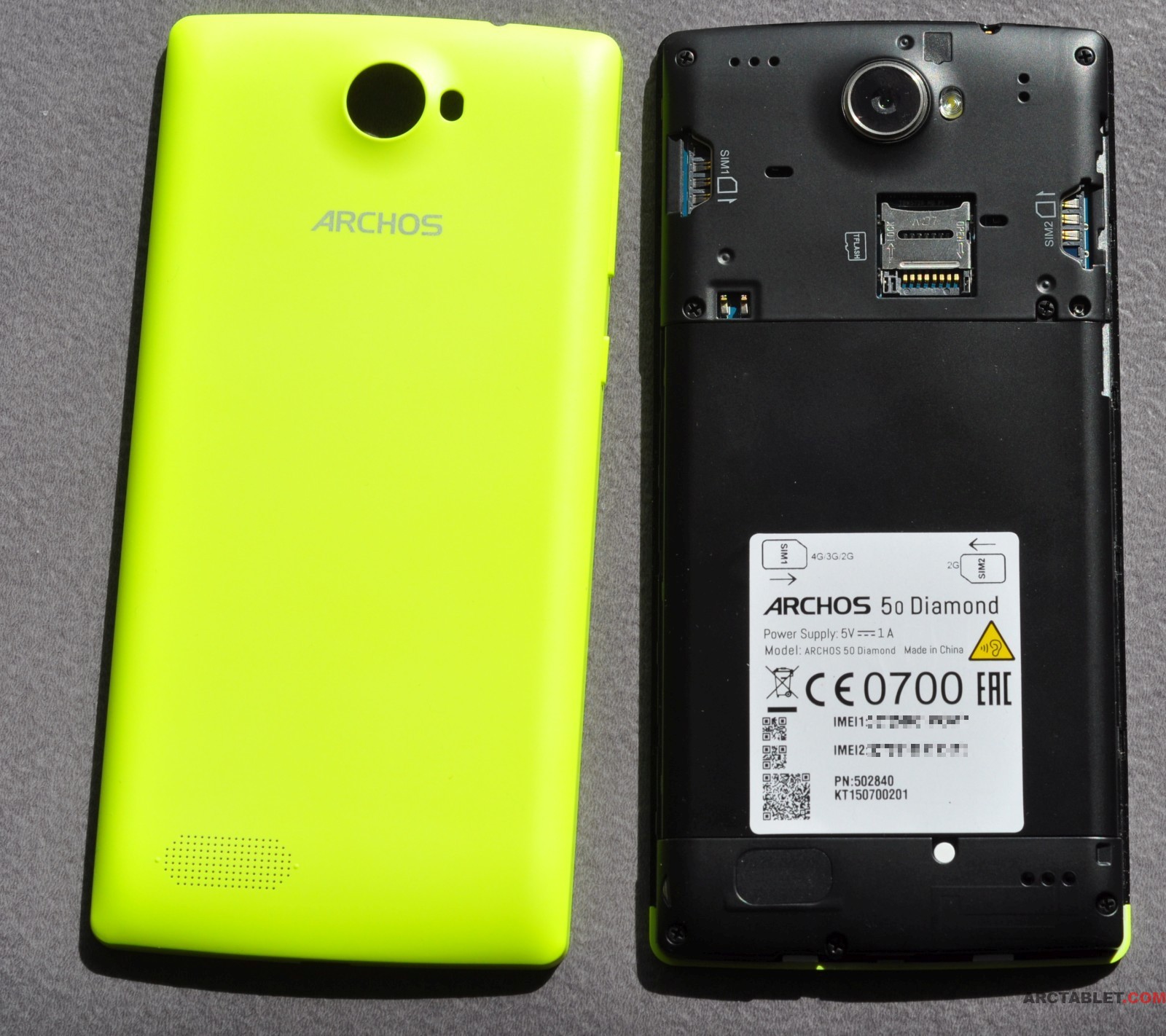 Opening the smartphone reveals a 2700 mAh battery, which is not removable
2 SIM slots (slot 1 is 4G/3G/2G, slot 2 is 2G only) and micro sdcard.
Back of the phone
The 16 Mpix camera and its flash LED lighting are prominent on the back of the phone.
You can see the hardware buttons on the left side of the phone with a power button and the volume rocker.
There is also a single speaker on the back.
A micro-USB connector and a microphone are located on the bottom. According to our tests, the micro-USB connector does not seem to offer Host (OTG) capability.
Come back soon for the rest of our ARCHOS Diamond review and don't forget to check our ARCHOS 50 Diamond forum for latest updates and discussions on this smartphone.