Announced just before CES 2014 trade show, the ARCHOS Helium is the first smartphone featuring 4G (LTE) support from the manufacturer. The device is based on the Qualcomm MSM8926 SoC (System On Chip) a mid range 4 cores ARM Cortex-A7 processor with Adreno 305 GPU.
Planning an early release with devices hitting the market by March 2014, ARCHOS was expecting to take the market for entry level 4G smartphones by storm as ARCHOS CEO, Loic Poirier declared in January 2014 to Les Echos French publication:
"During 8 months, we (ARCHOS) will be the only ones to offer 4G smartphones under 200 euros"
(translated from French "Pendant huit mois, on sera les seuls à proposer des smartphones 4G à moins de 200 euros")
That was probably underestimating the market and competition…
Companies like Wiko, a major player in the smartphone in France (reporting 8.3% market share in France for December 2013 to February 2014) quick expanding to South Europe and other territories surely have interest in this market as well. They revealed during the Mobile World Congress in Barcelona late February, that are they coming with a 4G smartphone under €200, it should be available these next weeks.

Let's have a closer look at both ARCHOS and Wiko offers.
Wiko Wax versus ARCHOS Helium 45 spec comparison
| | |
| --- | --- |
| | |
Android version
Android 4.3 Jelly Bean
(to be upgaded to Android 4.4 KitKat)
Android 4.3 Jelly Bean
(to be upgaded to Android 4.4 KitKat)
Processor
Nvidia Tegra 4i, 4+1 cores ARM Cortex-A9 r4 at 1.7 GHz
GPU: integrated (60 cores)
Qualcomm MSM8926 4 cores ARM Cortex-A7 at 1.4 GHz
GPU: Adreno 305 / 450 MHz
Display
4.7″ 1280 x 720
4.5" 854×480 (FWVGA) IPS
Toughened glass
Gorilla Glass 2
–
Camera
8 MP rear, 5 MP front
5MP rear, 0.3 MP (VGA) front
Memory
1 GB
1 GB
Storage
4 GB
4 GB
Battery
2000 mAh
1700 mAh
Price
€199.99
€199.99 (£189.99)
Dimensions
 140 x 675 x 88 mm
135 x 67 x 9.75 mm
Weight
119g
140g


On paper, the Wiko Wax is a clear winner over the ARCHOS 45 Helium: for a similar price, the Wax offering a faster processor, bigger battery, better display and a more robust protection for the screen.
Wiko Wax performance
pcworld.fr website reports a great benchmark performance, on Antutu results in the 25 000 – 30 000 range which is usually obtained by more expensive phones such as the HTC One or Samsung Galaxy S4.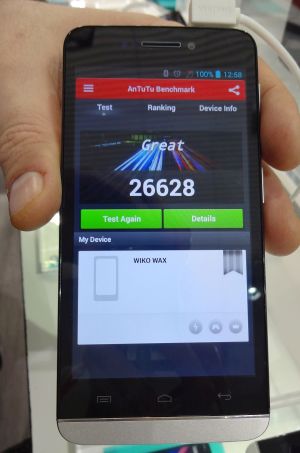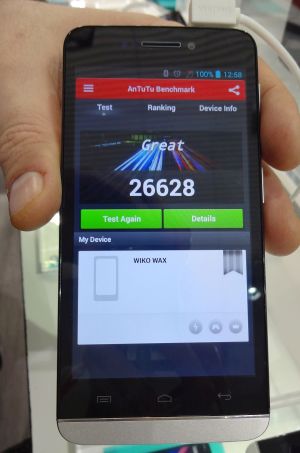 The Tegra 4i, the SoC powering the Wiko Wax is, according to the processor manufacturer nVidia, a cut-down variant of the the Tegra 4, their current high end model, the main differences being: 60 cores on the Tegra 4i vs 72 cores on the Tegra 4, ARM Cortex-A9 r4 on the 4i vs ARM Cortex-A15 processor architecture on the Tegra 4, the 4i adding the Icera i500 LTE/HSPA+ baseband processor for 4G support.
While the 4i is expected to offer slightly less performance than the Tegra 4, it should still be a really great performer for games and graphic intensive applications. It is also worth noting that nVidia provides a nice ecosystem for gamers with their TegraZone portal and top notch Miracast support.
To get an idea of the Tegra 4 graphic performance, have a look at the quick video below comparing a Tegra 4 based tablet versus a Rockchip RK3188 powered ARCHOS GamePad.