Archos 101 XS tablet
, powered by a
TI OMAP 4470
System on Chip (SoC)
still clocked at 1.5 GHz
isn't expected to provide such a performance boost over the previous Archos G9 based on the TI OMAP 4460. We have run several benchmarks to get an idea, you will find the results below.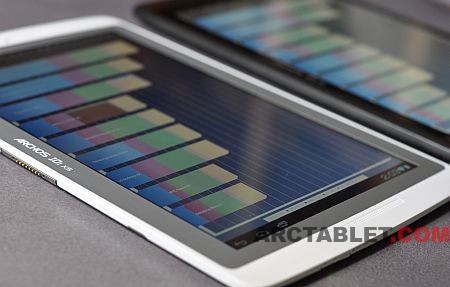 Archos 101 XS benchmarks
Test conditions:
– all devices were using latest firmware from the manufacturer
– all benchmarks were executed after a fresh reboot or all tasks being killed
– unless specified, tests were run multiple times to check for consistent behaviour, the results shown here correspond to average values
The tablet sample we used for review is a pre-production tablet with a beta firmware. Though some minor things may change, it should give a good idea of the final retail model …
Archos 101 xs vs Archos 101 G9 benchmark results

Archos 101 xs (G10)
Archos 101 G9
Turbo model – 512 Mb RAM
Test setup
Firmware version
pre-production device, with beta firmware
Linux kernel version 3.0.21+ built Aug 16 12:50:16 CEST 2012
Android 4.0.4 Build G10A-user 4.0.4 IMM76D 20120809.121151
Archos stock firmware 4.0.7
Linux Kernel 3.0.8+ #4 SMP PREEMPT Thu Jun 7 16:12:27 CEST 2012
Android 4.0.3 Build MR1.20120529.141046
Antutu Benchmark
higher is faster
Total score: 5874
CPU: 2940
GPU: 1387
RAM: 1069
I/O: 478
Total score: 7835
CPU: 4077
GPU: 1552
RAM: 1550
I/O: 656
Linpack Pro v 1.2.9
higher is faster, benchmark run in multi-thread
(we took the best numbers we could achieve, there is a lot of variance on these bench results)
94.9 MFLOPS
82.6 MFLOPS
CF-Bench v 1.1
higher is faster
Native score: 10756
Java Score: 3288
Overall Score: 6275
Native score: 12871
Java Score: 3460
Overall Score: 7224
ArcTools v 0.69
higher is faster
Read: 29842 Kb/s
Write: 13780 Kb/s
Read: 17304 Kb/s
Write: 9674 Kb/s
Smartbench 2011 v 1.2.1
higher is faster
Prod. index: 2816
Games Index: 2810
Prod. index: 2972
Games Index: 1795
Quadrant Advanced 1.1.7
higher is faster
Total: 3557
CPU: 6170
Mem: 3346
I/O: 4671
2D: 1000
3D: 2599
Total: 2622
CPU: 7189
Mem: 2480
I/O: 1123
2D: 997
3D: 1322
Vellamo v 1.0.3
higher is faster
1374
1325
Nenamark v 2.0
higher is faster
55.0 FPS
27.9 FPS
GPUBench v 1.0.0
higher is faster
Absolute: 39195
Relative: 34964
Absolute: 36617
Relative: 25027
GLBenchmark v 2.5
higher is faster
GLBenchmark Egypt HD C24Z16 test
onscreen: 1684 frames, 15 fps
offscreen: 1277 frames, 11 fps
GLBenchmark Egypt HD C24Z16 test
onscreen: 931 frames, 8.2 fps
offscreen: 656 frames, 5.8 fps
Benchmark results interpretation
Comparing benchmarks results between the G9 and the G10 is made easier as both tablets run on a similar plateform (TI OMAP 4) and have the same OS & screen resolution. As you can see looking at these numbers, the 101 G9 and 101 xs (G10) benchmark results
aren't always consistent
. Some performance tests even show that the G9 is faster than the G10. While preparing these benchmarks, we noted a lot of variation in the results with the different firmware versions we used on the Archos 101 XS. Looking at the gaming and Graphic Processor Unit (GPU) oriented benchmarks (GLBenchmark, NenaMark, GPUBench) it's quite clear the
performance has well increased in the Archos 101 XS
, thanks to the PowerVR SGX544 on the
TI OMAP 4470 SoC
.
Please check again our benchmarks soon, we should provide an update in the coming weeks with a final production device.
Visit us soon for the rest of this Archos 101 XS review or
follow us
on
Google +
,
Facebook
and
Twitter
for updates on the
Archos 101 XS and G10 news
. Feel free to use
our forum
if you have any question on the Archos 101 xs.
On the paper, the