A year has passed since Archos released their
Gen 9
tablets. A few months ago, Henri Crohas, Archos founder and CEO promised a very innovating
superthin tablet with keyboard
which can also be used to cover the device. However this is not all, it should be one of the first tablets to run on the
TI OMAP 4470 CPU
and many other improvements were made over the previous Gen 9 models. The Archos 101xs should be available
mid September this year starting at just 379 € / £299.99 / $399.99.
.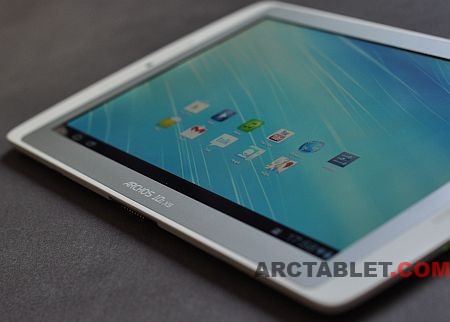 The tablet sample we used for review is a pre-production tablet with a beta firmware. Though some minor things may change, it should give a good idea of the final retail model …
Our review will follow our usual methodology, first presenting the product packaging, the tablet and keyboard design, the device performance, the screen, multimedia and other features. Enjoy ! 😉
Brief Archos tablets history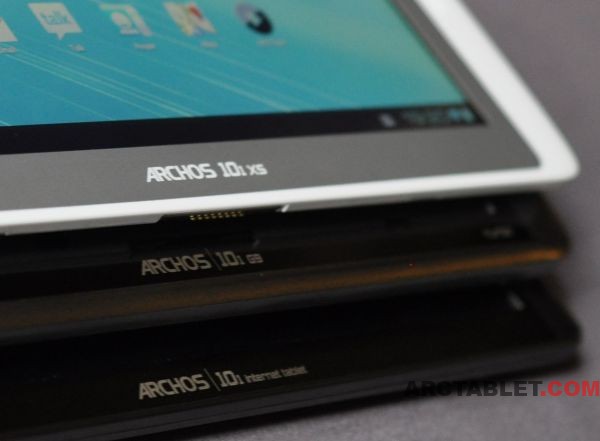 The history of Android tablets from Archos goes back to 2009. At that time, the company was the first to introduce such a device – more than half a year before the iPad arrived. The OMAP3 powered Archos 5 Internet Tablet had quite impressive specifications for that time – offering up to 500GB of storage, 5″ 800×480 screen, built-in GPS and great video playing software. Also, the patented Archos production method with use of stainless steel was introduced, the same process which now allows the G10 xs devices to be that thin and strong.
In 2010, the Gen8 came on the market. While specswise, it didn't offer much new over the Gen7 – it had the same OMAP3 processor, it was still quite a revolution. Archos offered 5 different sizes at the start and because of the enhanced molding method, they were one of the lightest and strongest tablets on the market.
With the Archos G9, Archos made a power boost. The updated OMAP4 CPU was times faster, the offered 3G stick was innovative and the operating system was Honeycomb, the first Android OS developed with tablets in mind. While they were great products for the price, these tablets suffered a lot of criticism, regarding the quality of the screen and camera, system instability for the first firmwares, Wi-FI troubles….
Archos is now releasing their 10th generation of tablets with the G10, the Archos 101 xs being the first model. It's eXtra Slim, many components have been upgraded, and it offers a coverboard which is how Archos calls its keyboard dock that also protects the tablet.
During Archos press conference in March, 2012, Crohas explained some details on how tablet are usually built following the model of Apple Ipad, with an machined aluminium body where a high quality glass is applied. Archos on the other hand has developed their own technology over the past 3 years. The tablet structure is made by highly resistant stainless steel embedded in a plastic enclosure. An extremely thin (about 1/10 mm) metal frame surrounds the screen as you can see on the following pictures.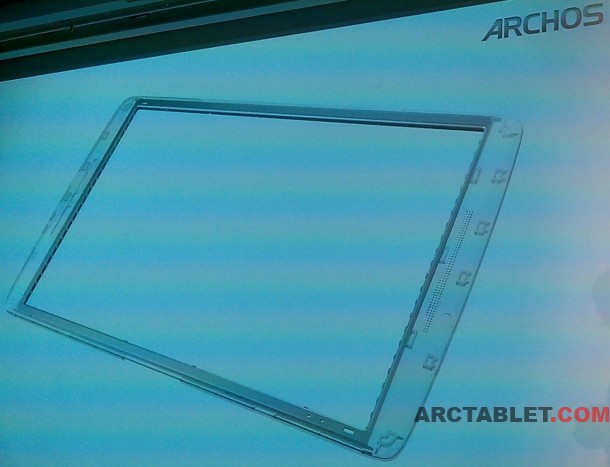 Archos 101 xs specifications
Operating System
Android 4.0.4 (Ice Cream Sandwich)
Linux Kernel Version: 3.0.21+
Build number: IMM76D 20120809
CPU
Dual Core Texas Instruments TI OMAP 4470 running at 1.5 GHz
Integrated GPU: Imagination POWERVR SGX 544 (single core)
Flash Storage Memory
Capacity 16 GB
Speed: Class 10 range (tested Read: 29842 Kb/s Write: 13780 Kb/s)
System Memory
1024 Mb
Additional storage
Micro SD slot (SDHC compatible, up to 64 Gb)
Display
1280×800 10.1 inches LCD screen using MVA technology (Multi-domain vertical alignment)
16/10 aspect ratio
capacitive 5 points multitouch, 160 DPI density
Bluetooth
Yes
Wi-FI
802.11 b/g/n
Gravity Sensor
Yes
Camera
1 Mpixels (front facing)
Pictures resolution: 1280×960, video: 720p
GPS
Yes
HDMI
Yes(mini HDMI, aka HDMI type c connector)
Interfaces
micro USB Host, Mass Storage Class (MSC)
MicroSD slot
second micro USB connector available on the keyboard
Battery life
Video playing: tested 5 hours 56 minutes (continuous video play, brightness at 50%, Wi-FI disabled)
More details on the battery life test will be published on another article.
Google Play Store / Android Market
Yes The Archos G10 devices are fully Google Certified
Kickstand
No (The supplied keyboard/cover acts as a kickstand)
Dimensions
As announced by Archos: tablet: 273 mm x 170 mm x 8mm (10.7'' x 6.7'' x 0.31'')
Coverboard: 273 mm x 170 mm x 5mm (10.7'' x 6.7'' x 0.2'')
Weight
tablet alone: 633g

tablet + coverboard: 901g

Official Product page
on archos.com
Archos 101 xs tablet packaging
The tablet packaging is actually made of two boxes, one for the tablet and one for the keyboard/cover.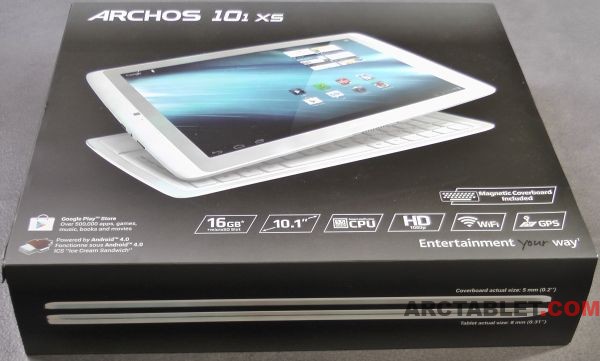 The keyboard should come in a localised key layout for each territority, our test machine had an AZERTY keyboard (french key mapping).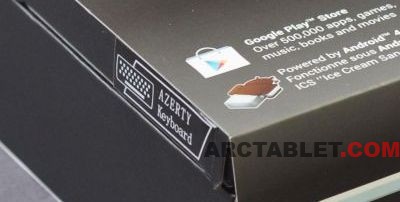 The tablet box contains:
– the Archos 101 xs tablet
– a micro USB cable to connect the tablet to a computer
– a power charger with a micro USB connector to the tablet, it outputs 5 V, 2 A, European sock for the power on the wall.
Using the power charger, the tablet gets fully charged in a few hours, you can also charge from a computer using the micro USB cable, you can then expect a slow charge (USB ports usually have an output of 500 mA on computers).
– booklets: a "need help ?" paper, a warranty/legal and safety notice, a user guide which covers basic topics to get started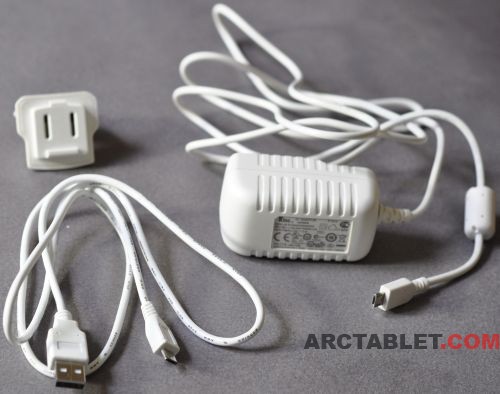 The supplied power charger and micro USB cable are all white, matching the tablet color.
Our review follows on part 2 discussing about the Archos 101 xs tablet design.
Visit us soon for the rest of this Archos 101 XS review or
follow us
on
Google +
,
Facebook
and
Twitter
for updates on the
Archos 101 XS and G10 news
. Feel free to use
our forum
if you have any question on the Archos 101 xs.