Archos 101 XS battery life
, focusing in a video play test. Unlike the Asus Transformer, the keyboard dock / coverboard won't be of much help to increase the life, as it does not contain any extra battery.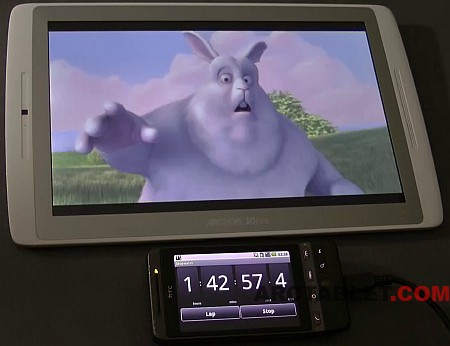 From the Archos specifications
Archos announces in the 101 XS specs on
their web site
a battery life up to 7 hours of video play using low backlight settings.

On earlier Archos 101 XS pictures at the FCC, it looks like the tablet contains a 3 cell, 6800 mAh battery.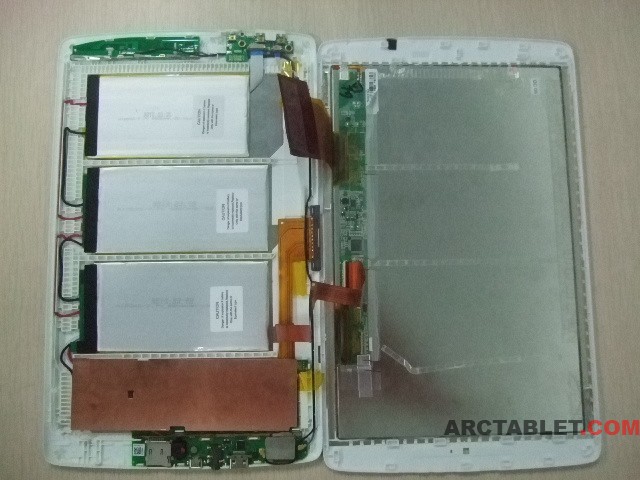 Our battery test video
From a fully charged tablet, we played this video file
big_buck_bunny_720p_AAC.mp4
(Big Buck Bunny 720p, stereo sound in AAC format) in loop until the tablet battery gets empty.
More details about the test conditions:
– using latest beta firmware (4.0.23) available on the pre-production device
– machine started after a fresh reboot
– tablet fully charged (lockscreen says "Charged", Settings / About tablet / Status says Battery level100%)
– media sound volume set to half (Settings/Sound/Volume, set Media bar to middle position)
– brightness set to half (Settings/Display/Brightness)
– Airplane mode (Wi-FI disabled)
During this test, on our pre-production Archos 101 XS, we have measured an effective battery life of 5 hours and 57 minutes.
Here is the full video of the battery test, with a timelapse view (1 frame=60 seconds) to speed things up.

In addition we have also used our ArcTools application to run an extra battery test and see of the details of the discharge curve, see below: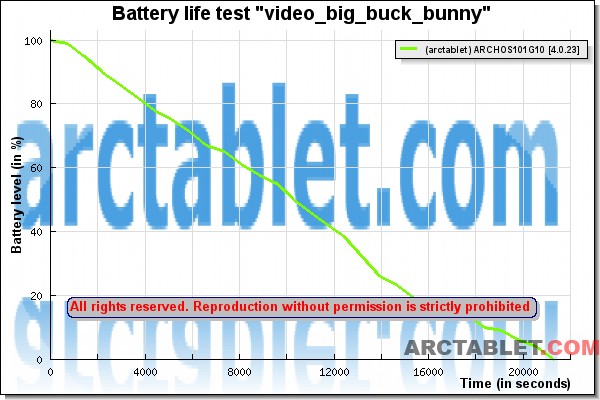 Charging time
Charging the Archos 101 xs can be done thru the supplied
power charger that delivers 2000 mA
, it should then take about 3 to 4 hours. You can also use the USB cable to charge from a computer, but it will then switch to a slow charge that double or triple the charging time.

Visit us soon for the rest of this Archos 101 XS review or

follow us

on

Google +

,

Facebook

and

Twitter

for updates on the

Archos 101 XS and G10 news

. Feel free to use

our forum

if you have any question on the Archos 101 xs.

Let's now have a look at the