The Archos Remote Control, introduced a while ago on the Gen8 products line is a proprietary application that let you control an Archos device remotely from another Android phone or tablet. This is specially useful when your Archos tablet is hooked on the TV thru the HDMI connector and you are far from the tablet. You can use the Remote Control application from another device on your sofa to send commands to the ARCHOS tablet. As we have tested it, the Archos Remote Control has been enhanced on Gen10, now adding a full touch support to the existing media and simple controls. (ARCHOS Gen8, Gen9 and Gen10 tablets are supported)
Archos Remote Control features
Security
Controlling remotely the tablet is done securely, as the Archos tablet first needs to be paired with the controlling device. This is done after after entering a 4 characters alphanumeric code displayed on the Archos tablet (here on the right).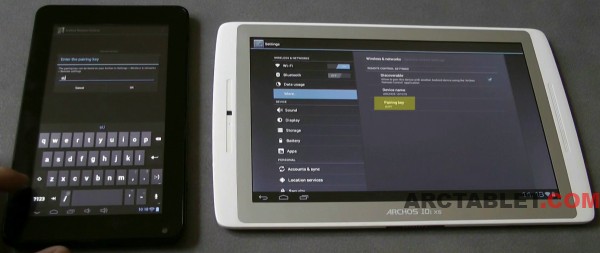 PAD
Basic control using the arrows and Android softkeys (back, home, menu, search…)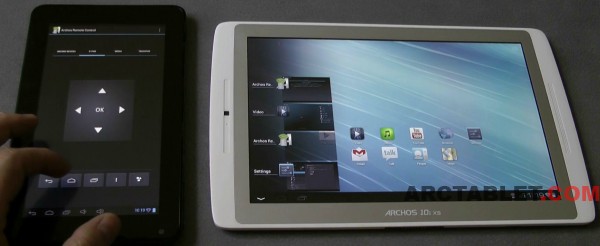 Media control
3 keys to control the Music / Video player: Previous (Rewind) / Play-pause / Next (Forward)

TouchPad
This is the coolest feature where the Archos tablet can be remotely controled, the touch area on the controlling Android tablet (on the left) translates to the touchscreen of the tablet (on the right).