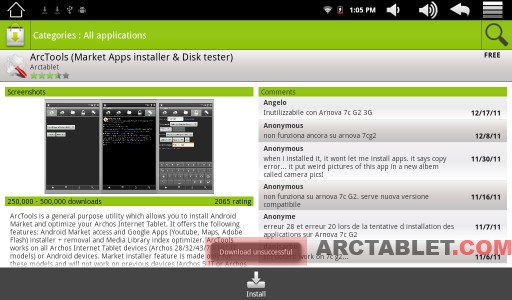 It looks like Appslib, Archos proprietary Marketplace is overloaded these days and you may get a "Download, please make sure you have free space and retry" and "Download unsuccessful" errors. This seems to be a temporary error on Appslib servers and retrying to download the application should work after a few tries.
Update 2011/12/29: While the situation seems to improve, Appslib remains very unstable.
Update 2011/12/27: Archos has confirmed the problem on their Facebook page
We are aware of the problem with AppsLib and are currently working to solve it. Thank you for your patience, we will be back up and running shortly.
If our ArcTools program fails to download on Appslib, you can always get it from here: arctools.apk
Still, we recommend switching to Android Market that provides more up to date and a wider variety of applications and should have almost trojan and virus free downloads. Most devices that do not have Android Market installed can get it supported thru the use of custom firmwares, we may have one right for your device on Arctablet Blog.