Google is starting to deploy their new Android Market version 3.4.6 update, which is now named Google Play.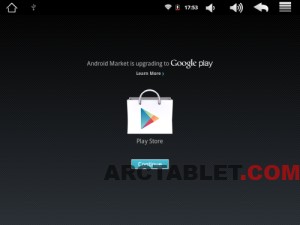 Thanks to Quinny899, KyojinKun and Nalty from xda-developers.com, the application file updates are available right now:
Google Play Store Paid Apps: Available in these countries
Google Play Movies: Available in US, UK, Canada, and Japan
Google Play eBooks: Available in US, UK, Canada, and Australia
Google Play Music: Available in US
Google Play update should soon be available from your existing Android Market installation or you can use the APK files to force the update yourself. After the Update, Market application will disappear from your application list and will be replaced by a Play Store icon.
Can't install Google Play Books and Google Play Video (Parse error)
Google Play Books and Google Play Video
do not install on some devices
and give a Parse error

The reason of the problem is related to the Android version, Android 3.2 Honeycomb (API Level 13) minimum is required. Arnova G2 devices for instance run Android 2.3 Gingerbread (Platform API Level 9)
Here is ADB logcat output on an Arnova 10G2:
W/PackageParser( 844): /mnt/storage/com.google.android.videos-1.apk (at Binary XML file line #33): Requires newer sdk version #13 (current version is #9)
W/PackageInstaller( 844): Parse error when parsing manifest. Discontinuing installation
We will be soon packaging these updates in our custom firmwares.